Proudly Serving Ohio!
Do you need medium-voltage transformers, custom bus work or retrofits for your business in Ohio? ELSCO Transformers is committed to providing high-quality medium-voltage transformers as well as custom bus work and retrofitting for all our customers across Ohio. Our factory is located in Cincinnati, so we enjoy a great connection to the state.
ELSCO Transformers has various options to suit your needs that we can ship throughout Ohio. We carry a range of voltages and ratings, and we use superior materials to ensure your unit's durability. Our transformers can provide uninterrupted power for decades and will get you back up and running following an unexpected failure. In your business, you want the most efficient and reliable power available. Let us get you what you need.
Fill out this contact form, and discover what Elsco Transformers has to offer!
Cities We Service in Ohio
Although ELSCO Transformers services all of Ohio, we have experience working with companies in the following cities:
Akron

Beavercreek

Canton

Cleveland

Columbus

Cuyahoga Falls

Dayton

Dublin

Elyria

Euclid

Hamilton

Kettering

Lakewood

Lorain

Mansfield

Mentor

Middletown

Newark

Parma

Springfield

Strongsville

Toledo

Youngstown
Dry Type Transformers in Ohio
You can use dry type transformers indoors and outdoors, in wet or dry conditions. Circulating air protects the windings, insulation and coils from overheating, and they run quietly, a great advantage when you use them indoors. Our dry type transformers have long lives, and they're easy to install at your Ohio facility. They also:
Deliver environmentally friendly results, including low pollution due to lack of liquid cooling elements.
Meet or exceed Department of Energy standards.
Exhibit low fire risk thanks to varnish on the coils.
We also offer a five-year warranty on new dry type transformers. That is much longer than the standard one-year warranty offered throughout the industry.
Our In-Stock & Ready to Ship Dry Type Transformer Selection
500 to 2,500 kVA Transformers In-Stock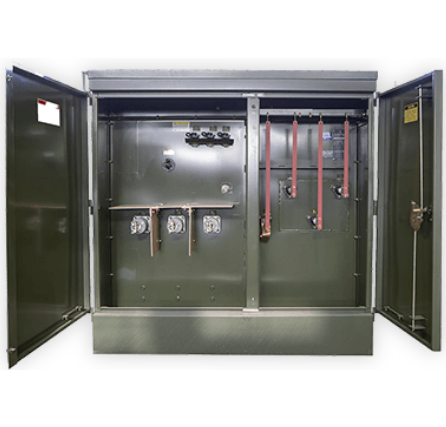 Padmount Transformers in Ohio
Industries seeing a great deal of foot traffic favor transformers mounted on concrete pads, often located outside. We sell in-stock units and can also build padmount transformers to suit the demands of your Ohio business. Our systems connect to underground power lines safely, with lockable doors for greater security.
We make all our units by hand, and they exceed national energy efficiency standards. With years of experience in manufacturing padmount transformers, we can meet the needs of contemporary facilities, which demand reliable power for smart equipment.
Custom Bus Work and Retrofit for Transformers in Ohio
In addition to selling new transformers, we also offer medium-voltage transformer services in Ohio, including:
Retrofits: Retrofitting means replacing an old transformer with a new one, which we customize based on your unique dimensions. You may need a new one because of increasing capacity needs or because you fear the old one will fail. We create the design to mesh with your existing power system, meeting your current electricity demands.
Custom bus work: Custom bus work prepares the new transformer to fit into the space the old one occupied. You may also need to change infrastructure if your facility upgrades its power capacity, necessitating custom bus work.
Request a Quote for a New Transformer in Ohio
We provide our customers with outstanding service and fantastic products. The key members of our team all have at least two decades of experience, and they can apply their extensive knowledge to help you find transformers with the proper voltage and more. Start today by contacting us to discuss our options for industrial transformers in Ohio and get a quote.