Our Service Area
The locations we serve include anywhere in the entire United States. We can ship to you no matter where your company is located in the country. We do not offer international service.
Whether your business is located in the Northeast, South, West or Midwest, we can assist you. Our units leave our facility within 24 to 48 hours depending on what modifications need to be made.
In addition to selling transformers, we also perform custom bus work and retrofits. If your company is in the United States, we can care for all your transformer-related needs. Our system present a cost-effective solution, operating quietly and performing efficiently.
Fill out this contact form, and discover what Elsco Transformer has to offer
Who ELSCO Transformer Services
ELSCO Transformers offer service to a range of high-voltage electrical contractors, schools, hospitals, electrical suppliers and more across the United States. We manufacture high-quality medium-voltage transformers that provide uninterrupted power, including dry type and padmount transformer. Our units last for decades, offering your company reliability during unexpected power failures.
Our units get your system back up and running following an emergency, keeping your downtime to a minimum. Why choose ELSCO Transformers? We offer:
Low fire risk.
Superior materials.
Easy installation.
If you need a transformer and your business is within our broad service area, we can assist you. With us shipping transformers all across the country,  we have earned a national reputation for excellent products and responsive customer service.
Dry Type Transformers Manufactured in the United States
Dry type transformers avoid overheating thanks to air circulating around the insulation, coils and windings. For more that three decades, we have provided modern designs made with high-quality materials to deliver outstanding environmental benefits, such as pollution-free operation. Additionally, our transformers meet or exceed the standards laid out by the Department of Energy. We hand-wind and assemble each one at our Ohio factory, where we also test it five times throughout the production process.
We provide a best-in-class warranty for indoor dry types. The industry standard is a one-year warranty. We offer a five-year warranty for indoor use, and we have not had a failure or warranty issue since we started manufacturing dry type transformers in 1988 due to workmanship, quality, design, or materials.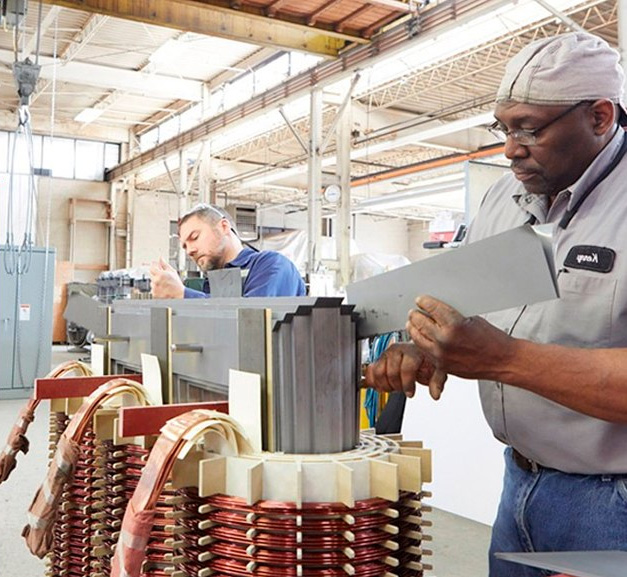 Padmount Transformers Manufactured in the United States
Padmount transformers sit on a concrete pad and are used in industrial, commercial, and residential settings. They provide underground power lines with safe connections. Places with a lot of foot traffic, such as restaurants or shopping malls, often use these secure systems, which employ liquid cooling. Most are locked in a steel cabinet that protects them from the elements.
We can provide padmount transformers to any location in the country. We have three-phase units in stock, but we can also create single-phase transformers. Our team can also help you calculate the proper voltage for your needs.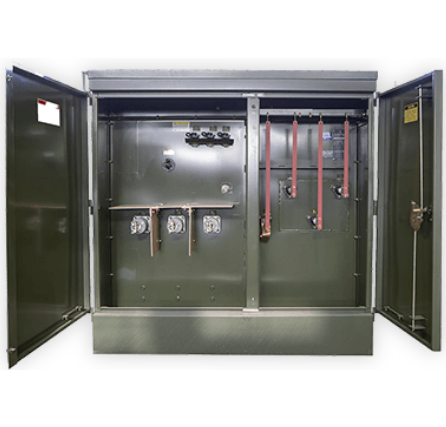 Request a Quote on a Dry Type or Padmount Transformer
If you need a medium-voltage transformer in the United States, we can help. Contact us today to request a quote on a dry type or padmount transformer for your business. We look forward to finding you the right fit.
Call ELSCO Transformer Today
To discuss your potential transformer service needs with one of our engineers