We Specialize in Emergency Transformer Replacements
If you have an emergency power outage call 800-232-9002 to contact our Rapid Response Team
We offer emergency transformers replacement for medium-sized padmount transformers. We can quick-ship from stock, and we strive to respond to service requests within 24 hours, saving your time and money. Our Rapid Response Team can help you restore power and get back in operation quickly.
Fill out this contact form, and discover what Elsco Transformers has to offer
ELSCO Padmount Transformers
ELSCO maintains the most reliable inventory of oil–filled padmount transformers for your utility, university, hospital, industrial or commercial energy needs. Featuring new in-stock and build-to-order options, our padmount transformers provide dependable and cost-effective power output for almost every application.
What Is a Padmount Transformer?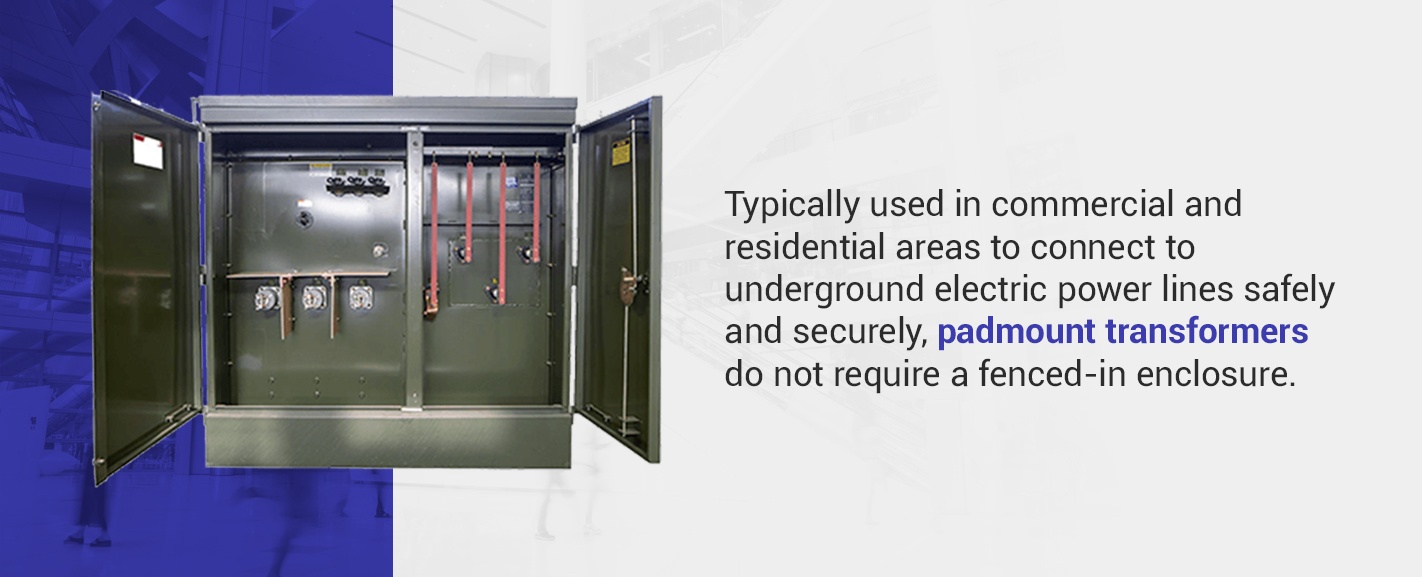 A padmount transformer is a tamper–proof distribution transformer with lockable front doors that is installed on a concrete pad. Typically used in commercial and residential areas to connect to underground electric power lines safely and securely, padmount transformers do not require a fenced-in enclosure. This makes them ideal for public spaces like shopping malls, restaurants and other areas that see significant foot traffic, where any electrical equipment needs to be kept secure. They are frequently installed outdoors in all-weather conditions. Padmount transformer ratings range from 300 KVA to 5,000 KVA. They are liquid cooled.
Padmount Transformers We Stock
We stock padmount transformers with ratings from 500 KVA to 2,500 KVA, with 4160, 12470, 13200 and 13800 volt primary voltages. If you're not sure what transformer size you need, we can work with you to calculate the rating that will work best.
Our new, in-stock units can be either aluminum or copper windings depending on what is available at the time. New, build-to-order units can be designed and built with either aluminum or copper windings and mineral oil or natural ester fluid. All our transformers are made by hand in the United States.
Our padmount transformers are oil-filled. Either mineral oil or natural ester fluid can be used. Mineral oil is the standard for many clients and is good for most applications. We can also use natural ester fluid, which is often derived from vegetable oils and biodegradable — making it an excellent option for those wanting to reduce their environmental impact. Because esters also have a higher temperature stability than mineral oil, they can sustain higher operating temperatures for longer periods of time.
Our padmount transformers can be switched to either Live Front or Dead Front primary connections as needed. You can also choose between Radial Feed or Loop Feed primary configurations.
ELSCO padmount systems can come outfitted with many accessories, such as;
Temperature and liquid level gauges.
A pressure vacuum gauge with Schrader valve.
A pressure relief device and/or pressure relief valve.
A two-position on/off load-break switch.
Bayonet current sensing fuses.
Distribution class lightning arresters.
An external drain valve and sampler that allow easy access for DGA tests. In most of our stocked units the standard drain valve and sampler are inside the low voltage compartment.
ELSCO Can Retrofit a Padmount Transformer to Meet Your Needs
We can also work with you to modify or fabricate customized padmount transformer units to meet your requirements. For example, If you need a padmount transformer with a custom bushing height, we can build a new unit to order, or we can use copper bus drop-downs on the low-voltage bushings for one of our in-stock units.
Our built-to-order padmount retrofits can include custom items like:
High short-circuit strength designs.
Electrostatic shields
K–factor designs.
The Benefits of a Padmount Transformer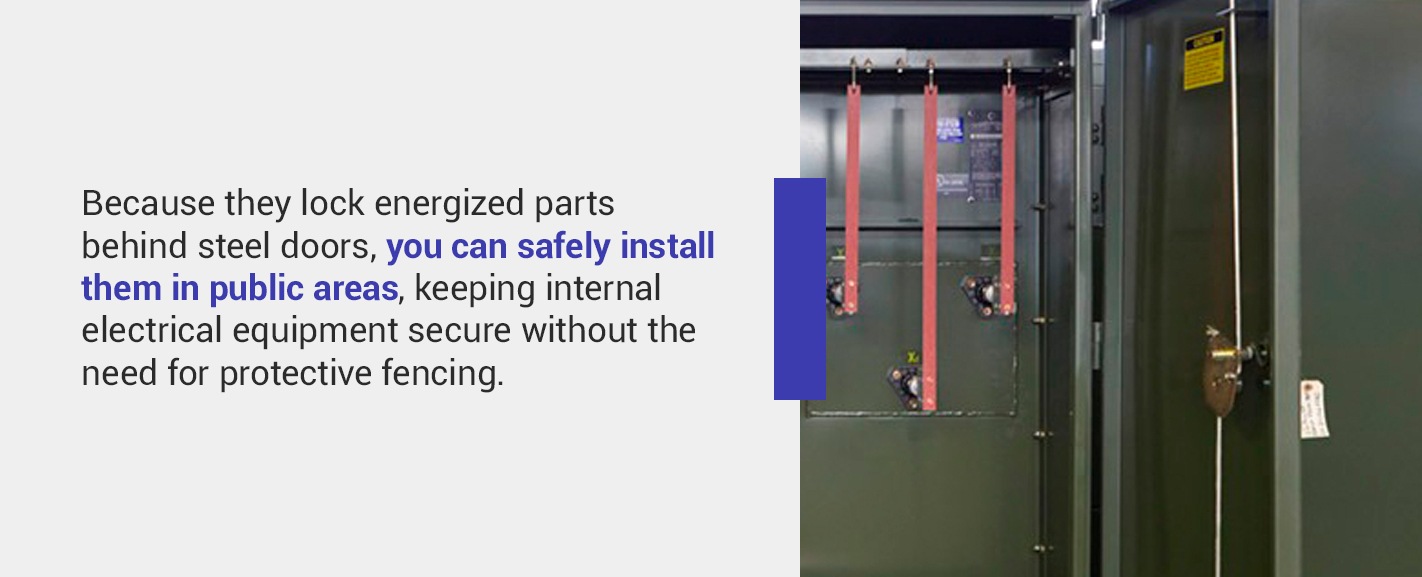 Padmount transformers are great when under-ground service is required. You will often  see them behind malls, restaurants or in industrial parks.
Our transformers offer a cost-efficient solution for your energy needs. ELSCO's inventory of new transformers exceeds all national energy efficiency standards — including NEMA, ANSI and IEEE — plus the recommended ENERGY STAR and Department of Energy (DOE) ratings, so you can deliver more power at a lower cost.
We can also build a padmount unit to spec. Whether you need one unit or 100 units, you can benefit from a customized fit for any application, from hospitals, universities and office buildings to retail locations and manufacturing plants.
ELSCO uses the highest quality materials and engineering expertise to provide the right unit for your energy needs. If you need a transformer with unique specifications or features, we can work with you to modify a stock unit or fabricate a new system to order.
Padmount Transformer Applications
Modern facilities, from schools to factories, need to supply power to a growing variety of technologies — including cloud-ready sensors and smart equipment. At ELSCO, we have experience in developing and fabricating transformers to meet these facilities' needs. We have worked with clients to provide ready-made, custom energy solutions for:
We know how much power these kinds of facilities will need, and we'll work with you so you can make the most informed purchase possible.
Clients across the U.S. trust ELSCO to provide high-quality, reliable transformers for their buildings. If you need well-designed electrical solutions and consistent power, ELSCO's padmount transformers will work for you.
Padmount Transformer Resources from ELSCO Transformers
Contact ELSCO for Padmount Transformers
We've been building and delivering power transformers to industrial and commercial customers across the U.S. since 1912.
If you need a padmount transformer for your industrial or commercial energy needs, ELSCO has you covered. Each of our key team members has more than 22 years of experience in the industry, and they'll bring that expertise when working with you to fill your order.
ELSCO is also your best option if you need a transformer fast. With our quick-ship service, your padmount transformer can be on the road to you within 24 to 48 hours of an order, if needed.
If you know your specifications you can request a quote here
Call 800-232-9002 to discuss your padmount transformer needs