ELSCO Products & Services
ELSCO manufactures high-quality medium-voltage transformers in 500 – 2500 KVA ratings and 2400 – 34,500 primary voltages
We are committed to supplying all our customers with high-quality transformers
that will provide efficient uninterrupted power for decades to come.
We Specialize in Emergency Transformer Replacements
If you have an emergency power outage
call 800-232-9002 to contact our Rapid Response Team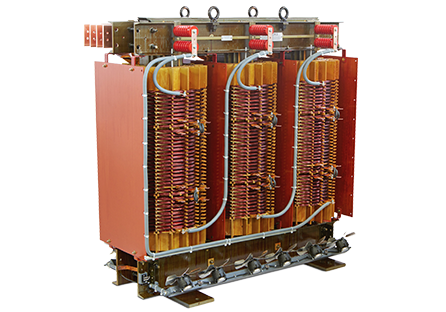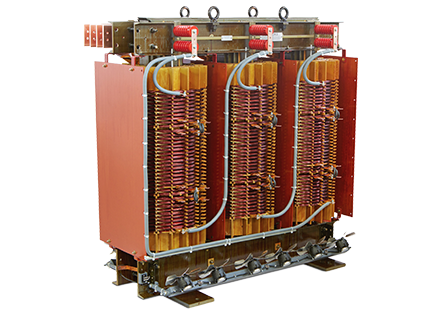 Dry Type Transformers
A dry type transformer uses circulating air to protect the coils, windings and insulation from overheating.  ELSCO has been manufacturing dry type transformers since 1988. Our dry types are a preferred choice for indoor installations because they run cool and quiet and have no flammable coolants that can leak or cause fires. For safety reasons they are usually installed in a locked enclosure.
By employing modern designs and using only quality materials and workmanship, ELSCO produces dry type transformers that meet or exceed Department of Energy standards and offer significant cost and environmental advantages.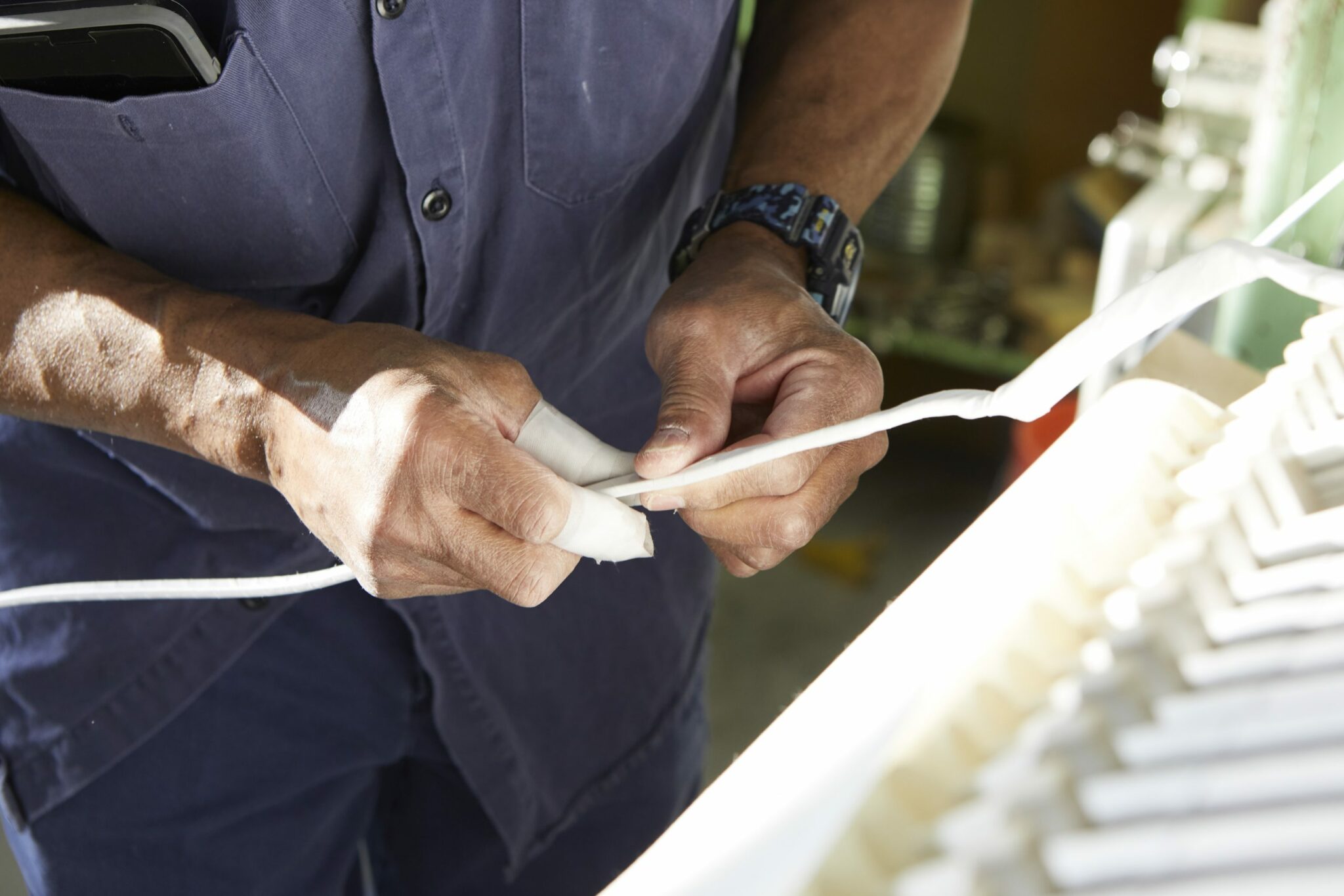 ELSCO Dry-Type transformers embody highly efficient designs with laminated steel cores, 100% copper windings, and top grade insulation.  They are hand-wound and assembled under strict quality controls in our factory in Cincinnati, Ohio.  Each transformer is tested five times during its construction to ensure our customers receive a reliable product that will provide decades of useful life.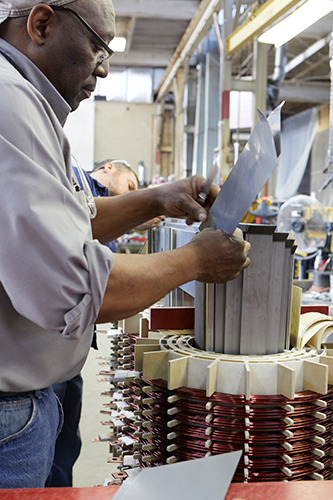 We have been manufacturing dry type transformers this way since 1988, with
zero failures due to materials and workmanship.
Our dedication to quality enables us to offer a
five year warranty
on our new dry type transformers. The industry norm is one year.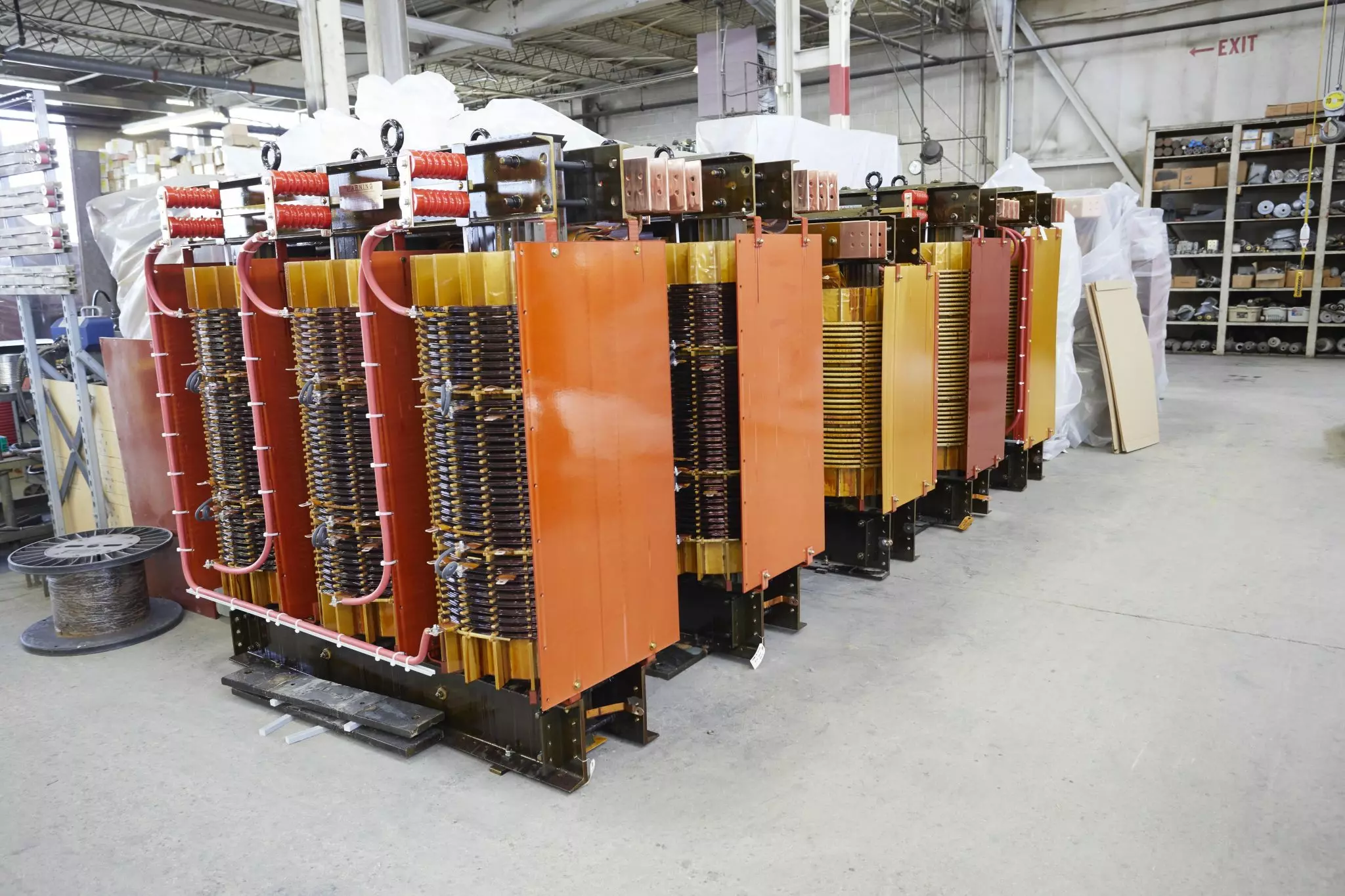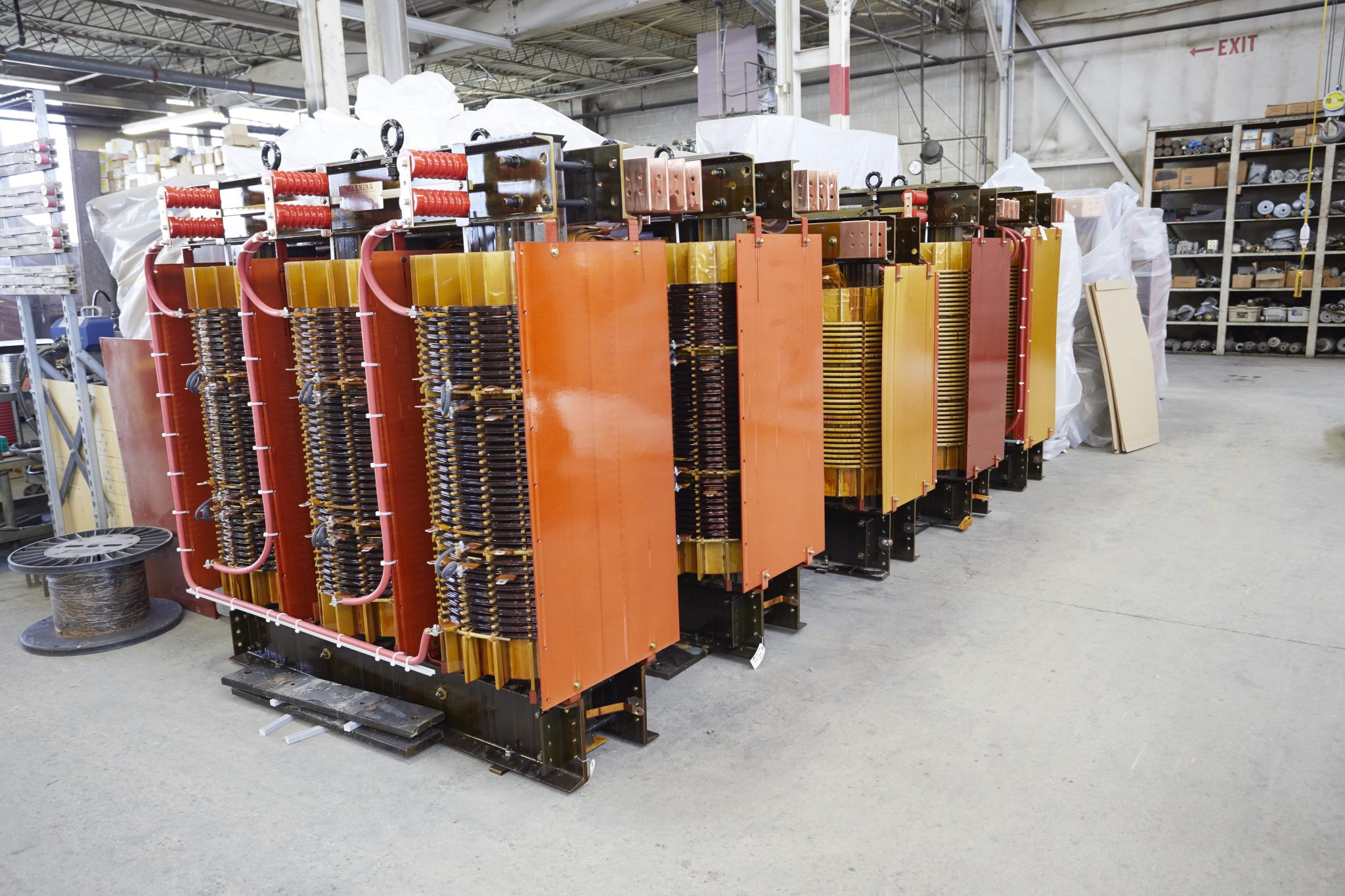 We stock dry type
transformers in 500 KVA to 2500 KVA ratings
and primary voltages of 2400, 4160, 12470, 13200 and 13800 volts. We normally maintain 95% availability of units in these popular ratings, so that we can ship from stock within 24-48 hours. If you have unique specifications we can also build a new dry type transformer for you.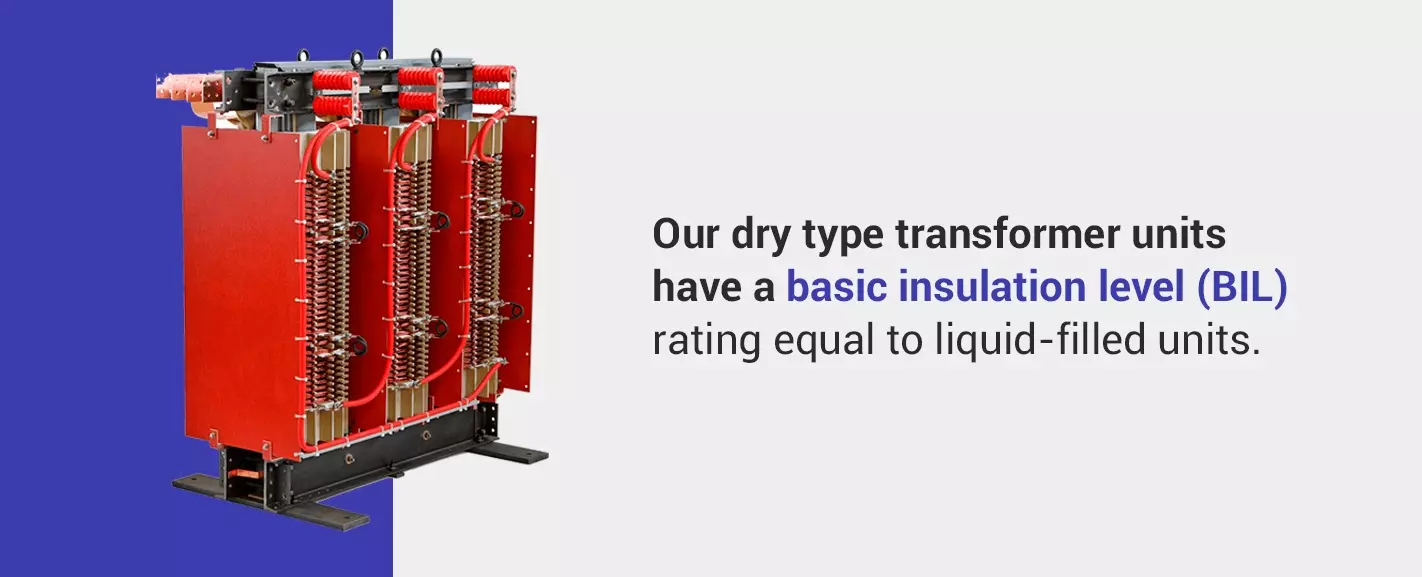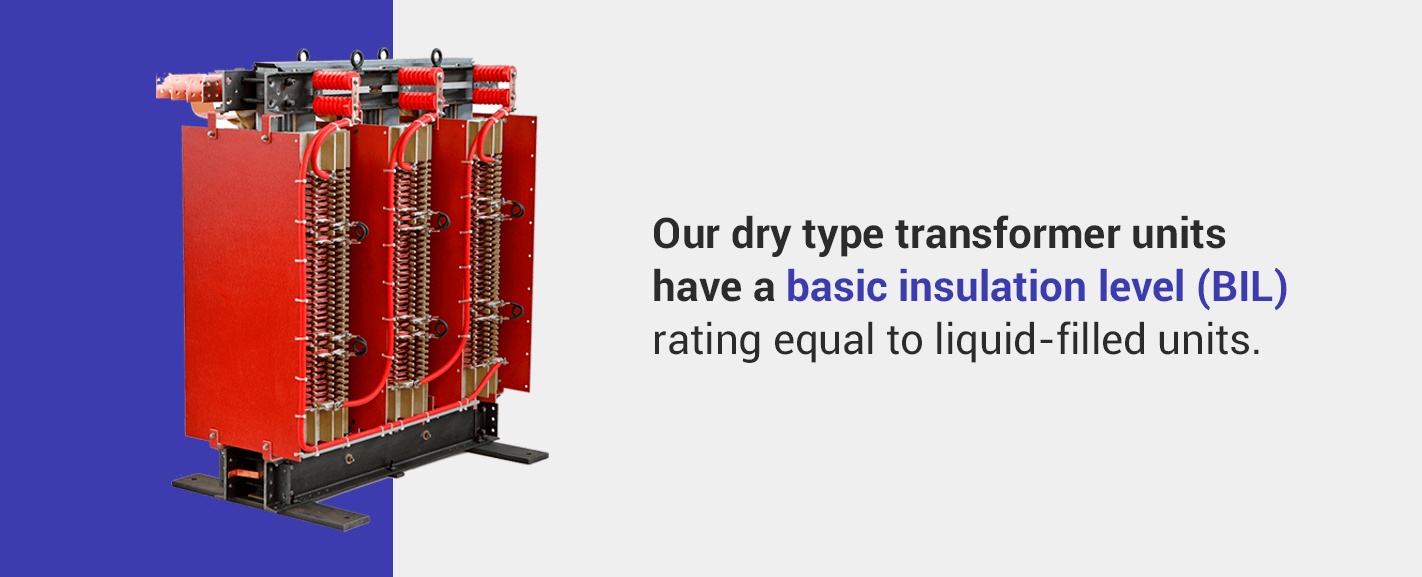 The Benefits of ELSCO Dry Type Transformers
The benefits of our dry type transformers originate from both the design and the materials used in their construction.
Superior Materials
Coil options include copper or aluminum magnet wire and round coil, disc wound designs.  We select insulation such as Dupont Nomex and SG200 fiberglass for their quality and outstanding longevity.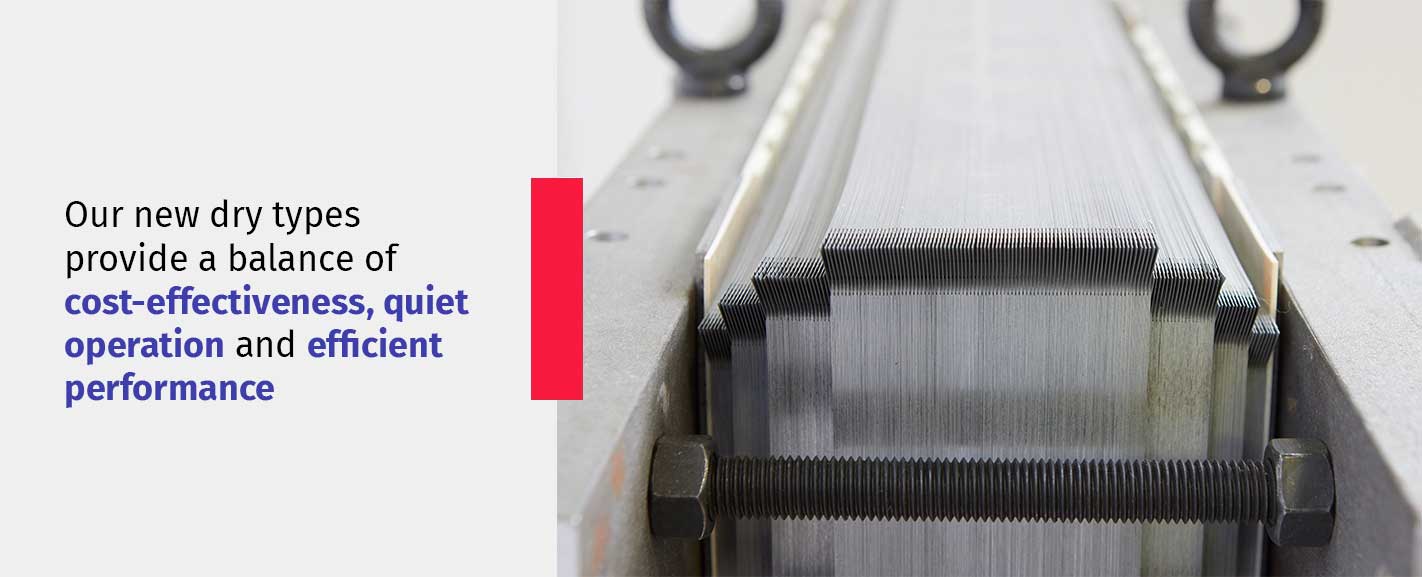 Long Life
Because we use quality materials in their construction, our dry type units have an expected useful life of 30 years or more, and require little or no maintenance. Their resistance to short circuits and excessive heating minimizes the chances of premature failure.
Lower Fire Risk
Enclosing the coils in a polyester varnish coating  greatly reduces the risk of fire and isolates them from moisture. Dry types do not contain any combustible oil coolant; consequently they provide a safer option in potentially hazardous areas such as forests, petrochemical plants or chemical manufacturing facilities.
Easy Installation
With options for either indoor or outdoor enclosures, the installation of these transformers is simple and easy.  While this greatly reduces any downtime, we go one step further – offering offer a customized  retrofit solution that leaves our facility as a perfect  "plug and play" for your facility.
Pollution Free
Dry type transformers contain no liquids that can leak out and contaminate an area. Dry types provide pollution-free operation, making them useful in areas sensitive to liquid or chemical contamination.
Suitable for a Variety of Environments
Because many models provide moisture protection of the inner coils or cores, these transformers can work indoors and outdoors in dry and moist conditions.  Additionally, because these transformers have proven to perform through some seismic events, they are ideal for earthquake prone areas where building codes may require equipment to have this protection.
Dry Type Transformer Applications
ELSCO dry type transformers provide efficient and reliable power to the following industries:
Electrical contactors and supply houses also recommend ELSCO dry type transformers for their customers.
Find out if an ELSCO Dry Type transformer is the best choice to meet your needs
Talk with one of our transformer engineers
Padmount Transformers
We offer emergency transformer replacements for medium-sized padmount transformers.  We can quick-ship from stock, and we strive to respond to service requests within 24 hours, saving you time and money. Our Rapid Response Team can help you restore power and get back in operation quickly.
ELSCO maintains the most reliable inventory of oil–filled padmount transformers for your utility, university, hospital, industrial or commercial energy needs. Featuring new in-stock and build-to-order options, our padmount transformers provide dependable and cost-effective power output for almost every application.
What is a Padmount Transformer?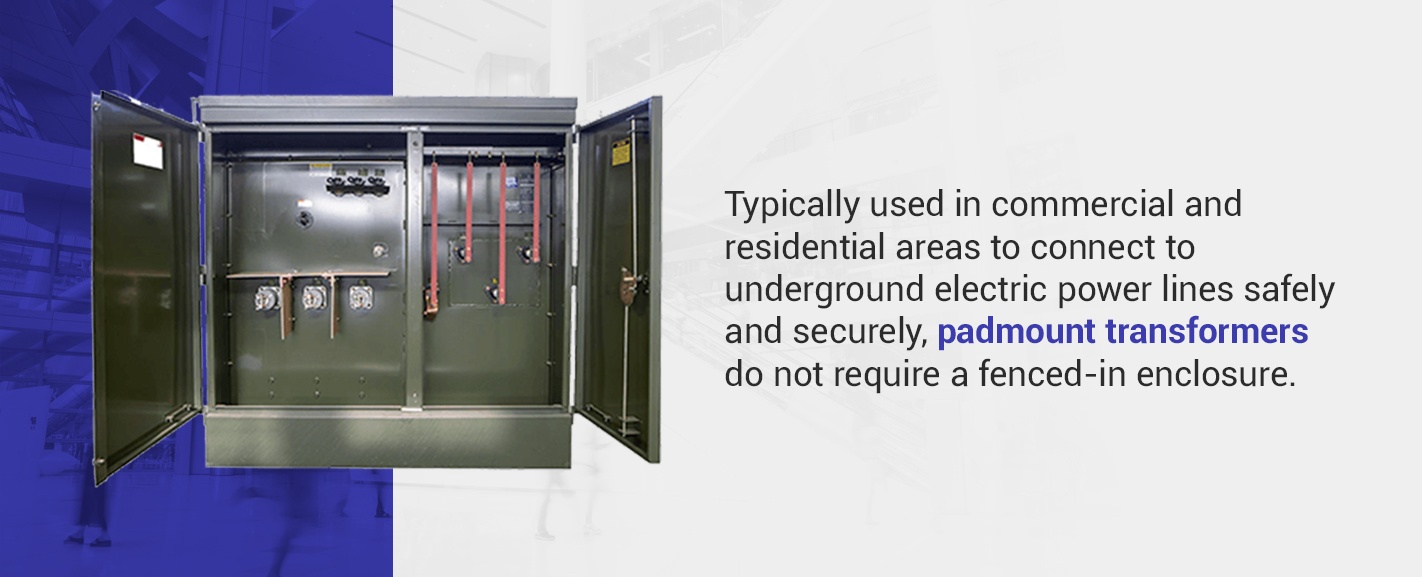 A padmount transformer is a tamper–proof distribution transformer with lockable front doors that is installed on a concrete pad. They are liquid cooled. They are ideal for public spaces like shopping malls, restaurants and other areas that see significant foot traffic, where electrical equipment needs to be kept secure. They are frequently installed outdoors in all-weather conditions.
Padmount Transformers We Stock
We stock padmount transformers with ratings from 500 KVA to 2,500 KVA, with 4160, 12470, 13200 and 13800 volt primary voltages. If you're not sure what transformer size you need, we can work with you to calculate the rating that will work best. Our stock units are three-phase, but we can build a single-phase transformer to order as needed.
Our new, in-stock units can have either aluminum or copper windings depending on what is available at the time. New, build-to-order units can be designed and built with either aluminum or copper windings and insulated with mineral oil or natural ester fluid.  All our transformers are made by hand in the United States.
ELSCO padmount systems can come outfitted with many accessories, such as temperature and liquid level gauges, pressure vacuum gauge, pressure relief valve, drain valve and sampler, fuses, load breaker switch, and lightning arresters.
Benefits of a Padmount Transformer
Padmount transformers are great when under-ground service is required, or when the unit will be installed outdoors and exposed to the weather. They are normally enclosed and locked in a NEMA standard steel cabinet.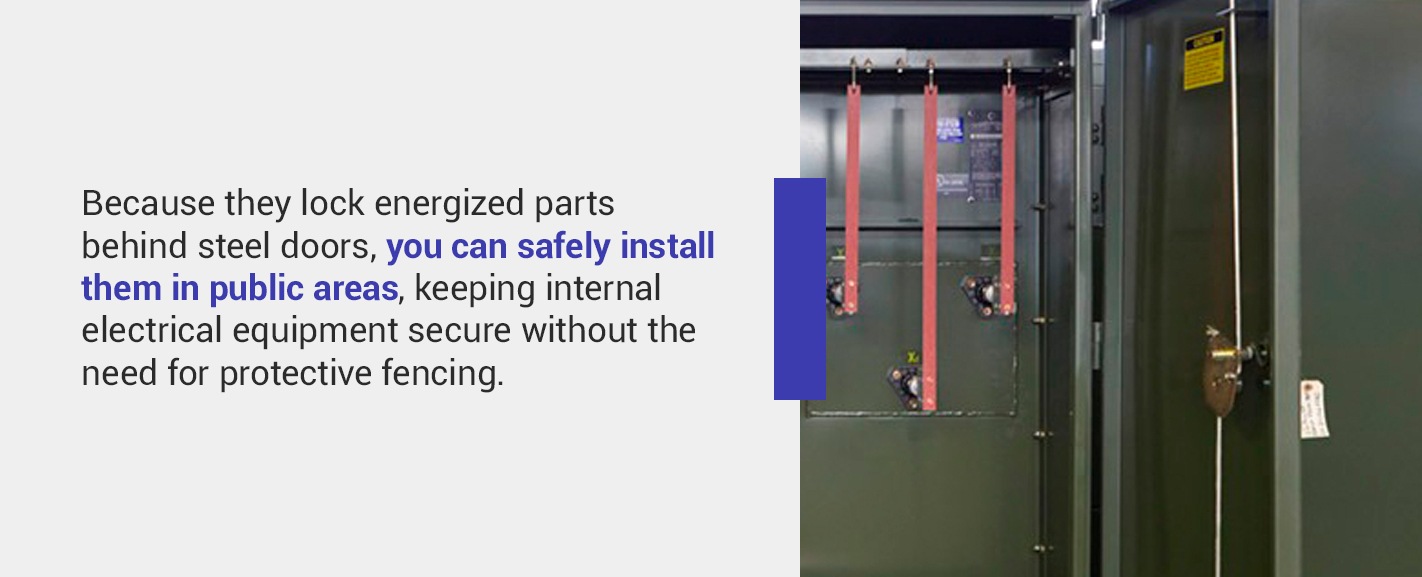 Our transformers offer a cost-efficient solution for your energy needs. ELSCO's inventory of new transformers exceeds all national energy efficiency standards — including NEMA, ANSI and IEEE — plus the recommended ENERGY STAR and Department of Energy (DOE) ratings, so you can deliver more power at a lower cost.
ELSCO uses the highest quality materials and engineering expertise to provide the right unit for your energy needs. If you need a transformer with unique specifications or features, we can work with you to modify a stock unit or fabricate a new system to order.
We can also build a padmount unit to spec. Whether you need one unit or 100 units, you can benefit from a customized fit for any application, from hospitals, universities and office buildings to manufacturing plants and retail locations.
Padmount Transformer Applications
Modern facilities, from schools to factories, need to supply reliable power to a growing variety of technologies — including cloud-ready sensors and smart equipment. At ELSCO, we have experience in developing and manufacturing transformers to meet these contemporary power needs. We provide custom energy solutions for:
We know how much power these kinds of facilities will need, and we'll work with you so you can make the most informed and economical purchase possible.
Learn More About Padmount Transformers
Contact ELSCO for Padmount Transformers
We've been building and delivering power transformers to industrial and commercial customers across the U.S. since 1912.
Each of our key team members has more than 22 years of experience in the industry, and they'll bring that expertise when working with you to fill your order.
ELSCO is also your best option if you need a transformer right away.  With our quick-ship service, your padmount transformer can be on the road to you within 24 to 48 hours of an order, if needed.
Call ELSCO Transformers to discuss your padmount transformer needs
ELSCO Transformer Services
ELSCO was founded in 1912 as a service company, and we continue to maintain that purpose. ELSCO's transformer services provide customers with customized options for connecting with and restoring electric power to their operations.
Supplying or restoring electrical power is not just about purchasing an ELSCO transformer; it also includes a bundle of valuable services that can avoid mistakes and save the transformer owner thousands of dollars.
Services When You Purchase an ELSCO Transformer
Our service begins with making sure that we understand your power needs and that we are offering the best transformer solution to them. If we cannot meet your performance or delivery needs in the most effective way, we will tell you.
If you have a power outage emergency and need a replacement transformer, our Quick Response Team will give your order top priority over others in process.
If your need for a transformer is urgent and we have the right unit in stock, our Quick-Ship option will enable us to ship your transformer within 24-48 hours of receiving your order.
If custom bus work is needed to match your new ELSCO transformer with your low-voltage connections, we can fabricate it and ship it with the transformer, along with connection drawings.
Before your ELSCO transformer is shipped, you will know that it will fit into the space provided and all electrical connections will line up. By following our plug-and-play protocol, you usually will be able to install the transformer and power it up within 4 hours of its arrival at the site.
During the installation, our engineers will be available by phone 24/7 to answer questions and help resolve any issues that may arise.
Your purchase transaction is not complete until your ELSCO transformer is operating correctly and you are completely satisfied.
Other Transformer Services
Because of ELSCO's decades of experience in rebuilding, rewinding and repairing transformers, we have the knowledge and skills to build, repair or retrofit any brand or model of medium-voltage transformers in use today.  Due to recent advances in transformer technology, it is usually more economical to replace an older transformer with a new model rather than repair or rebuild it.  While the new models are more efficient, they are often a different size and would not match the existing connections.  ELSCO can provide the following services to solve this problem:
Transformer Retrofits. A retrofit replaces an older transformer with a newer model that may also have a higher KVA rating. Dimensions are likely to be different, requiring custom bus work and new high voltage bushings and accessories.
Custom-Built Transformers. Some customers have unique specifications and design requirements that cannot be met with retrofitted stock units. ELSCO can design and build a custom transformer to those specifications.
Transformer Repairs. Occasionally a custom-built transformer that is only a few years old will have a performance issue or fail outright, but can be repaired. If a repair is the most economical solution, ELSCO has the knowledge and experience to make the repair. Since repairs take time, an urgent need might be met temporarily with a retrofitted pre-owned transformer.
ELSCO's business has always been to provide transformer solutions. You can learn more about our service solutions at Transformer Services.