We Specialize in Emergency Transformer Replacements
If you have an emergency power outage call 800-232-9002 to contact our Rapid Response Team
Dry Type Transformers
Discover how our range of medium-voltage Dry Type transformers can help your business save time and money in a change-out, upgrade or emergency replacement.
Our In-Stock & Ready to Ship Dry Type Transformer Selection
500 to 2,500 kVA Transformers In-Stock
We Specialize in Emergency Transformer Replacements
If you have an emergency power outage call 800-232-9002 to contact our Rapid Response Team
What is a Dry Type Transformer?
A dry type transformer does not use a liquid cooling agent. Instead of oil, circulating air protects the coils – windings and insulation – from overheating. Within the transformer, manufacturers have multiple options for the components used for insulation, windings and core materials.  The quality of materials and construction determine the operating temperature range and  ultimately the useful life of a transformer.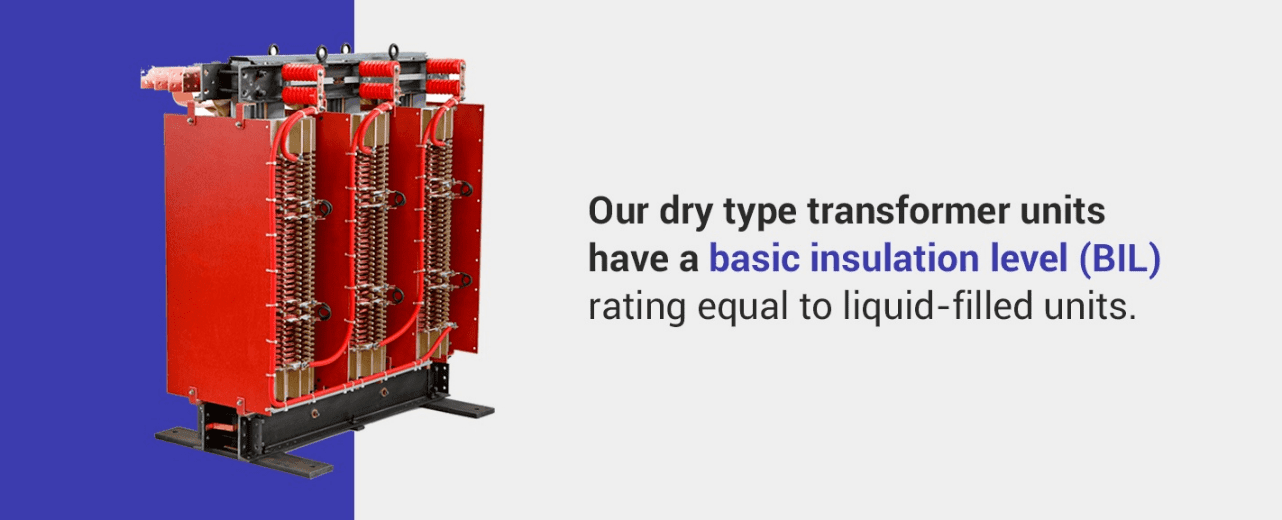 ELSCO Dry Type Transformer Specifications
We produce all our transformers in the United States and stock them at our factory warehouse in Cincinnati, Ohio. We are committed to supplying all our customers with high quality transformers that will provide uninterrupted power efficiently for many years.
We stock dry type transformers in 500 KVA to 2500 KVA ratings and primary voltages of 2400, 4160, 12470, 13200 and 13800 volts. We normally maintain 95% availability of units in these ratings.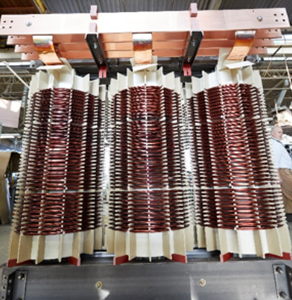 We use copper conductors in our dry type transformers. Copper provides high-quality conduction and mechanical strength, making it the ideal metal for all but the smallest transformer models.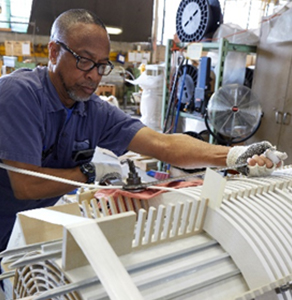 The primary windings are a round coil, disc wound design utilizing a slotted comb design with either heavy armored polythermaleze (HAPT) covered wire or
Nomex-insulated copper magnet wire
.
Round or circular coil
windings offer greater strength for medium and higher voltage transformers compared to rectangular coil designs.
The disc wound type of winding is common in core-form transformers that have 25KV or higher classifications. Since it is the superior design, we utilize it in our 5 KV and 15 KV designs.
For secondary windings, we use Nomex insulation with strip-wound copper conductors, which eliminate vertical forces. Our dry type units have a basic insulation level (BIL) rating equal to liquid-filled units.
For easier installation, we can provide customized bus work or retrofit designs.
We also stock and can provide fans and digital temperature controllers with thermocouples. We can also build a transformer to your specifications if you have time. With a build-to-order you can customize the following options:
Core and coil assemblies
High short-circuit strength designs
Faraday electrostatic shields
K factor designs
High Voltage ratings- 2400, 4160, 12470, 13200, and 13800 Delta in stock.
Low Voltage ratings- 208, 480, 2400, and 4160 volts.
The Benefits of ELSCO Dry Type Transformers
The benefits of our dry type transformers originate from both the design and the materials used in their construction.
Superior Materials
Our new dry types provide a balance of cost-effectiveness, quiet operation and efficient performance. Coil options include copper or aluminum magnet wire and round coil, disc wound designs.  We select insulation such as Dupont Nomex and SG200 fiberglass for their quality and outstanding longevity.  The BIL (Basic Insulation Level) rating of our dry type units is equivalent to that of comparable liquid-cooled units.
Long Life
Because we use quality materials in their construction, our dry type units have an expected useful life of 30 years or more. and require little or no maintenance. Their resistance to short circuits and excessive heating minimizes the chances of premature failure.
Lower Fire Risk
Enclosing the coils in a polyester varnish coating isolates them from moisture and from producing a fire hazard. Dry types do not contain any combustible oil coolant; consequently they provide a safer option in fire hazard areas such as forests, petrochemical plants or chemical manufacturing facilities.
Easy Installation
With options for either indoor or outdoor enclosures, the installation of these transformers is more straightforward than other types. Choosing one with the simplest and easiest installation will cut down on waiting time until your operation can utilize the new transformer. In fact, we can offer a customized "plug and play" retrofit in your facility as a direct replacement for an old transformer.
Pollution Free
Dry type transformers contain no liquids that can leak out and contaminate an area. Dry types provide pollution-free operation, making them useful in areas sensitive to liquid or chemical contamination.
Suitable for a Variety of Environments
Because many models provide moisture protection of the inner coils or cores, these transformers can work indoors and outdoors in dry and moist conditions They have also proven performance through some seismic events. In areas prone to earthquakes, building codes may require equipment to have such protection against damage from seismic activity.
Dry Type Transformer Applications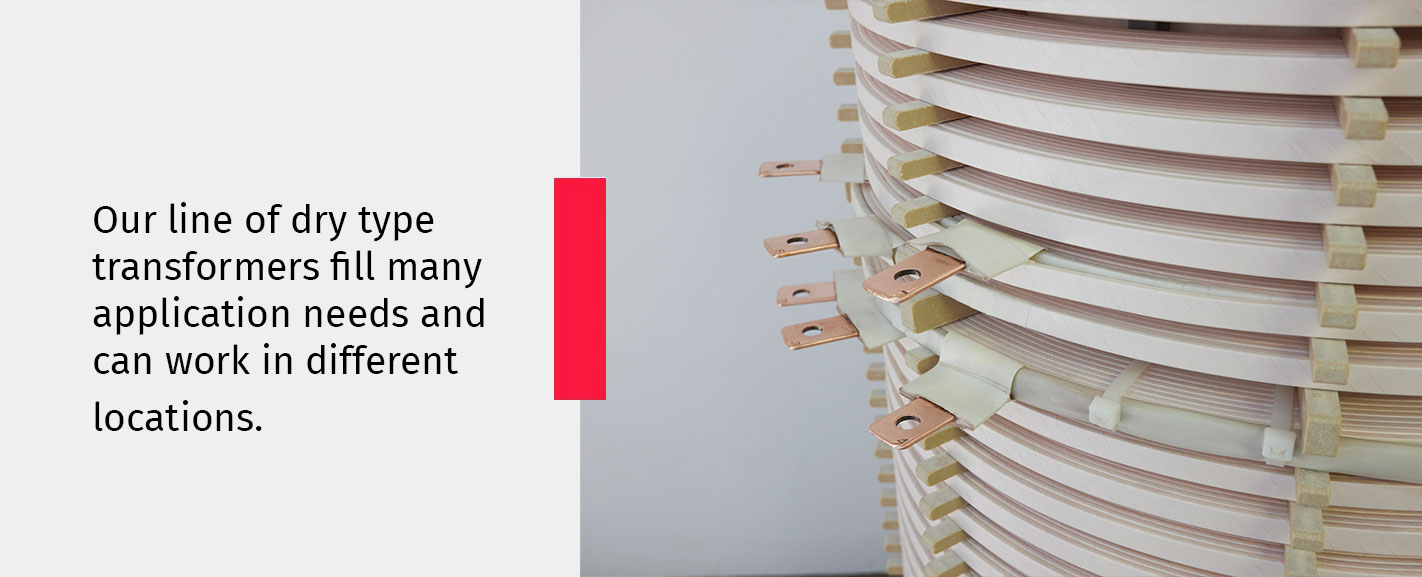 For example, we offer NEMA 1 and NEMA 2 indoor enclosures.  For outdoor spaces we have NEMA 3R enclosures and also strip heaters with thermostats.
ELSCO dry type transformers provide efficient and reliable power to the following types of businesses:
Continuous, uninterrupted electrical power is vital to these businesses.
High-voltage electrical contractors and electrical supply houses also recommend and order ELSCO dry type transformers for their customers.
The ELSCO Dry Type Transformer Warranty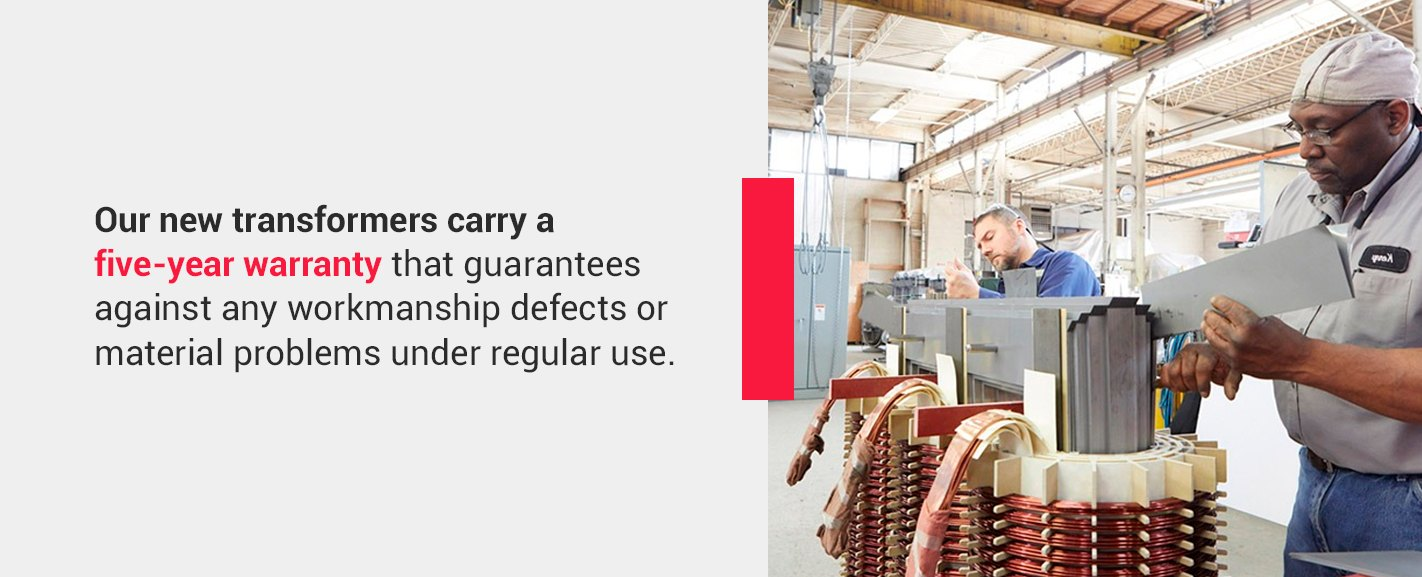 We have two warranties for our dry type transformers, depending on whether the unit was new or remanufactured.
Our new transformers carry a five-year warranty that guarantees against any workmanship defects or material problems under regular use. You must properly install the unit to ensure adequate airflow. If you choose to add thermocouples and fan controls, the former's leads must be at least 6 inches from the bus bar and high voltage coils.
On our remanufactured units, we provide a three-year warranty. The requirements to avoid voiding the warranty for remanufactured transformers are the same as for new models. You must correctly install the model and place the thermocouple leads far enough from the bus bar and high voltage coils.
The standard warranty for medium-voltage transformers in the industry is one year.
Our installed dry type transformers have experienced zero failures or warranty issues since we started building them in 1988.
We can attain such high reliability and offer these extended warranties because we use superior components and expert workmanship in all our transformers. With parts such as Dupont Nomex insulation, SG200 fiberglass insulation, 100% copper windings and round coil, disc wound design, we set our transformers apart from the rest.
The ELSCO Commitment to Quality Means a Lower Total Cost of Ownership of Your Transformer and a Positive ROI Compared to Alternatives
When evaluating your transformer options, consider the total cost of ownership.
The Total Cost of Ownership of a transformer over its useful life has four components:
1. Installed cost
2. Energy costs
3. Maintenance Costs
4. Useful life
ELSCO Transformer's business is dedicated to minimizing the first three components and maximizing the last component of ownership costs for our customers.
We do this with Quality Products and Customized Service.
A high-quality transformer meets and often exceeds the minimum DOE efficiency requirement. A difference in electrical efficiency of even 0.0001% can result in thousands of dollars of additional savings in energy costs over the useful life of a quality transformer.
A high-quality transformer is designed and built so that it will operate cooler and quieter even at full rated load, and consequently will have a longer useful life — 30 years or more. Maintenance expenses are minimized and replacement is postponed for years.
Installation costs can exceed the price of a transformer. ELSCO's Quick-Ship service and plug-and-play installation support enables a quick and seamless retrofit installation which minimizes downtime and can save thousands of dollars during the installation.

Quality means you can have efficient reliable electric power on demand, 24/7 if needed, for 30 years or more.
Quality means you will install your transformer only once.
Quality means your transformer comes with valuable services that will save you time and money.
Quality is the way to minimize the total ownership cost of your transformer.
Dry Type Transformer Resources from ELSCO Transformers
If you know your specifications, you can request a quote.
For more information about our products talk with one of our transformer engineers