Elsco Transformer Options
What's the difference between the different transformer types?
Whether you need advanced design and high performance built to spec or a cost-efficient solution for multiple applications, ELSCO is a leading provider of transformers for every commercial or industrial need. We carry two types of power transformers for you to consider.
Benefits of Dry Type Transformers
Advanced Design: 100% Copper-wound, round coil, disc wound, slotted comb with sheet wound secondary, step lap mitered core with lower flux density.
High Efficiency Performance: Exceeds Energy Star and DOE energy efficiency standards , and meets the latest NEMA, ANSI and IEEE standards.
Cost Effective: Reduces utility and maintenance costs due to increased energy efficiency and superior design.
Quiet Operation: The combined effect of our precision hand-wound coils, completely varnishing the whole unit, and the step lap mitered core with lower flux density ensures minimal noise and vibration once installed.
Extended Life: Superior quality materials, superior design and expert craftsmanship deliver long-standing performance.
Benefits of Padmount Transformers
Proven: Provide safe, reliable power output in public space.
Cost-Efficient: Lower costs for installation upfront and promote increased savings.
Flexibility: New, reconditioned, or custom-built options are available for every application.
Customizable: From one to 1000 units, we build to spec for commercial & industrial use.
Choosing Between a Dry Type Transformer and a  Padmount Transformer
If the space where your transformer will be installed has one or more of the following conditions:
Indoors
Overhead or side connections
Moderate temperature & humidity
Clean ambient air due to air cooling
Restricted access or separate room
Quiet Operation
Part of a line-up
Choose a Dry Type Design
New Dry Types from ELSCO have a 5-year warranty when installed indoors in a clean and dry environment.
Outdoors
Underground connections
All weather conditions
Sealed tank construction due to air quality issues or temperature fluctuations
Public space with foot traffic
Stand alone
Choose a Padmount Design
New Padmount Transformers from ELSCO have a 1-year warranty
If you are not sure which type of transformer is best for your application, we can help. Call ELSCO to talk with one of our transformer engineers.
Dry Type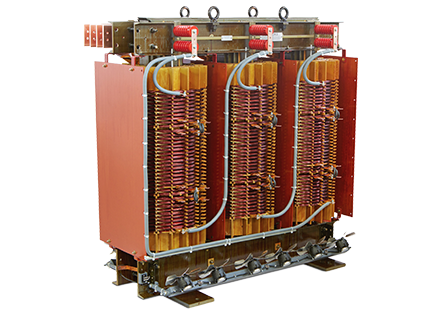 Typically, dry types go indoors due to the high flashpoint, non-flammable Nomex insulation.
Dry types can also be installed outdoors in a specially designed outdoor enclosure to keep any blowing rain/wind/snow out of the enclosure. Our chief engineer always says a dry type transformer installed outdoors is only as good as the enclosure it's in.
Can be either round coil or rectangular coil – round coil is a better design for cooling and short circuit strength.
Can be either disc or layer wound – disc wound is better for cooling. (Disc wound is typically used on the larger kVA or MVA oil filled units – we utilize the same design on our dry types.)
Degree C rise can be either 80 degree C, 115 degree C, or 150 degree C rise. 80 degree C runs the coolest and lasts the longest because insulation breakdown is what shortens the life span of a transformer, which is almost always caused by heat either thru overloading or harmonics.
Standard dry type warranty is one year – ours is an industry best 5 years for indoor use in a clean and dry environment.
Dry type transformers are typically part of a line up with HV gear on one side and LV breakers on the other.
ELSCO can do custom bus work for direct plug and play retrofit.
Talk with one of our transformer engineers
Contact us for more information about our products or to start customizing a transformer for your operation.
Padmount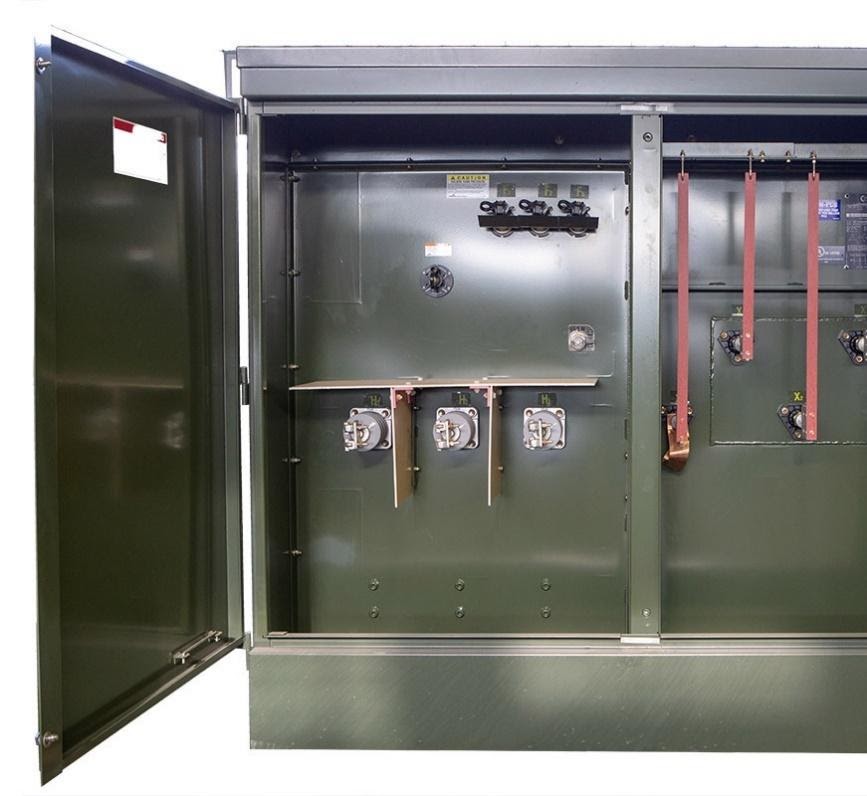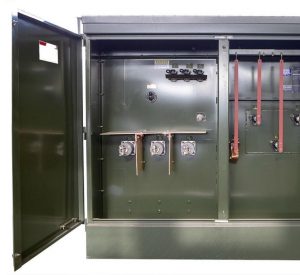 Green color.
Lockable doors up front.
Cable in from underneath the front compartment.
HV & LV bushings both on the front side of the tank behind the lockable doors and separated by a steel HV-LV barrier.
Tamperproof and stand-alone (not part of a line-up).
Outdoors applications.  You will see them behind restaurants or malls or universities (anywhere there are people milling about).