Proudly Serving Oregon!
A transformer failure prevents your company from maintaining productivity levels and impressing those you serve. Work with the experts at ELSCO Transformers to upgrade your system with a medium-voltage transformer you can rely on.
We process orders promptly and offer a wide range of transformer services for your convenience. Choose the premier transformer supplier to ensure your system fulfills your electrical needs.
Fill out this contact form, and discover what Elsco Transformers has to offer!
Your Source for Dry Type Transformers in Oregon
A dry type transformer is necessary for facilities that hold or use sensitive gases and liquids. These pollution-free devices use airflow and ventilation to regulate internal coil temperatures rather than liquid coolants, so the transformers will not leak or contaminate your products or resources.
At ELSCO Transformers, we build dry type units to meet the highest standards for quality. We use aluminum and copper materials to ensure you receive a device capable of converting electrical current and safeguarding your productivity.
Our dry type transformers offer:
Remarkable warranties: All ELSCO Transformers dry type systems come with a five-year warranty.
Coil coatings: Our professionals add varnish coatings to internal coils to eliminate fire risks.
Lengthened service life: Our hand-fabrication processes enable us to ensure consistent quality that lasts for about 30 years.
Our In-Stock & Ready to Ship Dry Type Transformer Selection
500 to 2,500 kVA Transformers In-Stock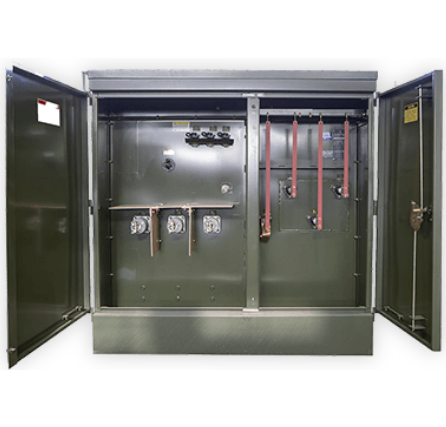 Find the Padmount Transformers You Want for Your Company in Oregon
ELSCO Transformers is a leading supplier of oil-based padmount units for entities in diverse industries throughout Oregon. We have a massive catalog of padmount transformers for hospitals, restaurants, shopping malls and public schools.
Each padmount transformer has a tamper-proof enclosure. The locking doors ensure passersby are safe and only authorized users have access without requiring you to build a fence. Run power to underground electrical lines in high-traffic areas easily. Liquid-cooled transformers exceed national energy efficiency standards for economical rates.
Have Us Take Care of Retrofit Services and Custom Bus Work
Oregon-based businesses count on ELSCO Transformers for retrofit solutions. Together, you and one of our representatives can go over your options for transformers that fit within your current power system. Stay on schedule with your operations since our retrofit services help you adapt to your growing power requirements.
Guarantee your new transformer connections match up with your existing system thanks to our custom bus work services. Our team has decades of experience completing custom work on transformers, so we can ensure your bus bars are oriented correctly.
Depend on Us for Emergency Transformer Replacement Services in Oregon
Emergency replacement services are useful when your old power system is out of commission. When your transformer fails and jeopardizes your efficiency, view the in-stock options in our catalog to see which devices we can send quickly. Our representatives usually handle your emergency requests within 24 hours.
ELSCO Transformers is known for Quick-Ship capabilities for businesses in Oregon. When you order an emergency transformer replacement and the unit is available, you can expect your purchase to leave our facility in 24 to 48 hours from the time we see your request come through.
Submit a Form Online for a Pricing Quote
At ELSCO Transformers, we design, manufacture and customize medium-voltage units for your applications. Fill out our form online to get a quote for dry type or padmount transformers today.