Proudly Serving Missouri!
Providing your customers in Missouri with reliable services is essential to your success as a business. You'll need a dependable and consistent power supply to ensure your productivity stays high. ELSCO Transformers offers transformers manufactured from high-quality materials that will help you maintain your success and efficiency.
ELSCO Transformers has served customers with medium-voltage devices for decades. Our experienced team has the knowledge and resources to design and manufacture technology your company in Missouri can count on.
Fill out this contact form, and discover what Elsco Transformers has to offer!
Dry Type Transformers in Missouri
Dry type transformers circulate air around the insulation, coils and windings to avoid failure and damage due to overheating. These devices are used by various industries in numerous indoor and outdoor locations due to their durable designs, protecting them against dry and moist environments.
We produce our systems using the highest-quality materials, offering an excellent combination of affordability and efficient functioning. Pollution-free dry type transformers offer environmentally friendly solutions for areas sensitive to chemical contamination. They also provide additional benefits, including:
Extensive life span: Through our focus on quality and superior materials, we manufacture devices that last for about 30 years and offer five-year warranties on dry-type units.
Reduced fire risk: Coated coils and the absence of combustible oil coolant make dry type solutions excellent additions in areas where a fire is a potential risk.
Straightforward installation process: Dry-type transformers are suitable for indoor and outdoor use, and our custom systems offer "plug and play" installation.
Our In-Stock & Ready to Ship Dry Type Transformer Selection
500 to 2,500 kVA Transformers In-Stock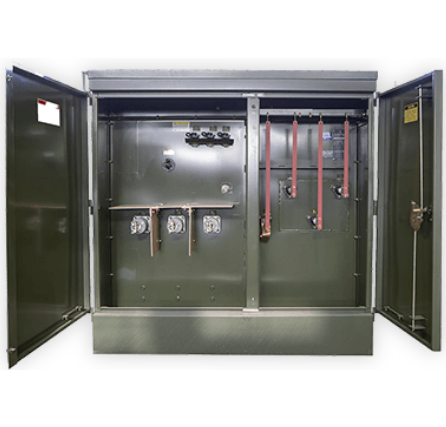 Padmount Transformers in Missouri
Padmount transformers sit on concrete pads in residential and commercial environments, providing connections to underground power lines. These devices utilize a steel housing cabinet with lockable doors to protect the internal components from harsh weather. What's more, you can operate the transformer safely without a fenced enclosure.
At ELSCO Transformers, we stock these liquid cooling units with ratings from 500 kVA to 2,500 kVA. We have three-phase units in our catalog, but we can also fabricate single-phase transformers. We can help you fit your specific applications with our built-to-order retrofits, allowing us to add custom items such as:
High short-circuit strength designs
Electrostatic shields
K-factor designs
Add a Custom System to Your Facility
Whether your system is coming to the end of its life span or your transformer can't keep up with your increasing power needs, ELSCO Transformers can provide expertly designed and manufactured devices to ensure a perfect fit into your existing system. Our customers count on our retrofitting services to receive technology that meets your company's power supply needs.
We can also provide custom bus work for your company in Missouri. Our team will use your current connections and available space to tailor your new unit. We will reuse existing hardware and install custom bus bars in the correct place to give you the best fit possible.
Emergency Replacement Services
Transformer failure can cause an interruption or outage without notice, halting your facility's power supply. ELSCO Transformers offers emergency transformer replacements to keep your disruption to a minimum. When you opt for Quick Ship and select an in-stock device from our catalog, your new transformer leaves our facility within 24 to 48 hours. What's more, we respond to emergency requests within 24 hours, saving you time and money.
Request a Quote for a New Transformer in Missouri
Does your Missouri facility need a new transformer? Contact us today to request your quote for a new dry type or padmount transformer.