Proudly Serving Minnesota!
ELSCO Transformers is the leading full-service transformer company for medium-voltage systems. We work hard to provide our commercial and industrial clients in Minnesota with dependable devices and expert services that improve efficiency and keep disruptions to a minimum.
Each key member of the ELSCO team has decades of experience that you can trust. We work carefully with a focus on customization and quality, giving you systems tailored to your applications, resulting in an uninterrupted power source you can use for years down the line.
Fill out this contact form, and discover what Elsco Transformers has to offer!
Dry Type Transformers in Minnesota
ELSCO Transformers has been a reputable manufacturer of dry type transformers since 1988. These devices are hand-fabricated within the United States, constructed from excellent materials and thoroughly tested for quality assurance. These systems use circulating air to avoid overheating and last for three decades while exceeding many energy standards set forth by national agencies. Additional benefits they provide include:
Zero-pollution design: Dry type transformers use no liquid coolant, eliminating any chances of leaks or contaminations to your surrounding environment.
Versatile installation locations: This technology can withstand moist and dry conditions in various indoor and outdoor areas.
Reduced fire risk: Wit a protective coating around the coils and no combustible oil coolant, these devices offer a safer option for facilities with high fire risks.
Extensive warranties: We provide five-year warranties on new units that protect against construction defects or issues with our materials.
Our In-Stock & Ready to Ship Dry Type Transformer Selection
500 to 2,500 kVA Transformers In-Stock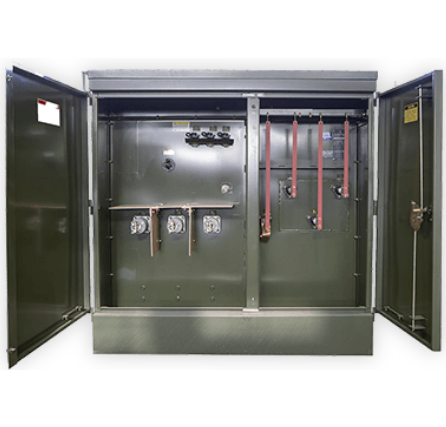 Padmount Transformers in Minnesota
Depend on a padmount transformer for a safe and secure connection to underground power lines. These devices sit on a concrete pad and stay protected from weather and tampering behind a steel cabinet with lockable doors, eliminating the need for fencing. These systems provide all necessary safeguards for use in residential and commercial areas filled with people.
Whether you need a three-phase or single-phase device, our experts can give you what you need. Our catalog lists transformers rated for various voltages. We also offer custom build options to outfit your padmount transformer with accessories like bayonet current sensing fuses and distribution class lightning arresters.
Customize Your Transformer
When your transformer is experiencing severe and constant maintenance issues or is naturally reaching the end of its life, a replacement is often more cost-effective than expensive repairs. Our retrofitting services will ensure you receive a replacement that fits your existing electrical system and meets your specific power demands.
Businesses also depend on us for custom bus work in Minnesota, saving time and reducing infrastructure upgrade costs.  We will create and install low-voltage bus bars to your new transformer to match your dimensions and specifications. Our custom bus work will use existing connections, implement old hardware and guarantee the perfect fit.
Get Your Emergency Replacement Unit Fast
At ELSCO, we aim to keep your downtime to a minimum during unexpected malfunctions. If you need a device to get your facility back on schedule, our Quick-Ship option enables your new replacement transformer to leave our facility within two days of your order. These emergency systems are more than a makeshift solution while you wait for a permanent device. Each unit is a long-term solution that your business can depend on for decades.
Request a Quote for a New Transformer in Minnesota
Whether you run a factory or are in charge of a university in Minnesota, the team at ELSCO Transformers can provide you with the quality system you need to carry out your daily tasks. Contact our staff to request your transformer quote today.