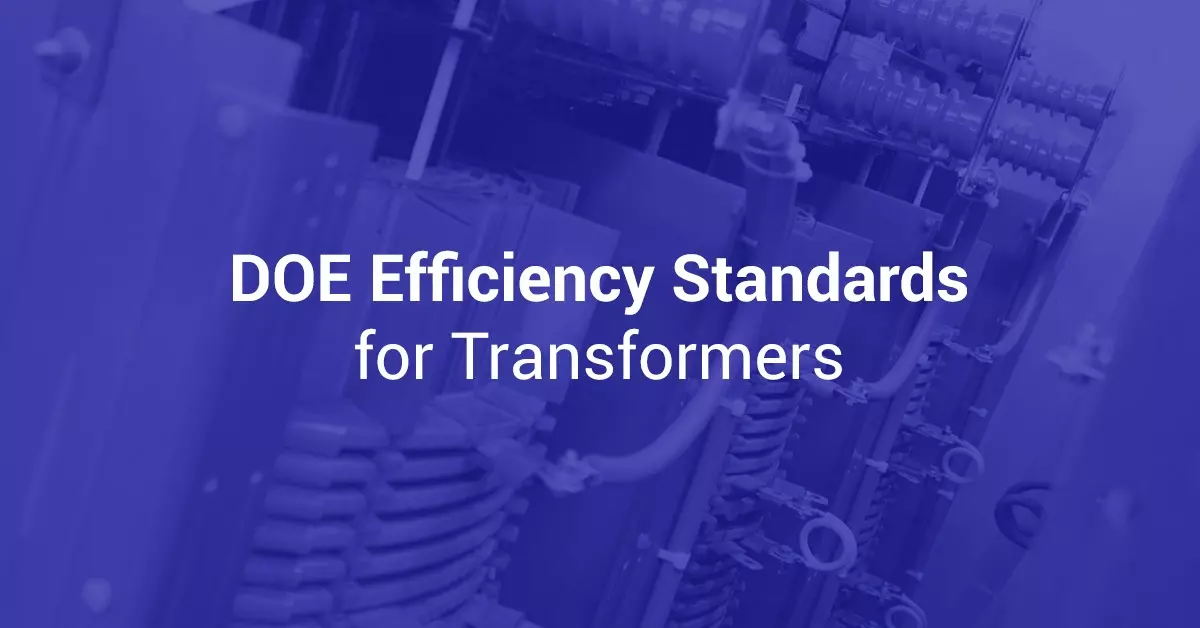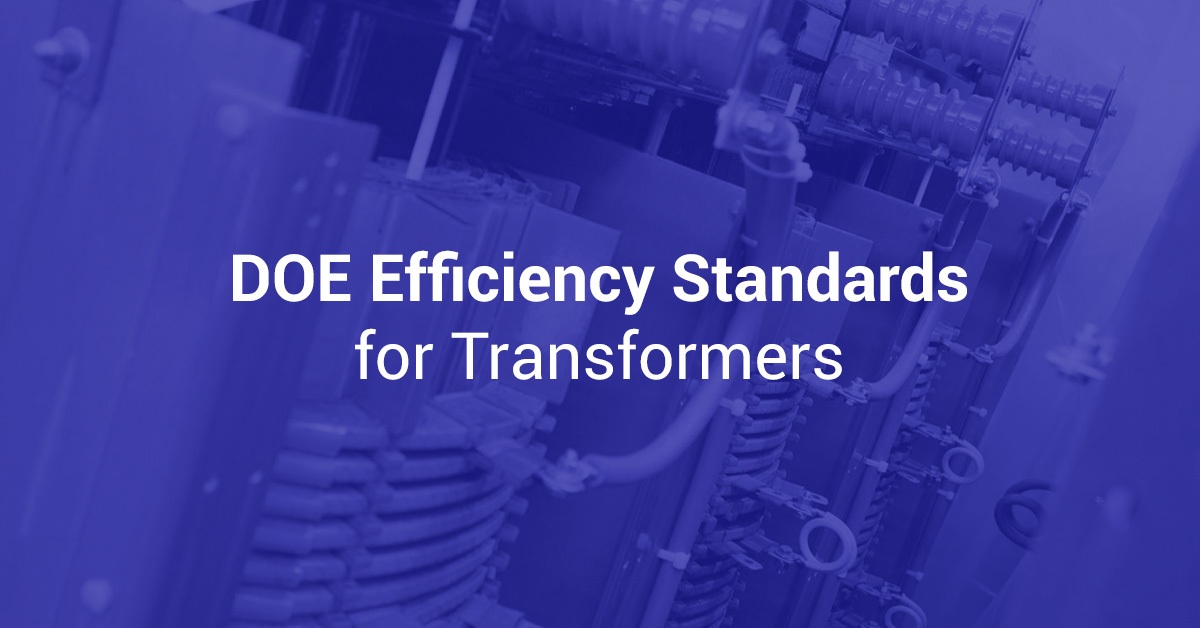 Jump To:
More than 40% of the energy used in the U.S. is consumed by building operations, including the electrical equipment and appliances within those buildings. While this equipment is essential to daily functionality in homes and business locations, ensuring that these appliances use energy efficiently is also gaining importance. Since the Energy Policy and Conservation Act of 1975 was amended, the U.S. Department of Energy (DOE) has been responsible for ensuring that appliances meet a minimum standard of energy and water efficiency. The DOE rules apply to over 60 different product types used in public and commercial applications, including transformers.
Distribution transformers play a significant role in daily life, providing the final voltage transformation in an electric power distribution system. Transformers convert power into a form useable within buildings, making it essential for public, commercial and industrial applications. Since 2007, the Department of Energy has played a role in regulating the efficiency of transformers, and they've regularly updated their standards every several years. The most recent of these standards are the DOE 2016 efficiency requirements, which were deployed with efficiency and consumer benefits in mind.
What Are the DOE Efficiency Standards?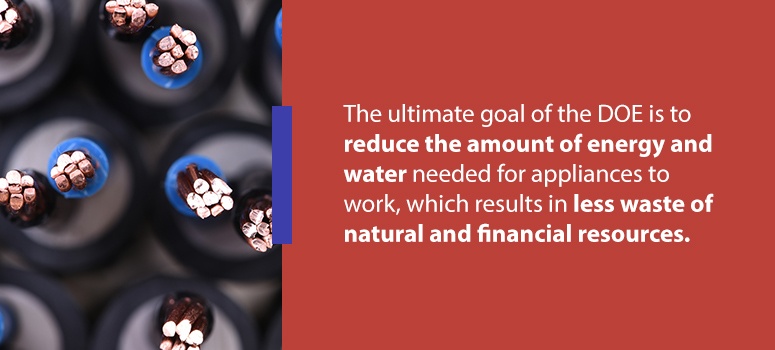 The Department of Energy establishes energy-efficiency standards under the Appliance and Equipment Standards Program, which is a suite of programs under the Building Technologies Office (BTO). The goal of these programs is to help reduce the consumption of energy and resources in buildings. The specific focus of the Appliance and Equipment Standards Program is to maximize energy efficiency for appliances used in buildings, including transformers.
The ultimate goal of the DOE is to reduce the amount of energy and water needed for equipment to work, which results in less waste of natural and financial resources. Of course, these efficiency standards must also be realistic, which is why the DOE considers many factors when reviewing and developing standards. These factors include:
Technical feasibility: The DOE takes into consideration recent technological changes and standards and what is feasible with these new innovations.
Cost efficiency: While certain types of technology may be ideal for improving energy efficiency, not all options will be cost-effective for manufacturers or consumers. For this reason, the DOE takes current market costs into consideration when setting basic standards.
Existing standards: The DOE often uses existing standards as a template for future standards. This can include both federal and state standards, as many states choose to set their own standards outside of federal mandates.
Stakeholder input: The DOE takes input from a variety of stakeholders, including manufacturers, energy experts and consumer advocates.
Once the new standards are completed, they go into effect within the next few years, at which point it is the responsibility of manufacturers to read and comply with the new standards.
Benefits of Efficiency Standards to the Customer and the Industry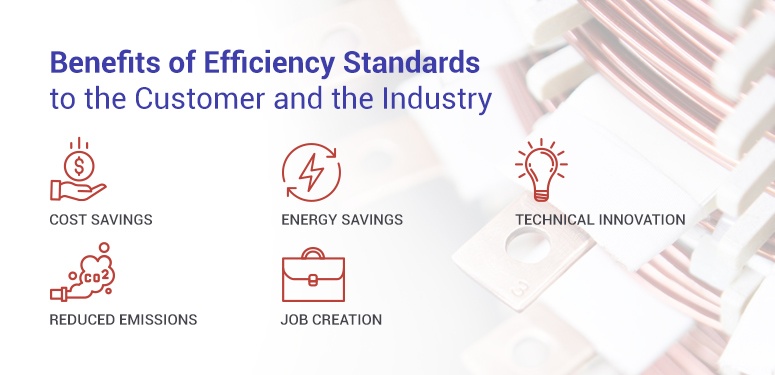 The benefits of DOE efficiency standards for transformers and other appliances are significant and widespread, positively affecting consumers and the industry at large. Some of the primary benefits of efficiency standards include the following:
Cost savings: DOE standards are designed to be cost-effective for consumers. Manufacturers are required to ensure that any increases in appliance and equipment prices will be recovered through electricity savings within the lifetime of the product. in total, standards are expected to save consumers a cumulative amount of $950 billion on utility bills between 1987 and 2020 and over $1.7 trillion through 2030.
Energy savings: Energy-efficient appliances use less energy-intensive technologies, reducing the amount of electricity and water used in each product. This benefit is particularly important for transformers, as transformers work on continuously. Over the next 30 years, improving transformer efficiency is expected to reduce energy needs by 3.63 quadrillion British thermal units (Btus), which is the equivalent of the annual energy usage of 40 million American households.
Reduced emissions: Energy-efficient appliances help reduce greenhouse gas emissions. By reducing electricity consumption, energy-efficient appliances require less energy generation from power plants, which often use fossil fuels. According to the DOE's BTO, the standards implemented since 1987 have avoided 2.3 billion tons of CO2 emissions, which is equivalent to the annual emissions of 500 million cars. Over the next 30 years, improving transformer efficiency alone is expected to eliminate another 264.7 million metric tons of CO2 emissions, the equivalent of 51 million annual automobile emissions. On top of these emissions, improving transformer efficiency is expected to avoid the emission of 203,000 metric tons of nitrogen oxides, 182,900 metric tons of sulfur dioxide and 1,200 pounds of mercury.
Technical innovation: Appliance and equipment standards ensure that manufacturers transition away from outdated technology more quickly, pushing them toward innovative and efficient product designs that can help the market as a whole.
Job creation: While manufacturers are expected to lose up to 8.4% of their net value over the next 30 years, it is highly unlikely that manufacturers will see any plant closings or significant losses of employment. In fact, while standards can increase manufacturing costs, they create jobs in research, manufacturing and installation. The American Council for an Energy-Efficient Economy (ACEEE) estimates that 340,000 jobs were attributed to appliance standards in 2010 and that by 2030 this number could jump to 380,000 jobs in the United States.
While these benefits prove valuable to the industry and consumers as a whole, it is essential to understand the immediate impacts of DOE efficiency standards and how to comply with DOE efficiency standards.
How to Comply With Efficiency Standards
DOE guidelines for transformer efficiency started with the 2010 guidelines, and the 2016 standards use the baseline set by the 2010 guidelines. Both standards are identical in scope, compliance methodology and exceptions and outline efficiency requirements according to the type of transformer. The only significant change is in the required efficiency levels.
While DOE 2010 regulations aimed for 98.36 to 99.49% transformer efficiency ratings, the 2016 regulations increase the expectation to 98.70 to 99.55%. This change primarily impacted the quality of materials and the weight of transformers, which increased both the price and the efficiency of transformer products. To maintain transformer compliance with DOE efficiency standards, you need to review transformer designs through the lens of the new standards. Be sure to account for any state standards as well — 15 states and the District of Columbia enforce more demanding standards than those required at the federal level.
As of the writing of this article, compliance with 2016 regulations is mandatory. Any transformer shipped after December 12, 2015, must conform to the new standard, and the production, import and sale of non-compliant products is prohibited. While installed equipment already owned by customers is not required to meet this standard, manufacturers cannot sell any more non-compliant products, as the grace period for selling these products after the implementation of the 2016 regulation has passed.
Impacts of DOE Regulations and Compliant Transformers
The 2016 Department of Energy efficiency standards have changed transformer designs and preferences in substantial ways. The most notable impacts are listed below:
Transformer weight and dimensions: New standards have affected the overall weight and size of transformers. Overhead and three-phase transformers are particularly affected, with overhead transformers increasing in weight by 4 to 8% and three-phase transformers increasing by 5 to 6%.
Materials costs: Efficient transformers require higher core material quality. Higher grades of conventional grain-oriented electrical steel and amorphous metals are particularly favored, with the former being the cheapest option. Both, however, are more expensive than previous materials allowed under the 2010 standard.
Installation practices: Changes in size and weight for transformers has impacted the installation practices used for transformers. Pads for transformers have been redesigned to accommodate new dimensions, and transportation and handling practices have changed to account for the new weight and size.
While these impacts are substantial, they are a small tradeoff for the many benefits of improved energy efficiency.
Contact ELSCO Transformers for More
While the 2016 DOE efficiency standards for transformers are extensive, they pose significant benefits to consumers and the industry at large. It's essential to remember, however, that efficiency requirements can change, and the DOE is more likely to increase requirements rather than reduce them. To take on new regulations, you need to work with manufacturers that can accommodate new regulations effectively and assist their customers with new transformer efficiency standards and ratings. ELSCO Transformers is one such manufacturer.
If you need high-efficiency transformers that comply with DOE regulations, ELSCO can help. We can assist you with learning how to comply with DOE efficiency standards as they are updated in the coming years, providing high-quality transformers with excellent warranties. On top of our quality products, we provide comprehensive support with a staff of experienced specialists who can help you with any questions you may have.
Contact ELSCO today to learn more about our products or request a quote.