Proudly Serving Kansas!
Whether you're a utility company, hospital or university, you'll need a reliable transformer to keep your operations running smoothly and successfully. As a leading full-service transformer company for medium-voltage transformers in Kansas, ELSCO Transformers can help you access the power your business needs, providing cost-effective solutions that minimize downtime and boost productivity.
We combine decades of experience and comprehensive medium-voltage transformer production capabilities to deliver the quality products your facility needs. We value open communication, which we show through our speedy response times to all service requests to help you whenever you need it. Our staff also provides retrofitting services and custom bus work to configure your new transformer for your existing system, ensuring that it has a suitable connection and lasts for decades.
Fill out this contact form, and discover what Elsco Transformers has to offer!
Dry Type Transformers in Kansas
Dry type transformers prove to be a durable power source option in various environments. We manufacture, stock and modify systems with superior coil and insulation materials combined with innovative designs to increase strength and durability while minimizing fire hazards. They circulate air to regulate temperatures, eliminating the use of liquids and removing any risk of leaks and pollution contaminating the surrounding area. We back these systems with five-year warranties, giving you the reassurance you need.
Dry type units offer many advantages for companies in Kansas, including:
You can expect 30 years of use with manageable maintenance.
We coat the coils with a polyester varnish coating to protect them from moisture.
Our devices maintain a basic insulation level (BIL) rating equal to liquid-filled units.
Our In-Stock & Ready to Ship Dry Type Transformer Selection
500 to 2,500 kVA Transformers In-Stock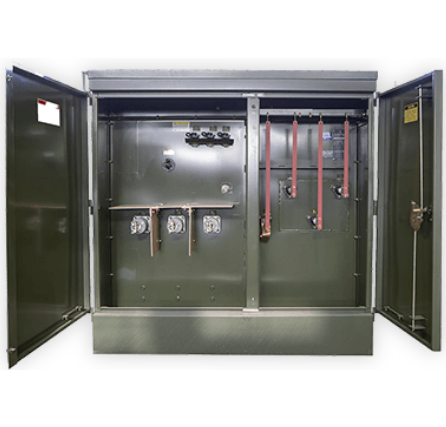 Padmount Transformers in Kansas
Does your facility operate in residential or commercial areas with heavy foot traffic? Padmount transformers offer peace of mind in busy areas while connecting to underground power lines. They sit on concrete pads and have lockable steel cabinets to protect them from weather and tampering without a fence.
Our padmount systems use mineral oil or natural ester fluid as liquid coolants. We stock units with ratings from 500 kVA to 2,500 kVA and offer three-phase devices in our catalog, though we are also qualified to build single-phase transformers. We also provide built-to-order services to equip it with accessories such as:
Temperature and liquid level gauges
Distribution class lightning arrester
Two-position load-break switch
Meet Your Demands With Our High-Quality Modification Services
ELSCO Transformers produces quality devices to resolve your facility's issues like overloading or meeting evolving power capacity demands. We provide modification assistance through custom bus work and retrofitting services that guarantee a perfect fit with your current system.
With a retrofit transformer, you will receive a device that meets your needs without modifying your existing system. We'll use a unit from our catalog that meets your specifications and fabricate new low-voltage bus bars. Your transformer will utilize old hardware, attach to current connection points and slide right into the available space, saving you time and money.
We're Known for Our Emergency Replacement Services
The ELSCO Transformers team can help you limit downtime with emergency replacement medium-voltage transformers. Our Quick-Ship options ensure that your facility gets what you need fast. We aim to respond to all service requests within 24 hours, and your new transformer will leave our facility within 24 to 48 hours.
Request a Quote for a New Transformer in Kansas
A dependable transformer provides consistent power for your facility's daily operations. When it's time for a new one, ELSCO Transformers can help. If you know your specifications and are ready to start the process, request your quote from our team today.