Proudly Serving California!
When you provide your customers with the best products and services possible, you need a dependable power source to keep the lights on, and that system should last for years to come. ELSCO Transformers designs and manufactures high-quality, medium-voltage transformers. These systems provide a hassle-free user experience, giving you continuous energy and helping you do what you do best.
Fill out this contact form, and discover what Elsco Transformers has to offer!
Dry Type Transformers in California
Dry type transformers circulate air around the coils, insulation and windings to remain cool instead of using liquid cooling agents. The ELSCO Transformers team uses high-quality materials and innovative construction methods to ensure our dry type transformers perform efficiently and quietly. These units exceed the Department of Energy's standards and boast many other benefits, including:
Reduced fire risk: Our systems contain no combustible oil coolants, and we enclose each coil in a polyester varnish coating, making them a safe choice.
Pollution-free operation: With no liquids used, there are no leaks to contaminate surrounding areas.
Usable in many environments: They offer protection from moisture within the inner coils, allowing them to be used inside and outside in dry and moist conditions.
Our In-Stock & Ready to Ship Dry Type Transformer Selection
500 to 2,500 kVA Transformers In-Stock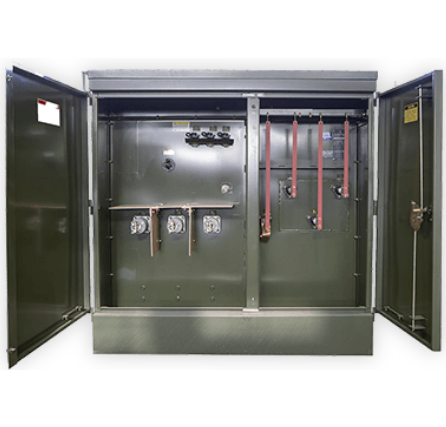 Padmount Transformers in California
Padmount transformers are commonly installed outdoors on concrete pads in residential and commercial areas to connect underground powerlines. Their lockable front doors keep these lines secure and safe in high-foot-traffic areas such as shopping malls or restaurants. Our team builds these transformers using copper or aluminum windings and fills them with natural ester fluid or mineral oil for successful insulation. We offer transformer ratings from 500 kVA to 2,500 kVA, available with accessories including:
Liquid level and temperature gauges
Two-position on/off switches
Pressure relief devices
Bayonet current sensing fuses
California Transformer Company Offering Custom Bus Work and Retrofitting Services
When your transformer reaches the end of its life span or your facility requires more power, it may be time for a replacement. Our retrofit services go above and beyond, equipping your company to meet your changing power needs. We offer plug-and-play retrofitting services, making the installation process simple and supplying you with custom designs.
We provide custom bus work to eliminate the need to rework connections or construct new housing. Our team will manufacture bus bars and install them, guaranteeing the perfect fit for your specifications. We will also use some of the old transformer's hardware, lowering the cost of your retrofit.
Your Go-To Emergency Services Provider
When you're in a pinch and need a new dry type or padmount transformer fast, you can count on our team to provide superior results within your time constraints. The ELSCO Transformers team can get you your emergency replacement transformer quicker than any other provider, with orders leaving our facility within 24 to 48 hours. Our convenient installation protocol will help you prevent delays and restore power as soon as possible.
Request a Quote for a New Transformer in California
Is your company looking for a new transformer? Since 1988, we have had zero warranty issues because of our dedication to using quality materials, craftsmanship and designs. When you trust ELSCO Transformers, you'll receive some of the most dependable transformers on the market.
Get in touch with our team to request your quote from a leading transformer manufacturer in California.