Proudly Serving West Virginia!
Keeping your business in West Virginia running efficiently means not having to worry when an emergency failure occurs. You need a dependable medium-voltage transformer that can handle your company's demands. ELSCO Transformers offers options that fit your needs and provide exceptional value. Invest in your future with our industrial transformers for schools, electrical suppliers, hospitals, manufacturers and more in West Virginia.
You'll receive dry type or padmount transformers that generate uninterrupted power for decades when you buy from us. Our sterling reputation reflects our systems' reliability and dependability. Customers appreciate our straightforwardness and commitment to customer service. Learn more about our products as well as our retrofitting and custom bus work transformer services.
Fill out this contact form, and discover what Elsco Transformers has to offer!
Cities We Service in West Virginia
Although ELSCO Transformers services all of West Virginia, we have experience working with companies in the following cities:
Beckley

Bluefield

Bridgeport

Charles Town

Charleston

Cheat Lake

Clarksburg

Cross Lanes

Dunbar

Elkins

Fairmont

Huntington

Hurricane

Martinsburg

Morgantown

Moundsville

Oak Hill

Parkersburg

South Charleston

St. Albans

Teays Valley

Vienna

Weirton

Wheeling
Dry Type Transformer in West Virginia
With a cooling system that employs circulating air, dry type transformers are suitable for a range of environments. They have no liquids, so they won't leak or cause contamination, giving them a pollution-free presence. Known for their quiet operation, our dry type transformers provide a cost-effective solution for your business. Other benefits of choosing this kind of medium-voltage transformer include:
Efficient performance: We use superior materials that lead to the greatest efficiency.
A low fire risk: We cover coils in varnish to help them resist moisture and lower flammability.
Longevity: Our units last for many years.
An extended warranty: We offer a five-year warranty, way longer than the one-year industry standard.
Our In-Stock & Ready to Ship Dry Type Transformer Selection
500 to 2,500 kVA Transformers In-Stock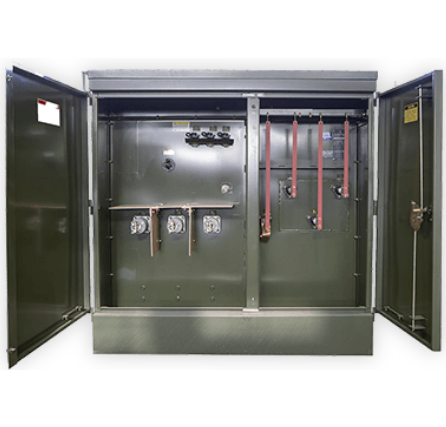 Padmount Transformer in West Virginia
You place padmount transformers on a concrete pad, where they connect power lines safely and securely, often within the protection of a steel cabinet. Many businesses in West Virginia opt to put their padmount transformers outside, away from foot traffic. We can assist you with build-to-order options, including single-phase transformers. We have three-phase systems available in stock.
When you desire underground service or your system faces exposure to the elements, padmount transformers make a fantastic choice. Our selection exceeds national energy efficiency standards, too.
Custom Bus Work and Retrofit for Transformers in West Virginia
Even the best medium-voltage transformer won't last forever. It may not have the capacity required for the demands of a modern office, where cutting-edge technology and smart devices demand a higher level of function. When you need to replace an old transformer with a new one, we can retrofit it to ensure the new transformer fits in the footprint the old one occupied.
We may have to undertake custom bus work to do this. It may be necessary when the power capacity is higher for the new transformer. Our experienced team follows a plug-and-play approach that makes installation easy when you get your retrofitted unit.
Request a Quote for a New Transformer in West Virginia
With medium-voltage transformers that demonstrate the reliability and dependability you desire, ESLCO Transformers is ready to partner with you. Our key team members boast more than 22 years apiece in the industry, and they understand the demands you face. Let them facilitate the process of finding the right unit. Request a quote to get started today.