Proudly Serving New Jersey!
Your transformer must reliably power your building or facility to maintain a steady and consistent workflow. At ELSCO Transformers, we produce all our dry type and padmount transformers using the finest materials to provide you with the best quality you'll find on the market. Our team also offers unique design and build services to create the perfect medium-voltage power solution for your business.
Fill out this contact form, and discover what Elsco Transformers has to offer!
Dry Type Transformers in New Jersey
A dry type transformer operates without oil coolant and protects the system from overheating by circulation air around the coils, windings and insulation. These systems can be used in most indoor and outdoor areas and are suitable for dry and moist environments. We manufacture these transformers using the highest-quality materials, and the finished devices offer:
Minimal risk of fire: With polyester varnish coatings surrounding the coils and no combustible coolants, these units provide a safer option in areas with fire hazards.
Pollution-free characteristics: Dry type transformers contain no fluids, making them excellent additions to areas sensitive to chemicals and liquid leaks.
Lasting performance: Our systems have a life expectancy of 30 years or more and require minimal maintenance for superior value.
Industry-leading warranties: We provide a five-year warranty on new dry type units in contrast to the industry-standard, one-year warranty.
Our In-Stock & Ready to Ship Dry Type Transformer Selection
500 to 2,500 kVA Transformers In-Stock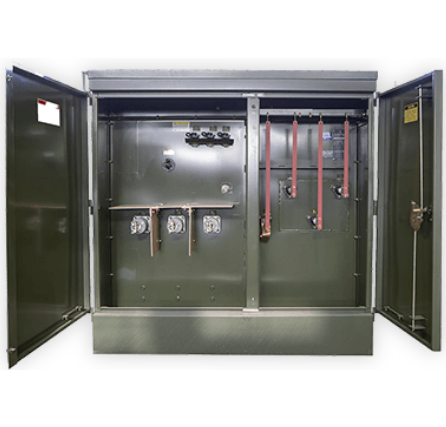 Padmount Transformers in New Jersey
Most commonly used in residential and commercial areas, padmount transformers connect underground power lines. This configuration features lockable front doors and a weather-proof steel enclosure that typically sits on a concrete pad outside the building. These units are liquid-cooled, using either mineral oil or natural ester fluid.
Medium-voltage padmount transformers are cost-effective systems that exceed national energy efficiency standards. We can also fabricate built-to-order systems to meet your facility's requirements, implementing items such as:
High short-circuit strength designs
Electrostatic shields
K-factor designs
Our Transformer Customization Services
Whether your transformer is at the end of its life span or experiences an overload, ELSCO can provide you with exceptional retrofits and custom bus work. We offer these services to streamline replacing your old transformer and installing your new unit. We can retrofit and fabricate bus bars for both dry type and padmount transformers. Our team will help you:
Make use of existing connections.
Fit your new transformer into the space your old system left.
Save money on infrastructure upgrades.
Our Emergency Quick-Ship Replacement Solutions
ELSCO Transformers can deliver emergency replacements for dry type and padmount transformers to minimize downtime. Our replacement units are designed to be more than just quick fixes. Instead, these systems are long-term solutions that provide reliable power for decades. We pride ourselves on our fast response times and offer Quick-Ship options that see your replacement transformer leave our facility within 24 to 48 hours.
Request a Quote for a New Transformer in New Jersey
If you require a new medium-voltage transformer to upgrade your power system, you can rely on our experienced team to provide you with a dependable system. Request your quote for our transformers in New Jersey to start the process.