Proudly Serving Michigan!
Your company in Michigan needs reliable, steady power to provide services to its customers. Whether you are a university, hospital or electrical supplier or work in another industry, you can't afford to take your power supply for granted. Having the right medium-voltage transformer can protect you and avoid the steep costs of forced downtime, ensuring you can continue offering your vital services even when a failure occurs.
ELSCO Transformers manufactures high-quality medium-voltage transformers for offices, schools and plants like yours in Michigan that need long-lasting power. Our industrial transformers include dry type and padmount. Whichever one will work for you depends on your industry and needs.
Fill out this contact form, and discover what Elsco Transformers has to offer!
Cities We Service in Michigan
Although ELSCO Transformers services all of Michigan, we have experience working with companies in the following cities:
Ann Arbor

Clinton Charter Township

Dearborn

Dearborn Heights

Farmington Hills

Flint

Grand Rapids

Kalamazoo

Lansing

Livonia

Macomb

Novi city

Rochester Hills

Shelby Charter Township

Southfield City

Sterling Heights

Taylor

Troy city

Warren city

Waterford Charter Township

West Bloomfield Charter Township

Westland

Wyoming
Dry Type Transformers in Michigan
Dry type transformers rely on circulating air instead of liquid cooling to stop the system from overheating. Without any flammable liquids, these transformers exhibit a low risk of fire. They also pose environmental benefits with their low pollution levels because there's no liquid to spill and contaminate an area. The many other advantages of choosing dry type transformers in Michigan include:
An outstanding warranty: Our five-year warranty outpaces the industry norm of one year.
Superior materials: We only use the best materials when manufacturing our dry type transformers.
Excellent longevity: Our transformers can last for decades.
Easy installation: You can install your new transformer quickly to get up and running as soon as possible.
Our In-Stock & Ready to Ship Dry Type Transformer Selection
500 to 2,500 kVA Transformers In-Stock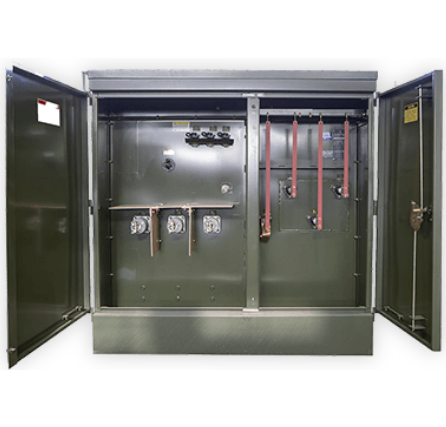 Padmount Transformers in Michigan
Padmount transformers sit on a concrete slab pad. The liquid-cooled systems are often located outside in a steel cabinet, which keeps them secure. They connect to underground power lines safely. You can pick from various voltages and ratings, and our engineers can help you select the best one for your needs. While we have three-phase units in stock, we can also custom build single-phase systems based on your specifications.
We offer many accessories for our padmount transformers. Companies may opt for:
Lightning arresters.
A load breaker switch.
Liquid and temperature level gauges.
And more.
Custom Bus Work and Retrofit for Transformers in Michigan
Our offerings go beyond industrial transformers. We also offer other transformer services in Michigan, including retrofits. Our team uses our knowledge to retrofit old transformers with newer, more efficient models. The new medium-voltage transformer often has different dimensions than the old one, which requires adjustment. We employ a plug-and-play approach, making installation easier and reducing your time to get up and running.
Our custom bus work provides better fits and functionality for your medium-voltage transformers. We specialize in helping your dry type transformer fit your gear. For padmount transformers, we can adjust a stock unit to create the necessary bushing heights or create a new build.
Request a Quote for a New Transformer in Michigan
ELSCO has the engineering expertise and knowledge to manufacture medium-voltage transformers that stand the test of time and become a smart investment for your company. You want transformers that can power the cutting-edge technology on the horizon, and we can deliver. Whether we build to spec or you order a stock unit, you'll get an amazing fit from us. Contact us now to get a quote.