Proudly Serving Massachusetts!
ELSCO Transformers designs, manufactures and distributes medium-voltage transformers, providing companies like yours with reliable power supplies and lasting systems.
Our team prides itself on delivering fast response times and custom systems that help our customers maintain efficient working environments, even when old transformers break down.
Fill out this contact form, and discover what Elsco Transformers has to offer!
Dry Type Transformers in Massachusetts
Dry type transformers are suitable for outdoor and indoor settings and function in moist and dry environments. These systems protect the coils from overheating by circulating air rather than liquid cooling. Despite this difference, they maintain excellent basic insulation level (BIL) ratings comparable to those of liquid units. Dry type transformers provide many advantages, including:
High-quality materials: Our team only utilizes the finest materials, and your new system's quality construction will supply you with continuous power for more than 30 years.
Extensive warranties: We provide our customers with five-year warranties on new dry type transformers, reflecting our confidence in their performance and durability.
Pollution-free functionality: Locations that are vulnerable to fire and contamination from liquids or chemicals are ideal for dry-type systems since these devices operate without liquid coolant.
Our In-Stock & Ready to Ship Dry Type Transformer Selection
500 to 2,500 kVA Transformers In-Stock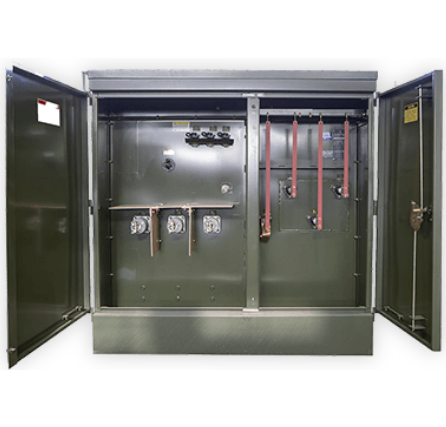 Padmount Transformers in Massachusetts
Padmount transformers are essential for high-traffic residential and commercial areas, where the transformer connects to underground power lines. These systems provide secure protection of its internal electrical system, with an external steel cabinet and lockable doors. We make the liquid-filled systems with aluminum or copper windings. Our available three-phase systems have ratings from 500 kVA to 2,500 kVA, and we can design single-phase systems.
With our custom-build capabilities, you can choose to add elements like:
Pressure relief valves
Lightning arresters
External drain valves and samplers
Ensure a Perfect Fit With Our Custom Bus Work and Retrofitting Services
When your transformer is overloaded or requires constant maintenance, it's time for a replacement. Our professionals have decades of experience providing customers with retrofitting and custom bus services that streamline the replacement process.
We will create a new medium-voltage transformer that is specific to your existing electrical system, eliminating the need to rework connections or construct new enclosures. We can also fabricate custom bus bars and install them in place, guaranteeing a perfect fit for the space left behind by your old unit. Our services will help you save money and provide the power your facility needs.
Our Emergency Replacements in Massachusetts
Transformers can sometimes malfunction or fail without warning, causing severe interruptions to your daily processes. We maintain a comprehensive catalog of dry type and padmount transformers for scenarios when you need an emergency replacement.
Our Quick-Ship options help you receive your new unit faster, often getting it on the road within two days of your order. Our replacement transformers are easy to install, restoring your facility's power in as little as four hours from the time of delivery, beginning its job of offering years of consistent power.
Request a Quote for a New Transformer in Massachusetts
When you work with ELSCO Transformers, you can rely on our experience and dedication to craftsmanship to provide you with a dependable unit for your Massachusetts business. We strive to make working with us easy and enjoyable. If you're ready to get started, contact us to request your quote today.