Proudly Serving Maryland!
Your Maryland business uses essential equipment and appliances that require a consistent supply of electricity at a consumable current. Your transformer is crucial for powering your facility, and a malfunction can create extended downtime.
Your search for a reliable medium-voltage system ends when you work with ELSCO Transformers for in-stock and custom transformers. Our experts offer prompt responses and efficient service to keep you from losing valuable time with a variety of transformer services.
Fill out this contact form, and discover what Elsco Transformers has to offer!
Cities We Service in Maryland
Although ELSCO Transformers services all of Maryland, we have experience working with companies in the following cities:
Aspen Hill

Bel Air South

Bethesda

Bowie

Catonsville

Columbia

Dundalk

Ellicott City

Frederick

Gaithersburg

Germantown

Glen Burnie

Hagerstown

North Bethesda

Odenton

Potomac

Rockville

Servern

Silver Spring

Townson

Waldorf

Wheaton

Woodlawn CDP
Dry Type Transformers Available in Maryland
We design long-lasting dry type transformers featuring copper and aluminum materials. These air-circulating units require no oil for operation and emit no pollution, so you can run them without leaks and emissions that would otherwise contaminate nearby substances.
Choose our dry type transformer offerings for a long list of benefits:
Quality materials: Using copper and aluminum enables us to make quiet yet durable transformers..
Use indoors or outdoors: Components inside our dry type transformers are suitable for wet and dry environments.
Zero coolant leaks: Dry type systems regulate their temperatures by maximizing airflow.
Emphasis on safety: We coat your transformer's coils with varnish to reduce fire hazards indoors.
Additionally, we look out for our customers with a five-year warranty on dry type units.
Our In-Stock & Ready to Ship Dry Type Transformer Selection
500 to 2,500 kVA Transformers In-Stock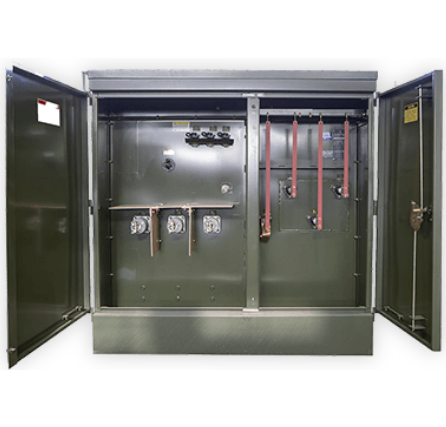 Order Padmount Transformers in Maryland
At ELSCO Transformers, we work with you to design and build the best padmount transformers for universities, hospitals and other high-traffic areas. These systems are ideal for establishing secure connections to underground lines. Padmount transformers sit on flat concrete pads and are lockable, so you can use them safely without fenced enclosures. Choose from three-phase and single-phase offerings with ratings between 500 kVA and 2,500 kVA.
When you opt for a custom transformer, we can add devices such as load breaker switches, liquid level gauges and lightning arresters.
World-Class Retrofit and Custom Bus Work Capabilities
Our team has decades of experience in the field, and we leverage that knowledge to provide stellar services. Retrofitting new technology to replace old units within your facility ensures your new unit will function with your existing power systems. You can adapt to your ever-changing electricity requirements with plug-and-play solutions for immediate results. Choose from in-stock and custom medium-voltage retrofits for your applications.
Guarantee the right bus bar arrangement for your power system when you trust us to complete custom bus work. Our team can reuse old parts from your power system to reduce costs.
Use Our Emergency Replacement Services
Power outages catch your team off-guard. With ELSCO Transformers, you can get an in-stock emergency replacement transformer to correct the issue on a timeline that works for you. As long as we have the unit you need available at our facility, you can use our Quick-Ship option to receive your order promptly. Most of the emergency replacement transformer orders we receive leave our headquarters in 24 to 48 hours.
Get Your Quote for a New Transformer in Maryland
ELSCO Transformers is the clear choice for medium-voltage dry type transformers and oil-filled padmount transformers with flexible shipping options for businesses in Maryland. Request a pricing quote from our experts today.