Proudly Serving Indiana!
ELSCO Transformers serves industries including hospitals, universities, electrical supply houses and more across Indiana. We sell high-quality medium-voltage transformers offering uninterrupted power. Our units last for decades, and you can rely on them to return your system to regular function following an emergency failure. Our products provide you with peace of mind, allowing your business to focus on other essential matters.
We stock dry type transformers and padmount transformers for companies in Indiana. Additionally, we provide retrofitting and custom bus work when you need to replace an old transformer. Our versatility means you can get everything you need from us, limiting the time and effort you put into your transformer upkeep. You can trust us because of our expertise and exceptional level of knowledge.
Fill out this contact form, and discover what Elsco Transformers has to offer!
Cities We Service in Indiana
Although ELSCO Transformers services all of Indiana, we have experience working with companies in the following cities:
Anderson

Bloomington

Carmel

Columbus

Elkhart

Evansville

Fishers

Fort Wayne

Gary

Greenwood

Hammond

Indianapolis

Jeffersonville

Kokomo

Lafayette

Lawrence

Mishawaka

Muncie

Noblesville

Portage

South Bend

Terre Haute

West Lafayette

Westfield
Dry Type Transformers in Indiana
Dry type transformers have a modern design that eschews liquid cooling. Instead, coils, insulation and windings avoid overheating through air circulation. They run quietly and produce low pollution because of the lack of liquid, which can leak and cause problems. We have manufactured dry transformers for businesses in Indiana and beyond since 1988. People appreciate our units for their many benefits:
Great warranty: We offer a five-year warranty, four years longer than the industry standard.
Excellent longevity: Our dry transformers have a long life.
Superior materials: We employ the best building blocks for everything we build.
Low risk of fire: We apply a varnish to the coils that deters moisture and decreases the risk of fire.
Our In-Stock & Ready to Ship Dry Type Transformer Selection
500 to 2,500 kVA Transformers In-Stock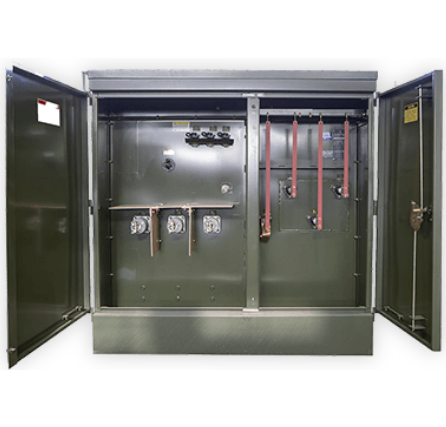 Padmount Transformers in Indiana
With an emphasis on high value and cost-effectiveness, our padmount transformers provide the best solution when you have a space with high foot traffic that also includes an outdoor area. Padmount transformers mount on a concrete pad, and they have lockable doors to keep equipment secure and away from the public.
The padmount transformers in our catalog represent a range of voltages and ratings. To narrow down what you need, you can speak to one of our engineers. While we have three-phase units in stock, we can also build single-phase units if that fits your needs.
Custom Bus Work and Retrofit for Transformers in Indiana
Our experienced team provides industrial transformer services, too, such as:
Retrofits: We can rebuild and retrofit any transformer brand, replacing your old one with a new one that meets your unique specifications. New ones are often sized differently and don't require the same specifications as the old units, so our team will resolve those differences for you.
Custom bus work: A transformer may require custom bus work if you upgrade your facility's power capacity or get a new medium-voltage transformer. We can create a perfect fit when you face these challenges.
Request a Quote for a New Transformer in Indiana
We have the medium-voltage transformer solutions you need to help your business run more efficiently and avoid emergency-related work stoppages. Our engineers can answer any questions you have. Contact us today to get a quote on medium-voltage transformers and other transformer services in Indiana today.