Proudly Serving Illinois!
Businesses in Illinois strive to provide the best services to their customers. To do this, they need a reliable medium-voltage transformer that can keep the workflow moving if an unexpected outage occurs. The high-quality systems manufactured by ELSCO Transformers give you what you need. You receive an uninterrupted power source that lasts for decades.
Our units and parts leave our facility and head to your location in Illinois within 24-48 hours. We offer convenient and responsive options to all customers within the state, including transformer services such as retrofitting and custom bus work. Everything we do improves the way you serve your own customers, giving you peace of mind that you won't lose valuable minutes to downtime if an emergency failure occurs.
Fill out this contact form, and discover what Elsco Transformers has to offer!
Cities We Service in Illinois
Although ELSCO Transformers services all of Illinois, we have experience working with companies in the following cities:
Arlington Heights

Aurora

Berwyn

Bloomington

Bolingbrook

Champaign

Chicago

Cicero

Decatur

Des Plaines

Elgin

Evanston

Joliet

Mount Prospect

Naperville

Oak Lawn

Orland Park

Palatine

Peoria

Rockford

Schaumburg

Skokie

Springfield

Waukegan
Dry Type Transformers in Illinois
Dry type transformers stay cool by using circulating air, eliminating the need for liquid coolant. They function in moist or dry conditions so that you can use them inside or outside. Their pollution-free functionality makes them an excellent choice for spaces with sensitivity to liquid or chemical contamination. Benefits of choosing our dry type transformers for your company in Illinois include:
Exceptional materials: We only use the best materials, which contributes to the impressive longevity of our transformers.
A low risk of fire: We reduce flammability by coating our coils with varnish that helps them resist moisture.
Long warranties: We offer a five-year warranty on new dry type transformers, an upgrade from the industry-norm one-year warranty.
Our In-Stock & Ready to Ship Dry Type Transformer Selection
500 to 2,500 kVA Transformers In-Stock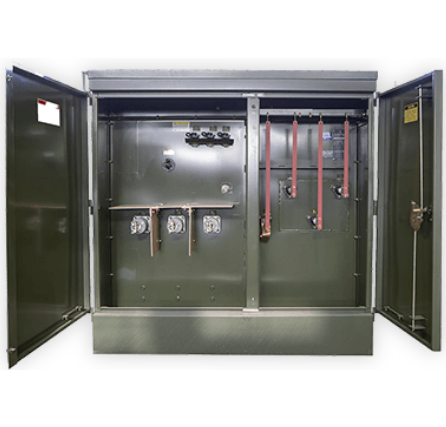 Padmount Transformers in Illinois
Suitable for commercial or residential areas, padmount transformers sit on concrete pads and connect to underground power lines. The secure setup often includes a steel cabinet to house the transformer, which may be outside. We have transformers available from 500 KVA to 2,500 KVA. We stock three-phase units, but we can also build single-phase systems, and we make every transformer by hand. Choose from a range of accessories, such as:
Load breaker switches.
Lightning arresters.
Temperature and liquid level gauges.
Custom Bus Work and Retrofit for Transformers in Illinois
Transformers may need replaced when they reach the end of their life span, become overloaded or start demonstrating maintenance issues. Growing power needs can also render old transformers obsolete. When you get a new transformer and remove the old one, we can retrofit the new one to fit into the existing industrial transformer footprint.
Our custom bus work creates connections that work for your new transformer within the available space. We can reduce the replacement costs by reusing some of the old parts. Our team fabricates the bus bars and places them correctly, and we guarantee a perfect fit.
Request a Quote for a New Transformer in Illinois
Getting new medium-voltage transformers can upgrade your experience and give you the reassurance you desire. You can rely on us for the most dependable units. Plus, you will enjoy working with us. Our knowledgeable team includes key members with more than 22 years of expertise in the field. Ask for a quote on our industrial transformers in Illinois to begin.