Proudly Serving Arkansas!
Transformer failures create costly and potentially dangerous downtime for hospitals, universities, energy suppliers, large-scale manufacturers and other commercial and industrial facilities. Purchasing a dependable system can help you prevent malfunctions and maintain productivity.
At ELSCO Transformers, we hand-fabricate medium-voltage transformers to meet your power needs for decades. Our team has decades of experience in the industry, equipping us to help you select the best model. You can also rely on us for custom services that ensure your new unit meets your facility's unique needs and fits your existing system.
Fill out this contact form, and discover what Elsco Transformers has to offer!
Cities We Service in Arkansas
Although ELSCO Transformers services all of Arkansas, we have experience working with companies in the following cities:
Bella Vista

Benton

Bentonville

Bryant

Cabot

Centerton

Conway

Fayetteville

Fort Smith

Hot Springs

Jacksonville

Jonesboro

Little Rock

North Little Rock

Paragould

Pine Bluff

Rogers

Russellville

Searcy

Sherwood

Springdale

Texarkana

Van Buren

West Memphis
Talk to Us About Dry Type Transformers in Arkansas
We offer low-maintenance dry type transformers for diverse applications. Instead of circulating oils for cooling, dry type transformers regulate internal temperature through airflow and ventilation. Their pollution-free operation enables you to position assemblies close to the resources you need for success, like gases and liquids, without contaminating supplies.
Dry-type transformers have other advantages, including:
Stable materials: We build your dry type unit from superior materials like aluminum and copper.
Safe in varied environments: We engineer our technology to work in dry, moist, hot and cold settings for maximum versatility.
Use in fire hazard areas: The coils have varnish coatings for moisture prevention and increased fire safety.
Phenomenal warranties: Your dry type devices from ELSCO Transformers have five years of coverage for construction defects and material problems.
Our In-Stock & Ready to Ship Dry Type Transformer Selection
500 to 2,500 kVA Transformers In-Stock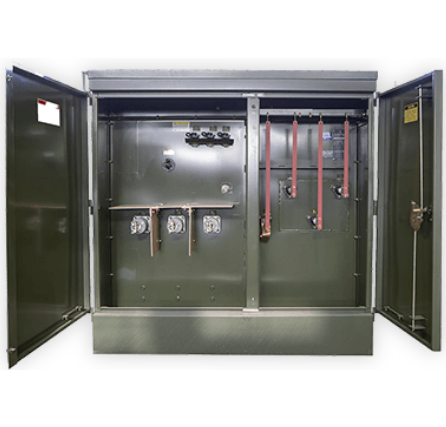 Find the Right Padmount Transformer for Your Company in Arkansas
Padmount transformers are ideal for converting power for residential and commercial buildings using current delivered via underground lines. We have experience working with professionals who maintain electrical systems for colleges, emergency rooms, shopping malls and manufacturing plants in Arkansas. Lockable housing safeguards the device, ensuring your transformer is secure without a fenced-in enclosure.
Talk to our experts about oil-based systems that require natural ester fluid or mineral oil to run. Whether you are interested in custom specifications or accessories, we work with you to alter a stock transformer or fabricate an entirely new unit for your needs.
A Transformer Manufacturer That Handles Retrofits and Custom Bus Work
You may require our retrofitting services to replace an outdated unit with a new model. Replacing an old transformer is imperative whenever you notice overloading or a need to increase power capacity. We retrofit dry type and padmount transformers to ensure your purchases fit in the spaces your old devices leave behind. Integrate a new device into your power system without guesswork.
Purchasing a replacement transformer requires you to update voltage bus bars and cables. Trust ELSCO Transformers to oversee custom bus work and send a transformer ready for immediate use when it arrives at your facility.
We Assist Arkansas Companies With Emergency Replacement Services
An emergency replacement transformer prevents losses from extended downtime. We send you replacement transformers faster than any other provider in Arkansas. Reach out after an unexpected outage, and we will try to offer emergency replacement services within 24 hours for a quick turnaround.
Our emergency replacement service gives you access to Quick-Ship advantages. On average, emergency transformers leave our distribution center in 48 hours or less to keep your facility profitable.
Ask Us for a Dry Type or Padmount Transformer Quote
Only ELSCO Transformers gives you industry-leading warranties, unmatched customer service and medium-voltage units that last. For pricing information regarding our systems, please fill out a form for a quote.