Proudly Serving Arizona!
As a business, university, hospital or another entity, your main priority is serving your customers, students, patients and others. Consistent power supplied at the correct voltage for your facility's consumption ensures your operations are smooth and productive.
At ELSCO Transformers, we offer high-quality options suitable for industrial and commercial use. Our professionals have a wealth of experience and knowledge to supply you with technology to optimize your workflow. We provide 24-hour response times during emergencies, getting you back to work after failure.
Fill out this contact form, and discover what Elsco Transformers has to offer!
Cities We Service in Arizona
Although ELSCO Transformers services all of Arizona, we have experience working with companies in the following cities:
Avondale

Buckeye

Casa Grande

Casas Adobes

Catalina Foothills

Chandler

Flagstaff

Gilbert

Glendale

Goodyear

Lake Havasu City

Marana

Maricopa

Mesa

Peoria

Phoenix

Prescott Valley

Queen Creek

San Tan Valley

Scottsdale

Surprise

Tempe

Tucson

Yuma
Dry Type Transformers in Arizona
We produce superior dry type transformers with extended life spans. Instead of liquid, these devices use circulating air to cool themselves down. They are suitable for use in several locations and indoor and outdoor use. Other advantages of our dry type systems include:
Protection of your environment: Without liquid coolants, these devices pose no risks of pollution or contamination, preserving the surrounding area's integrity.
Long-lasting use-life: Our use of superior materials enables our medium-voltage dry type transformers to operate for more than 30 years.
Extensive warranties: We offer our customers five-year warranties to reflect our confidence that their devices will work efficiently and successfully for decades.
Decrease the chance of fires: Using protective coatings over coils and air circulation instead of liquid coolants significantly reduces the chances of catching fire.
Our In-Stock & Ready to Ship Dry Type Transformer Selection
500 to 2,500 kVA Transformers In-Stock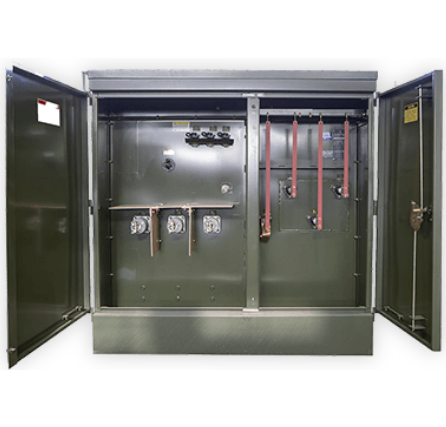 Padmount Transformers in Arizona
If you find yourself in an area with heavy foot traffic, a padmount transformer is a potential solution for your power needs. You can place these units outside your facility on a concrete pad without a fenced-in enclosure. Lockable doors and resistance to weather provide a contained, secure installation.
These oil-filled systems are ideal for residential and commercial areas, offering a safe connection to underground power lines. Our catalog has many padmount units rated for 500 kVA to 2,500 kVA.
Learn More About Our Padmount Transformers
Meet Your Needs With Our Custom Services
Varying industries require different power sources to create the most efficient workflow possible. At ELSCO Transformers, we provide comprehensive retrofit transformer services to provide you with technology that fits your unique applications and integrates into your current electrical system.
Turn to us when your facility's old transformer has reached the end of its life or falls behind as your needs scale. Our team will help you select one of our transformers from our catalog and modify it with custom bus work. We can ensure that your new transformer fits the available space, installs using existing connection points and saves you money.
Your Go-To Emergency Replacement Provider
Unexpected transformer failures leave your facility without a reliable power supply. Our Rapid Response Team can help you find an emergency replacement transformer and prepare it to leave our facility within 24 to 48 hours. Quick Ship enables you to minimize downtime, restore productivity and save money. Once your new medium-voltage transformer arrives at your facility, it can be up and running within four hours of delivery and offer your continuous power for years.
Request a Quote for a New Transformer in Arizona
Our professionals at ELSCO Transformers are ready to supply you with the long-lasting, custom transformer you've been looking for. Get in touch with us to request your quote.