Proudly Serving Tennessee!
Making a positive impression on students, patients and customers requires having the resources you need to keep your doors open for business. A reliable transformer ensures your facility receives a consistent power supply at the correct voltage.
ELSCO Transformers offers a variety of transformer units for businesses in Tennessee. Whether your existing transformer is falling behind as your power needs scale or you're experiencing an outage after a malfunction, our team is here to assist you. We design and manufacture medium-voltage transformers and offer custom services for your facility's system.
Fill out this contact form, and discover what Elsco Transformers has to offer!
Dry Type Transformers in Tennessee
Select a dry type transformer if you work around hazardous liquids and gases that need to stay in their original forms. Our dry type units rely on airflow instead of fluids for cooling. Since the system contains no liquid, it will not leak or cause contamination.
Below are the top reasons to consider our dry type transformers in Tennessee:
Superior materials: We manufacture your units using copper and aluminum coils based on preference.
Long life span: We design our technology to last for decades with few maintenance requirements.
Pollution-free units: Place our dry type transformers inside or outside without jeopardizing safety.
Fantastic warranties: We stand by our dry type technology with a five-year warranty.
Our In-Stock & Ready to Ship Dry Type Transformer Selection
500 to 2,500 kVA Transformers In-Stock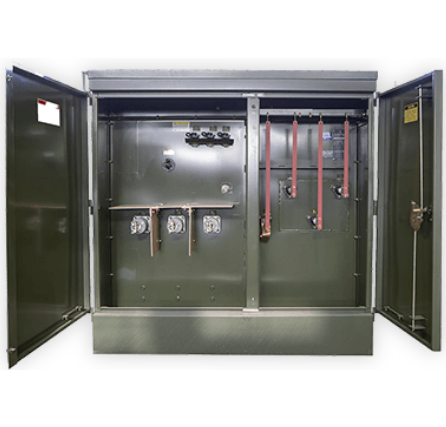 Buy Padmount Transformers in Tennessee
ELSCO Transformers offers more than one type of unit for your industry. Our padmount transformers for your business in Tennessee are appropriate for utility companies, universities, manufacturing facilities and other commercial uses. These units are suitable for securely connecting underground electrical lines. The tamper-proof locks on the devices prevent unauthorized people from accessing the device without a fence.
Padmount transformers are available in 500 kVA to 2,500 kVA configurations. Place your oil-based transformer from ELSCO Transformers in a public area with high foot traffic to know passersby — and your system — are safe.
Convenient Retrofitting and Custom Bus Work Services for Transformers
Our retrofitting services for your team in Tennessee help you see results quickly. We create custom transformers that drop into the same locations as your previous equipment. Use plug-and-play connections to eliminate issues during setup.
Upgrade your plant's power capacity using our custom bus work services in Tennessee. Custom bus work makes it possible to arrange bus bars accurately for a perfect fit. We complete custom bus work for transformer replacement and retrofit applications.
Rely on Us for Emergency Replacement Services in Tennessee
We have the means to replace your dry type or padmount transformer with in-stock options when you're in a pinch. When you reach out to ELSCO Transformers with an emergency request, we'll strive to respond within 24 hours.
If we have the right system in stock, your emergency replacement order leaves our center 24 to 48 hours after we process your purchase.
Request a Quote for a New Transformer Unit in Tennessee Online
Our team has decades of experience, and we leverage that knowledge to deliver the medium-voltage transformer solutions you need for success. Fill out a quote request form to learn more about how we can design and produce solutions that meet your facility's needs.