Proudly Serving South Dakota
Your customers depend on you to provide high-quality services or products. To do so, you need a functioning, trustworthy transformer to deliver usable electricity to your facility.
At ELSCO Transformers, we specialize in designing, manufacturing and customizing medium-voltage transformers —  specifically dry type and padmount transformers.
Fill out this contact form, and discover what Elsco Transformers has to offer
Cities We Service in South Dakota
Although ELSCO Transformers services all of South Dakota, we have experience working with companies in the following cities:
Aberdeen

Belle Fourche

Box Elder

Brandon

Brookings

Dakota Dunes

Dell Rapids

Harrisburg

Hartford

Hot Springs

Huron

Madison

Milbank

Mitchell

Pierre

Rapid City

Rapid Valley

Sioux Falls

Spearfish

Sturgis

Tea

Vermillion

Watertown

Yankton
Dry Type Transformers in South Dakota
We design our medium-voltage dry type transformers to operate for decades. They offer suitable protection against short circuits and premature failure. Dry type transformers use air, rather than oil, to cool their internal environment and prevent overheating. They come with our top-industry five-year warranty, giving you the reassurance you need in your power supply. Your operation will also benefit from:
Low fire risk: With coils protected by a polyester vinyl coating and the elimination of oil, these devices reduce the possibility of a fire, making them ideal for chemical plants and forested areas.
Contamination-free operation: Dry type transformers pose no risk of leaks, ensuring the integrity of the surrounding environment.
Straightforward installation: These systems are simple to install, helping to reduce your time spent without a transformer.
Our In-Stock & Ready to Ship Dry Type Transformer Selection
500 to 2,500 kVA Transformers In-Stock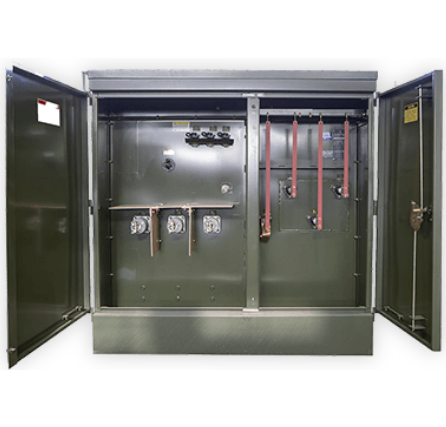 Padmount Transformers in South Dakota
Many organizations use padmount transformers in public areas to connect to underground power lines. They are installed outdoors on a concrete pad without the need for a fenced-in enclosure. These transformers come with lockable front doors to protect the internal electrical components from the elements and secure them from tampering.
We maintain a large inventory of padmount transformers with ratings of 500 kVA to 2,500 kVA. Our units offer a cost-efficient solution, going above and beyond all national energy efficiency standards. We can also retrofit these devices with accessories, including:
Temperature and liquid level gauges
Pressure vacuum gauges
Current sensing fuses
K-factor designs
Customization Services for the Perfect Fit
Whether your current system is getting old or experiencing frequent performance issues, ELSCO Transformers can help. Our engineers provide custom bus work and retrofitting to create a medium-voltage transformer that meets the demands of your industry.
Companies across South Dakota rely on our retrofitting services to fabricate transformers designed for their existing power systems and capable of meeting their evolving needs. Our custom bus work will ensure your new device comes equipped with bus bars in the right location, using an existing enclosure, connections and previous hardware — saving you time and money.
Emergency Replacement Transformers in South Dakota
We know how important it is for you to keep downtime low. Our Quick Response Team has more than 20 years of experience, offering convenient 24-hour response times. We also offer Quick Ship options.
Count on us for a streamlined emergency replacement process. When you get in touch with us, our team will work hard to get your new transformer on its way to you within two days. Our plug-and-play installation will help you get your unit working within four hours, removing the hassle of waiting weeks for a permanent solution.
Contact Us for Transformers in South Dakota
If it's time for your facility to upgrade to a new transformer, you can rely on the team at ELSCO Transformers to provide you with a seamless transition. Call us today at 800-232-9002 or request a quote online for one of our medium-voltage units!