Proudly Serving South Carolina!
A reliable power source is essential to your daily operations. The ELCSO Transformers team is ready to help you when it's time for an upgrade. We are a trusted manufacturer and provider of medium-voltage transformers, delivering the products and services you need to succeed. Our handmade units last for decades and exceed many national energy standards to ensure you receive an exceptional, uninterrupted power supply.
Fill out this contact form, and discover what Elsco Transformers has to offer!
Dry Type Transformers in South Carolina
Commercial and industrial entities looking for environmentally conscious solutions can put their faith in our dry type transformers. Instead of liquid coolants, dry type transformers use natural ventilation to prevent overheating — protecting sensitive areas from leaks and pollutants that may cause chemical contamination and fire hazards. You can use these versatile systems in various locations to provide cost-efficient energy, regardless of dry or moist conditions. With one of these devices at your facility, you'll experience:
Durable use: With resistance to short circuits and extreme temperatures, these systems can support your power consumption for 30 years or more. 
Superior warranties: While many companies offer coverage for only one year, ELSCO Transformers provides warranties for new dry type technology that last five years.
World-class materials: We strive only to use the best, providing affordable solutions that offer extreme efficiency and quiet functioning.
Our In-Stock & Ready to Ship Dry Type Transformer Selection
500 to 2,500 kVA Transformers In-Stock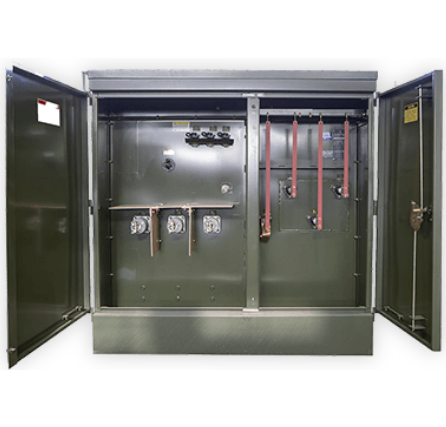 Padmount Transformers in South Carolina
ELSCO Transformers maintains a comprehensive catalog of medium-voltage padmount transformers, from ratings of 500 kVA to 2,500 kVA. These systems are ideal for residential and commercial areas and connect to underground powerlines. These units will sit outside on a concrete pad inside a lockable steel cabinet. They remain protected from the weather and tampering without a fenced-in enclosure.
They use liquid coolants such as mineral oil and natural ester oil. With our custom-built services, we can modify our padmount units with accessories such as:
Liquid and temperature level gauges
External drain valve and samplers
Pressure relief devices
Save Money with Retrofitting and Custom Bus Work
Whether you're experiencing overloading or need to increase your facility's power capacity to meet its evolving demands, an upgrade can help. Our experienced team provides retrofitting services and custom bus work to give you a power supply specific to your applications.
With your existing system's specifications and dimensions, we will provide a retrofit transformer with custom bus bars that fit into the space left behind by your old unit. Our services will eliminate the need to rework connections and create new enclosures, help you reduce infrastructure costs and ensure the perfect fit.
Emergency Replacement Services You Can Trust
When failures occur, you need a fast resolution. The Quick Response Team at ELSCO Transformers offers emergency replacement transformers to give you the power you need and supply you with a transformer that will last for decades. We maintain a 24-hour response time and get your new transformer on the road to your facility or plant within 24 to 48 hours. Our professionals also offer remote engineering support to help you get set up in as little as four hours.
Request a Quote for a New Transformer in South Carolina
Upgrading or replacing an old transformer will enhance your workflow and safeguard against future downtime. You can count on our staff's expertise and knowledge to help you find the solution you need. Contact our team to request a transformer quote today.