Proudly Serving Rhode Island
Every successful workflow depends on a steady flow of power. Whether you operate a hospital, mall or manufacturing facility, your transformer is responsible for providing you with the electricity you need to tackle your daily projects.
ELSCO Transformers is the leading manufacturer of medium-voltage transformers in Rhode Island. We will provide dependable units for your applications that offer unparalleled quality and output. Our team members have more than 20 years of experience, offering services and knowledge you can trust.
Fill out this contact form, and discover what Elsco Transformers has to offer
Dry Type Transformers in Rhode Island
Dry type transformers circulate air over their coils, windings and insulation to prevent overheating during operation. This reliable functioning helps them maintain equivalent basic insulation levels (BIL) to liquid-filled units, despite not using oil as a coolant. Their copper coils come coated in a polyester varnish that protects from moisture, decreasing the chances of fires.
Our medium-voltage dry type transformers offer advantages in any location. Their durable construction allows them to perform efficiently in moist and dry conditions, indoors or outdoors. Other benefits of our dry type transformers include:
Excellent materials
Industry-leading warranties
Pollution-free operation
Long life expectancy
Our In-Stock & Ready to Ship Dry Type Transformer Selection
500 to 2,500 kVA Transformers In-Stock
Our In-Stock & Ready to Ship Dry Type Transformer Selection
500 to 2,500 kVA Transformers In-Stock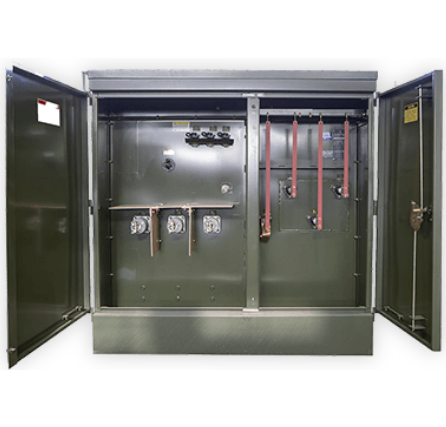 Padmount Transformers in Rhode Island
Padmount transformers are ideal for outdoor use in public areas, such as shopping malls and industrial parks, without the need for a fenced-in enclosure. They offer a protected connection to underground power lines using lockable doors, giving you peace of mind against tampering and harsh weather conditions. Padmount transformers provide a cost-efficient solution exceeding all national energy efficiency standards.
At ELSCO Transformers, we maintain the industry's most comprehensive and reliable supply of padmount transformers. We stock units with ratings from 500 kVA to 2,500 kVA, constructed with copper or aluminum winds and filled with your choice of liquid cooling agents — natural ester fluid or mineral oil.
Custom Bus Work and Retrofitting for Our Dry Type Solutions
At ELSCO, we provide services to help you create a power supply personalized to your needs. Our expert engineers will work with you to understand your energy requirements and space specifications so we can build you a custom transformer. Through our retrofitting and custom bus work services, we'll design and fabricate a transformer that:
Utilizes existing connections
Fits the existing space perfectly
Arrives with custom bus bars already equipped
Saves you time and money during installation
Emergency Replacement Transformers in Rhode Island
Transformer malfunctions can leave your facility without operating power for extended periods. At ELSCO Transformers, we want to help you avoid extended production delays and power outages through our emergency replacement services.
With our Quick Ship options and straightforward installation protocol, we eliminate the hassle of waiting for a new, permanent transformer. Our team can have a high-quality replacement out the doors of our Cincinnati warehouse in as little as two days. In less than four hours of its arrival, you can have it ready to supply you with continuous power for decades.
Contact Us for Transformers in Rhode Island
Interested in working with our experts to get your hands on a long-lasting, high-performance medium-voltage device? ELSCO Transformers can provide you with the transformer you need to maximize your company's productivity. Give us a call at 800-232-9002 or request your quote online today!