Proudly Serving Oklahoma!
Transformer failures halt your facility's productivity and introduce costly downtime. The most efficient way to prevent these issues is to work with ELSCO Transformers and receive a dependable unit that will integrate into your existing setup in a few steps.
We stock medium-voltage dry type and oil-filled padmount transformers and offer custom services for your convenience. Acquire the power solutions needed for keeping your business at the top of its game.
Fill out this contact form, and discover what Elsco Transformers has to offer!
Dry Type Transformers for Your Business in Oklahoma
Dry type transformers use a steady flow of air to stay cool, need no liquids for temperature regulation and cannot leak. We hand-fabricate these devices in the United States and use quality materials like copper and aluminum for durability. Other benefits of purchasing a dry-type transformer include:
Polyester varnish coatings: Internal coils within dry type transformers are shielded from moisture, protecting them from short circuits and promoting life spans up to 30 years.
Versatile units: There is no combustible oil coolant present, so you can use these systems in chemical plants and manufacturing facilities where fire hazards are significant concerns.
Straightforward installation: "Plug-and-play" components make installing new transformers more manageable, helping reduce downtime.
Industry-best warranty: Our warranties cover new dry type transformers for five years.
Our In-Stock & Ready to Ship Dry Type Transformer Selection
500 to 2,500 kVA Transformers In-Stock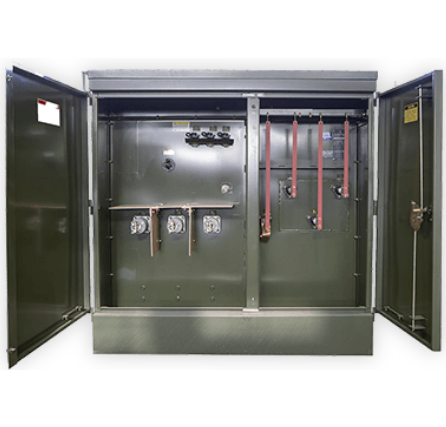 Buy Stock and Custom Padmount Transformers in Oklahoma
Medium-voltage padmount transformers are oil-filled systems practical for local schools, medical facilities, shopping malls and other commercial buildings with high foot traffic. These dependable systems have tamper-proof locks to keep unauthorized personnel away from internal components without setting up a fenced-in enclosure.
Padmount transformers convert currents from underground electrical lines. Our oil-filled devices use either mineral oil or natural ester fluid to function and are suitable for use in all weather conditions.
Our Experts Complete Retrofits and Custom Bus Work for Transformers
Promote uptime by using our retrofit services to customize equipment and cater to your facility's ever-changing electricity needs. Update your current power system with one of our high-capacity transformers to reduce overloading and the need for maintenance. We'll ensure your new transformer perfectly fits your old system.
Retrofits usually call for custom bus work. Our experts have decades of experience working on transformers, so we can make sure your new device's bus bars line up to fit your power system. Using old hardware and connections reduces necessary modifications and lowers costs.
We Offer Emergency Replacement Services and Quick-Ship Options
If your transformer is outdated, sustains damage or experiences another issue, failure can occur at any time. Knowing where to turn for emergency transformer replacement services in Oklahoma eliminates obstacles for your business and shortens downtime.
Talk to one of our team members about purchasing a dry or padmount transformer on an urgent basis. As long as the transformer you require from our catalog is in stock, you can choose Quick-Ship options to have it leave our facility within 24 to 48 hours of when we receive your request.
Fill Out a Form With ELSCO Transformers to Receive a Quote
Want more information about transformer units and our services for Oklahoma-based companies? Request a quote from our professionals online.