Proudly Serving North Dakota
You're always striving to provide premier products or services. To do that, you need access to a dependable power supply. ELSCO Transformers is a leading manufacturer and supplier of medium-voltage transformers for companies and other organizations in North Dakota.
Fill out this contact form, and discover what Elsco Transformers has to offer
Dry Type Transformers in North Dakota
Dry type transformers are designed to offer decades of uninterrupted power with little maintenance. These units circulate air to cool internal components, making them suitable for a wide range of indoor and outdoor environments. Without combustible oil, they offer a low fire risk and pollution-free use. We stand behind our dry type transformers with an industry-leading five-year warranty.
Common types of organizations that depend on our dry type transformers include:
Universities and schools
Hospitals
Medical centers
Correctional facilities
Utility companies
Manufacturing plants
Our In-Stock & Ready to Ship Dry Type Transformer Selection
500 to 2,500 kVA Transformers In-Stock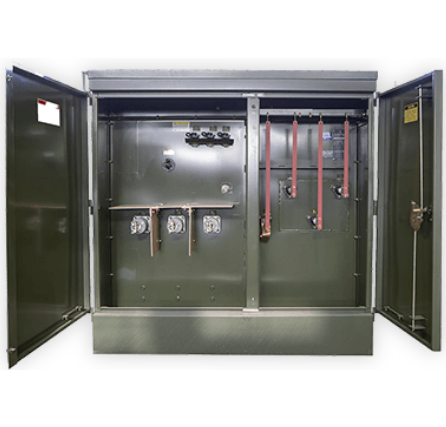 Padmount Transformers in North Dakota
Padmount transformers are excellent additions to any commercial or residential area with regular foot traffic. These oil-filled systems are installed outdoors on concrete pads and safely connect to underground power lines. Their housing eliminates any need to create a new enclosure, offering weather-resistant protection you can rely on. Additional benefits of our padmount transformers include:
Security: These systems are constructed with lockable front doors, providing protection against tampering in public areas.
Versatility: You can switch these transformers to Live Front or Dead Front primary connections while also choosing between Radial or Loop Feed configurations.
Efficiency: Each new transformer we sell excels in efficiency, surpassing national energy standards and Department of Energy ratings — enabling you to produce more power for less.
Our Transformer Customization Services
A transformer replacement can be costly, especially when you have to rework your current infrastructure to meet the specifications of your new unit. Our engineers offer an alternative through custom build services, including:
Retrofitting: We can create a specially designed retrofit system that fits your dimensions and meets your evolving power needs — sliding right into the space left behind by your old unit.
Custom bus work: Our team will design and fabricate custom bus bars to line up with your low voltage gear, eliminating any need to rework connections or create new enclosures.
Emergency Replacement Transformers in North Dakota
It's difficult to predict when malfunctions or performance issues will occur. ELSCO Transformers offers timely emergency replacement services to minimize your facility downtime.
With our 24-hour response times and Quick Ship options, our team can have your state-of-the-art unit on its way to you within two days. You can be confident that you're receiving a high-quality system, ready to provide uninterrupted power for years.
Request Your Transformer Quote in North Dakota
The team at ELSCO Transformers is here to help you find the right medium-voltage transformer for your needs. We've provided reliable units to customers across the United States since 1988. Call us at 800-232-9002 or reach out online to request your quote today!