Proudly Serving North Carolina!
Your business relies on a transformer to convert power to voltages your equipment can consume, and an unexpected outage can create extended downtime. Think several steps ahead and choose a medium-voltage transformer from ELSCO Transformers to best protect your bottom line.
Standard systems typically leave our facility 24 to 48 hours after you place your order. We also have design-build capabilities, making us your source for diverse transformer services in North Carolina.
Fill out this contact form, and discover what Elsco Transformers has to offer!
Dry Type Transformers in North Carolina
With dry type transformers, you can forget about liquid coolants. This technology is capable of staying cool by circulating air efficiently. Professionals may use dry type transformers indoors or outdoors and in wet or dry environments. These units emit no pollution, making them fantastic for industries handling hazardous liquids and chemicals.
ELSCO Transformers offers dry type transformers to teams across North Carolina so that you can see these benefits:
Durable materials: Our experts use high-quality materials to prolong each system's service life.
Minimal fire risk: ELSCO Transformers coats our coils with varnish to keep moisture away.
Impressive warranties: We support our dry type transformers with a five-year warranty.
Our In-Stock & Ready to Ship Dry Type Transformer Selection
500 to 2,500 kVA Transformers In-Stock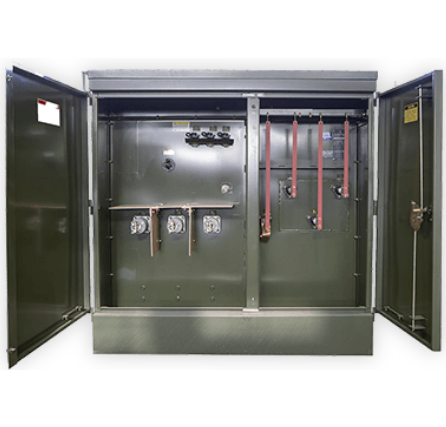 Padmount Transformers in North Carolina
A padmount transformer is appropriate for residential and commercial structures. The units are designed to sit on concrete slabs and run to underground power connections. These systems feature a steel cabinet that encases the transformer outdoors. With ELSCO Transformers, you can purchase transformers in configurations of 500 kVA up to 2,500 kVA. Our team constructs single-phase systems, and we have three-phase units available now for your business in North Carolina.
Our team assembles all our padmount transformers by hand to ensure consistent quality. We have several options for additions, including load breaker switches, lightning arresters, temperature gauges and liquid level gauges.
Custom Bus Work and Retrofits for Your Equipment in North Carolina
Key signs your transformer is ready for replacement include overloading and constant system maintenance. When you need a new transformer, you can trust ELSCO Transformers to design and build a device that is specific to your system. We will retrofit your updated transformer to match the old model's footprint.
Options for custom bus work ensure the new transformer you purchase will work in your existing space. Our team guarantees a correct fitment since we fabricate each bus bar and position them ourselves.
Emergency Replacement Services and Quick-Ship Options in North Carolina
Are you experiencing trouble with a transformer in North Carolina? We provide businesses with emergency transformer replacement services when the unexpected occurs.
We bring you in-stock dry type and padmount replacement transformers quicker than other providers. Keep your operations moving by selecting our Quick-Ship service option that puts your request at the top of our priority list. We'll make sure your transformer leaves our facility within 24 to 48 hours of your order.
Request a Quote for a New Transformer in North Carolina
ELSCO Transformers is a leading full-service company for medium-voltage transformers. Reach out to us today to get a quote for our units.