Proudly Serving New York!
Whether you oversee a manufacturing plant, university, hospital or another facility, ELSCO Transformers is your source for systems that provide the uninterrupted power you need to succeed. We provide medium-voltage transformers that we manufacture using high-quality materials, giving you reliable energy for decades to come.
We dedicate ourselves to exceeding expectations and supplying our customers with the necessary services to minimize downtime and maximize efficiency. Our comprehensive services range from manufacturing and installing transformers to offering quick response times and custom retrofitting. You can trust the ELSCO Transformers team to give you what you need.
Fill out this contact form, and discover what Elsco Transformers has to offer!
Dry Type Transformers in New York
As a versatile unit, dry type transformers can function in moist or dry conditions, making them suitable for indoor and outdoor use. These transformers circulate air around the coils instead of using liquid coolants. We manufacture dry type transformers in the United States and use the highest-quality materials to achieve superior construction lasting up to 30 years without extensive maintenance. Since we design these systems without oil coolant, they offer a safer, more environmentally friendly option with no risk of leaks or contamination.
Our In-Stock & Ready to Ship Dry Type Transformer Selection
500 to 2,500 kVA Transformers In-Stock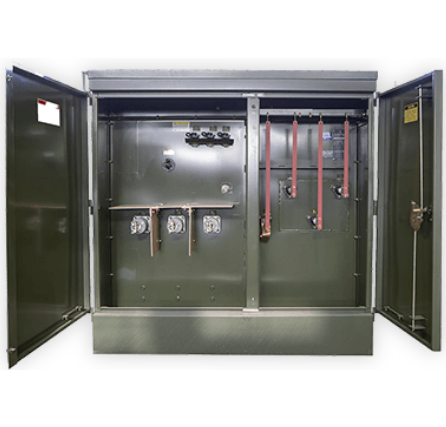 Padmount Transformers in New York
Safely stored within steel containers and lockable doors, padmount transformers are suitable additions to supply power safely and securely within public areas. They connect underground power lines and typically sit outdoors on a concrete pad.
Our transformers exceed all requirements set forth by national agencies, enabling you to optimize your output while saving money. At ELSCO Transformers, we can custom-build your padmount system to your specifications. You can choose to add an assortment of accessories, including:
Pressure relief devices
Current sensing fuses
Distribution class lightning arresters
Take Advantage of Our Custom Bus Work and Retrofits
When your transformer experiences damage from a natural disaster such as flooding or reaches the end of its life, you'll need access to reliable retrofitting services. At ELSCO Transformers, we provide plug-and-play retrofits that streamline the process, meet your needs and provide a personalized design to fit your existing space.
With our custom bus work, our experienced team members will choose your transformer from our catalog to match your specifications, creating and installing custom bars to guarantee the perfect fit. Our services will eliminate the need for connection reworkings or new enclosures and save you time and money.
You Can Count on Our Quick-Ship Advantage
Many companies require replacement transformers delivered quickly. ELSCO Transformers can provide the system you need to limit your downtime and return to regular operations.
We work hard to maintain a comprehensive catalog of various ratings and voltages to ensure that we have what you need when you need it. With our 24-hour response times, we strive to offer you the assistance you need without the hassle of long lag times. After you order your emergency replacement, your parts will leave our facility within 24 to 48 hours — our Quick-Ship advantage.
Request a Quote for a New Transformer in New York
If you're looking for a dependable transformer in the United States, our team can help you. We'll discuss your needs and work to get your unit to you as soon as possible. Get in touch with our professionals today and request your quote for our dry type or padmount transformers.