Proudly Serving New Mexico
Regardless of your industry, a reliable power source is essential to maintaining a high level of efficiency level. ELSCO Transformers strives to supply organizations in New Mexico with long-lasting, high-performance medium-voltage transformers to meet every power need.
Our transformers are cost-effective solutions, offering a continuous stream of electricity while exceeding national standards for energy efficiency.
Fill out this contact form, and discover what Elsco Transformers has to offer
Dry Type Transformers in New Mexico
Our dry type transformers offer an efficient alternative to liquid-filled units, preventing overheating by circulating air across their windings, coils and insulation. We manufacture these systems using high-quality materials to ensure they can offer continuous power for more than 30 years. Other benefits of choosing our dry type transformers include:
Extensive warranties: ELSCO offers five-year warranties for our dry type systems, ensuring the highest quality and protecting against defects and material problems.
Reduced fire risk: These systems feature coils coated with polyester varnish to reduce the chances of a fire in forests, petrochemical plants and chemical manufacturing facilities. Their lack of combustible liquid also contributes to fire safety.
Lack of pollution: Without oil, these medium-voltage transformers pose no risk of leaks or contamination to their environment, making them ideal in vulnerable areas.
Versatility: The design of our dry type transformers enables use in various indoor and outdoor locations. These systems can function in both moist and dry conditions.
Our In-Stock & Ready to Ship Dry Type Transformer Selection
500 to 2,500 kVA Transformers In-Stock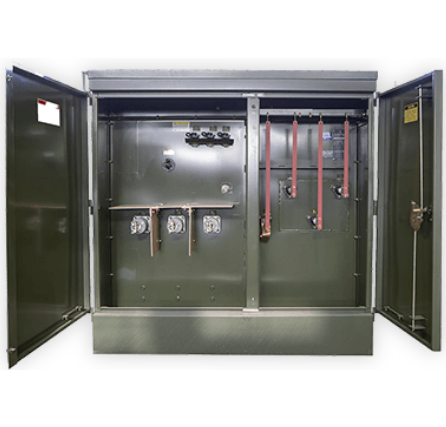 Padmount Transformers in New Mexico
Most residential and commercial areas that experience high levels of foot traffic turn to padmount transformers for their power needs. These transformers offer an outdoor, protected connection to underground power lines. No enclosure is necessary due to a durable housing unit designed to withstand tampering and the elements.
We stock new units with ratings from 500 kVA to 2,500 kVA. We also build units to spec, allowing you to include custom features like these:
High short-circuit strength designs
Electrostatic shields
K-factor designs
Our Custom Bus Work and Retrofitting Services
Rather than spending valuable time and resources reworking your facilities system when you need an upgrade, turn to our team of engineers. ELSCO Transformers offers custom fabrication services to ensure the perfect fit. Our services include:
Retrofitting: We'll work with the available space and your existing electrical system to provide you with a retrofitted transformer that meets your specific power needs. 
Custom bus work: Our engineers will fabricate custom bus bars and secure them to line up with your low voltage gear, removing any need to rework connections or create new enclosures.
Emergency Replacement Transformers in New Mexico
Malfunctions and outages can interrupt your workflow for days or even weeks. Our experts are ready to provide emergency replacement assistance within 24 hours.
Within two days of your emergency transformer order, our Quick Response Team will have your new permanent unit out the door and on its way to your location. When you follow our included installation guidelines, your system can start providing power within four hours of its arrival.
Contact Us for Transformers in New Mexico
If you need a new transformer to meet the demands of your daily operations, ELSCO Transformers is here for you. Call our experts at 800-232-9002 to learn more about our services and request your quote today!