Proudly Serving New Hampshire
Having access to a reliable power source is paramount for any business or organization today. At ELSCO Transformers, we manufacture medium-voltage transformers that can provide years of uninterrupted power.
Fill out this contact form, and discover what Elsco Transformers has to offer
Dry Type Transformers in New Hampshire
Dry type transformers are eco-friendly power solutions, offering pollution-free operation. These medium-voltage transformers circulate air to maintain stable interior conditions, eliminating the need for combustible liquid cooling agents. With no risk of contamination to the nearby environment, dry type transformers are ideal for areas sensitive to chemicals and liquids.
Each system utilizes high-quality materials to provide continuous power for more than 30 years without extensive maintenance. With superior materials and designs, these units decrease the risk of fires and are suitable in numerous indoor and outdoor locations, standing up to tough weather when necessary. We stand behind our dry type transformers with an industry-leading five-year warranty.
Our In-Stock & Ready to Ship Dry Type Transformer Selection
500 to 2,500 kVA Transformers In-Stock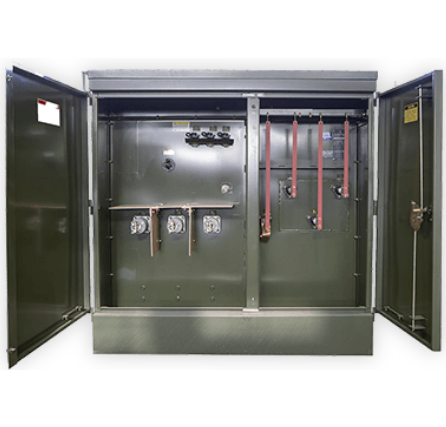 Padmount Transformers in New Hampshire
Padmount transformers are critical systems when you need to connect to underground wires easily. They're ideal in high-foot traffic areas such as shopping malls, business parks and other public spaces. These transformers provide a secure, outdoor connection thanks to their durable housing and lockable front doors — you won't have to worry about tampering or damage from the elements.
These liquid-cooled units range in ratings from 500 kVA to 2,500 kVA, utilizing aluminum or copper windings. Whether you choose a transformer from our stock or take advantage of our build-to-order services, our padmount transformers are cost-effective and powerful machines ready to meet your needs. We can also outfit transformers with accessories such as:
Pressure relief devices
Bayonet current sensing fuses
External drain valve and samplers
Your Emergency Transformer Replacement Experts in New Hampshire
While power outages and malfunctions don't occur often, it's essential to understand where you can turn to for help when they do. At ELSCO Transformers, we've streamlined our emergency replacement services to help you decrease downtime and optimize productivity.
Our Quick Response Team has over 20 years of experience providing rewinds, repairs and replacements to customers across the country. We maintain 24-hour response times to provide you with the reliable services you need to remove any hassle of delays and slowed operations. If you need a new transformer, our team will work hard to get a replacement on the road within two days.
Our replacement transformers aren't designed as temporary solutions you can use while waiting for a new unit. They are long-term solutions created with industry-leading materials and innovative designs. With the help of our convenient installation procedures and remote support, these permanent medium-voltage transformers will be up and running within hours of arrival, ready to endure years of use.
Request a Quote for a New Transformer in New Hampshire
Is your facility ready for a transformer upgrade? Solutions from ELSCO Transformers can supply you with power for years. Reach out to request a quote or call us at 800-232-9002 to learn more.