Proudly Serving Nevada!
ELSCO Transformers manufactures, customizes and distributes medium-voltage dry type and padmount transformers for commercial and industrial based out of Nevada. From solutions for petrochemical plants to manufacturing facilities, we offer you world-class technology and the customization services necessary to integrate your purchases into your facility's current power system.
Fill out this contact form, and discover what Elsco Transformers has to offer!
Dry Type Transformers in Nevada
Dry type transformers use airflow and ventilation to regulate temperatures without liquid coolants. Air circulates through the device, helping internal coils avoid overheating. Quality coil materials like copper and aluminum offer superior durability, and our hand-fabricated dry type units have service lives of 30 years or more.
Purchase dry type systems from ELSCO Transformers to see the advantages below:
Pollution-free operation: Liquid-free operation means zero leaks, pollution or contamination near sensitive resources and products.
Suitable for most environments: Our customers may install dry type transformers in facilities and outdoors.
Straightforward installation: You can talk to us about creating units with plug-and-play connection pieces.
The best warranties: All the new dry type transformers available in our catalog have five-year warranties for work and material issues.
Our In-Stock & Ready to Ship Dry Type Transformer Selection
500 to 2,500 kVA Transformers In-Stock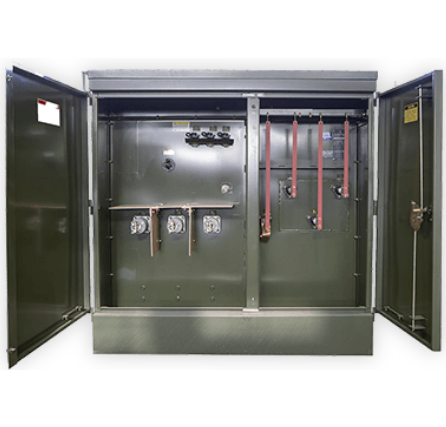 Padmount Transformers in Nevada
Converting currents from underground electrical lines is straightforward with a padmount unit from ELSCO Transformers. Our devices use mineral oil or natural ester fluid to stay at stable temperatures. We fabricate each transformer by hand, allowing us to tailor your system to your industry and applications. ELSCO Transformers has fabricated padmount transformers for high-foot-traffic facilities like educational buildings, medical centers, retail stores and malls, restaurants and industrial parks.
You can install padmount systems in populated areas because the technology features locking doors so that only authorized individuals may access components. No fence is necessary for safety, and the system sits on a concrete pad.
Retrofit and Custom Bus Work Services
You may need transformer retrofit services when an old device fails and you order an upgrade. The experts at ELSCO Transformers have performed transformer retrofits for decades, which ensures your new technology will fit correctly based on your power system's dimensions. We recommend retrofit services when your power needs grow beyond your old equipment's capabilities.
To use a retrofit or replacement transformer, custom bus work is usually required and puts corresponding bus bars in the right locations. We are dedicated to providing a perfect fit to your specs by completing custom bus work ourselves before shipping your order.
Your First Choice for Emergency Replacement Services
ELSCO Transformers looks out for you when a transformer malfunction creates downtime. Keep your business moving with our emergency replacement services. When you get in touch with our Quick Response Team, we will return your call within 24 hours and help you pick the right replacement unit for your facility.
Beyond guiding you through the selection and purchasing process, we offer Quick-Ship options for rapid delivery. If we have the item you need in stock, it will leave our facility 24 to 48 hours after you place your order.
Get Your Pricing Quote for a Transformer Online
The team at ELSCO Transformers is proud to design, build and ship world-class, medium-voltage transformers at competitive prices. Complete our form to receive a quote on a new system.