Proudly Serving Nebraska
Your electricity is essential to your daily operations, whether you run a school, hospital, mall, factory or any other facility. That's why you need a quality transformer you can trust.
At ELSCO Transformers, we design and fabricate dry type and padmount medium-voltage transformers fit for numerous applications. These systems offer the best in dependability and convenience.
Fill out this contact form, and discover what Elsco Transformers has to offer
Dry Type Transformers in Nebraska
Dry type transformers are unique devices that operate without needing oil coolant. Air circulates through these systems, cooling the coils, windings and insulation to prevent overheating. There's no risk of oil leaks or chemical contamination to the surrounding areas. Additional benefits of dry type transformers include:
Long life span: With superior materials aiding in preventing premature failure, dry type solutions have expected useful lives of more than 30 years with little need for maintenance.
Reduced fire risk: We coat the coils of our dry type transformers with polyester varnish to reduce the probability of fires, making them ideal for applications within forests and chemical manufacturing facilities.
Plug-and-play installation: Our customized bus work and retrofitting services offer simple installation so you can get your operation back on track in no time.
Comprehensive warranty: We provide five-year warranties for our dry type transformers, ensuring you receive a high-quality, long-lasting solution.
Our In-Stock & Ready to Ship Dry Type Transformer Selection
500 to 2,500 kVA Transformers In-Stock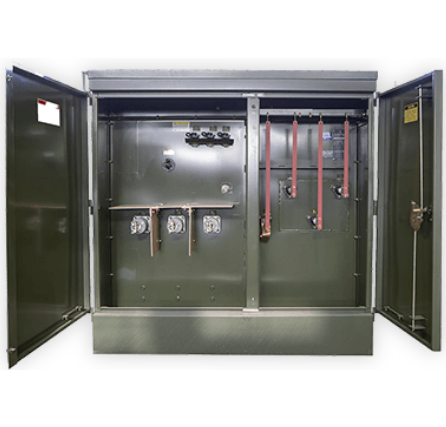 Padmount Transformers in Nebraska
Padmount transformers are commonly used within residential and commercial areas, offering a reliable connection to underground power lines in high foot-traffic areas such as malls and restaurants. They sit on outdoor concrete pads and are secured behind lockable doors for durable, tamper-proof protection capable of withstanding the elements.
ELSCO Transformers creates padmount transformers with ratings from 500 kVA to 2,500 kVA. We can fill them with your choice of natural ester fluid or mineral oil for insulation. You can also customize these systems to include accessories such as:
Temperature and liquid level gauges
Pressure vacuum gauges
Two-position load break switches
Lightning arresters
Emergency Replacement Transformers in Nebraska
Accidents and malfunctions can happen at the most inconvenient times. ELSCO Transformers provides emergency replacement services to companies in Nebraska to help your operations get back on track as quickly as possible.
We work hard to deliver replacement transformers on a tight timeline. When you reach out during an emergency, our Quick Response Team will be in contact with you within 24 hours. We strive to get replacement transformers on the road within 24 to 48 hours.
Once you receive your new unit, our team offers remote engineering support to help you install it correctly and efficiently. Following our installation protocol, your system can be up and running in as little as four hours. You can rely on your new medium-voltage replacement for years to come.
Contact Us for Transformers in Nebraska
If you're looking for reliable medium-voltage transformer services in Nebraska, turn to ELSCO Transformers. We dedicate ourselves to providing superior products and services that enhance your operations and limit downtime. Ready to get started? Give us a call at 800-232-9002 or reach out online to request your quote today!