Proudly Serving Montana!
ELSCO Transformers is a leading transformer manufacturer serving Montana-based companies, and our professionals hand-fabricate the quality transformers you need to prevent outages. Choose stock or custom options, and rely on our Quick Response Team for emergency replacements.
We design and build a comprehensive catalog of medium-voltage transformers to choose from and perform customization services to ensure purchases are compatible with your facility's power system.
Fill out this contact form, and discover what Elsco Transformers has to offer!
Select a Dry Type Transformer for Your Operations in Montana
Facilities using sensitive liquids and chemicals keep those substances pure and safe with dry type transformers. We produce medium-voltage dry type transformers that use ventilation to regulate internal temperatures instead of liquid coolants. Using only air to keep coils cool eliminates leaks and pollution that could contaminate surrounding substances.
Review the benefits below to learn more about our dry type systems:
Great attention to detail: Our team builds every transformer by hand in the United States to ensure consistent quality.
Five-year warranties: Our warranties on new dry-type transformers set us apart, as we cover material and construction defects for five years.
Focus on workplace safety: ELSCO Transformers applies polyester varnish coatings to isolate internal coils from moisture and prevent fires.
Lasting materials: We use aluminum and copper to manufacture transformer coils, providing the longevity your unit needs for a 30-year life span.
Our In-Stock & Ready to Ship Dry Type Transformer Selection
500 to 2,500 kVA Transformers In-Stock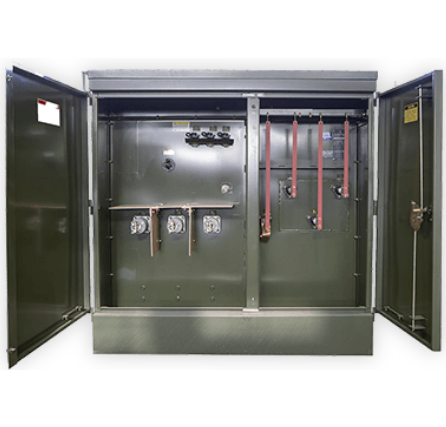 Discover Padmount Transformer Units for Your Business in Montana
Oil-based padmount transformers are suitable for high-traffic commercial buildings like restaurants, offices, schools and department stores that derive electricity from underground power lines. ELSCO Transformers saves you time by providing a wide range of stock and custom padmount transformers designed for placement on concrete slabs. Padmount transformers are ideal for busy spaces because they have lockable housing that keeps components safe without a fence.
Your First Choice for Transformer Retrofits and Custom Bus Work
Upgrading your transformer is necessary when the unit fails, your facility's power demand grows or a natural disaster causes damage. We understand that you need your replacement technology to meet your power system's specifications, so we perform retrofit services. Our experienced team will ensure your new transformer's dimensions suit your workspace.
Streamline your installation process by requesting our custom bus work services. When you provide your system's specifications, we will equip your new transformer with an appropriate bus bar arrangement so that everything installs seamlessly into place.
Depend on Our Team for Emergency Replacement Services
When your existing transformer fails, you need a solution to minimize downtime. Our Rapid Response Team will return your call for emergency replacement assistance within 24 hours.
We have a large in-stock transformer collection of dry type and padmount devices to get you back up and running fast. When you opt for Quick Ship, your order should exit our facility within 24 to 48 hours, as long as what you request is currently available.
Get a Quote for a New Transformer in Montana
The team at ELSCO Transformers looks forward to supplying you with a stock unit or customizing technology for your needs in Montana. Request a pricing quote from us by filling out our form online.