Proudly Serving Mississippi!
ELSCO Transformers manufactures transformers and ships them to customers in Mississippi. Get in touch to discuss new transformers, replacement units and retrofit options.
Fill out this contact form, and discover what Elsco Transformers has to offer!
Cities We Service in Mississippi
Although ELSCO Transformers services all of Mississippi, we have experience working with companies in the following cities:
Biloxi

Brandon

Clinton

Columbus

Gautier

Greenville

Gulfport

Hattiesburg

Hernando

Horn Lake

Jackson

Long Beach

Madison

Meridian

Ocean Springs

Olive Branch

Oxford

Pascagoula

Pearl

Ridgeland

Southaven

Starkville

Tupelo

Vicksburg
Dry Type Transformers in Mississippi
A dry type transformer is one that uses a dry cooling mechanism. In contrast, many transformers cool their coils using a liquid or chemical. While fluid coolants are effective, some situations call for extra protection against pollution or fires.
Dry type transformers are ideal in liquid- or chemical-sensitive situations because they use convection currents to stay cool. Additionally, dry type transformers include polyester coatings over the coils. The coating creates an insulative layer that prevents fires. A dry type transformer is an excellent choice for numerous indoor and outdoor applications.
You can outfit your Mississippi facility with a dry type transformer from ELSCO Transformers. We manufacture and ship dry type transformers with ratings ranging from 500 kVA to 2,500 kVA. Each new dry type transformer includes a five-year warranty for material defects and workmanship issues.
Our In-Stock & Ready to Ship Dry Type Transformer Selection
500 to 2,500 kVA Transformers In-Stock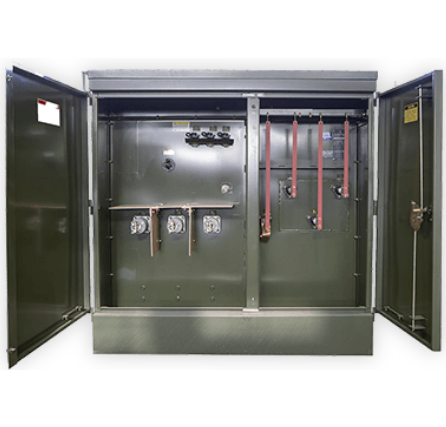 Padmount Transformers in Mississippi
Outdoor transformers are important components of Mississippi's electrical infrastructure. Homes, apartment complexes, shopping plazas, industrial facilities and various other locations count on underground power lines to provide electricity, and those lines need outdoor transformers.
A padmount transformer installs onto a concrete pad in an outdoor setting. Where some transformers may require an enclosure to prevent tampering and weather damage, padmount transformers include their own environmental protection features.
At ELSCO Transformers, we design padmount transformers with lockable doors to control access and protect internal components. Our padmount transformers range from 300 kVA to 5,000 kVA and use liquid coolants like mineral oil or biodegradable ester fluids.
Learn More About Our Padmount Transformers
Emergency Replacement Transformers in Mississippi
ELSCO Transformers is here to help when you have a transformer emergency. Our emergency replacement services are available throughout Mississippi. We offer rapid response times and shipping options to restore power and productivity to your building. The Quick Response Team handles emergency replacement requests within 24 hours, and when you use our Quick Ship service, we can send your replacement to the shipping company within 24 to 48 hours.
In addition to speed, we distinguish our emergency replacement offerings with quality transformers. While some companies provide a temporary solution, we prioritize expert craftsmanship. You can count on your replacement transformer to operate reliably for years to come.
Custom Fabrication for Transformers in Mississippi
A new transformer designed to your specifications can enhance your power capabilities and improve productivity. When you need to update or replace your transformer, we can create a custom retrofit device that meets your needs. We can manufacture and ship dry type and padmount transformer retrofits within 48 hours.
In addition to our transformer retrofitting services, we design custom bus work. Your existing infrastructure has specific high- and low-voltage connections that your retrofit transformer will need to accommodate. Our team will manufacture bus work for your transformer according to your specifications to ensure compatibility.
Contact Us for Transformers in Mississippi
ELSCO Transformers is ready to send you a new or replacement transformer that meets your specifications. Please call 800-232-9002 or request a quote to start the ordering process.