Fill out this contact form, and discover what Elsco Transformers has to offer!
A Company Offering Dry Type Transformers in Maine
Select a dry type transformer for use around sensitive liquids and gases. Instead of liquid coolants, the dry type systems control internal temperatures by allowing air to reach hard-working coils and other components in wet or dry environments. Each device operates cleanly and has no fluids to leak, keeping your product line safe from contaminants and pollution.
Select our dry type transformers for these perks:
Tough materials: We engineer your stock or custom transformer with metals like copper and aluminum for durability.
Decreased fire risk: Internal coils in dry type units have polyester varnish coatings to reduce moisture buildup and fire hazards.
Effective warranties: We stand by our technology, giving you a five-year warranty that covers construction defects and material problems.
Premium service life: We assemble your system so that it can serve you for 30 years without extensive maintenance.
Our In-Stock & Ready to Ship Dry Type Transformer Selection
500 to 2,500 kVA Transformers In-Stock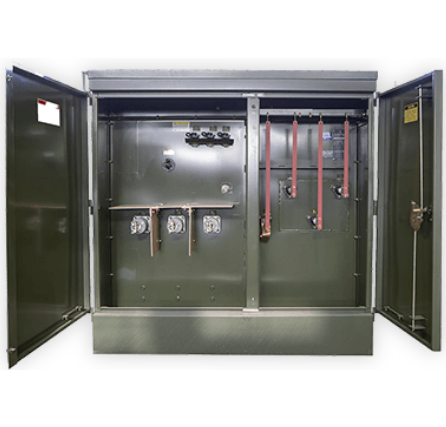 Find Padmount Transformers in Maine
Do you need to convert power from underground lines for a hospital, local school or commercial building in Maine? ELSCO Transformers manufactures padmount transformers designed to sit on concrete slabs. These devices have locking doors, eliminating public safety hazards in high-traffic areas without fenced-in enclosures. Our padmount transformers use mineral oil or natural ester oil to cool components for the best temperature regulation and performance.
Have Us Complete Retrofit Services and Custom Bus Work for Your Team
ELSCO Transformers will inquire more about your setup to finish retrofit services accordingly. This customization option enables you to add a new transformer to your power system and keep up with your facility's growing electricity needs. We design your dry type or padmount transformer to fit your facility's system.
Our professionals will explain your options for in-house custom bus work services. We offer custom bus work to verify that the bus bars on your unit will work with your existing gear. Using old hardware and existing connections makes your replacement more cost-effective.
Work With Us for Emergency Replacement Services
When your old transformer fails, you'll need a replacement on a fast timeline to minimize your losses. At ELSCO Transformers, we help you restore power with emergency replacement services to promote uptime. Contact our Quick Response Team, which typically returns all calls within 24 hours.
With emergency replacement services, you receive a quality transformer that suits your applications and arrives faster than those purchased through the standard ordering process. Your replacement transformer will leave our facility in 24 48 hours when the device you need is in stock.
Review Our Transformer Options and Get a Quote Online
For medium-voltage dry type and padmount units, choose ELSCO Transformers. You can request a quote on a new system by filling out our online form.