Proudly Serving Louisiana!
If you need a new or replacement transformer in Louisiana, ELSCO Transformers can help. We manufacture new, replacement and retrofit dry type and padmount transformers. Our fast response times and shipping options ensure you receive your transformer as soon as possible. Request a quote today to discuss our transformers and shipping options.
Fill out this contact form, and discover what Elsco Transformers has to offer!
Dry Type Transformers in Louisiana
A transformer's cooling mechanism is a critical part of its functionality, and choosing the most suitable cooling method for the application is essential. Some indoor and outdoor settings in Louisiana are sensitive to chemical or liquid contamination. In these cases, a dry type transformer is an ideal choice. We produce various dry type transformers ranging from 500 kVA to 2,500 kVA.
Dry type transformers use convection currents to cool their coils instead of chemicals or fluids. As a result, dry type transformers offer pollution-free operation. These transformers also ensure fire safety with polyester coatings that isolate the hot coils from moisture.
We offer a five-year warranty covering all dry type transformers against workmanship and material defects.
Our In-Stock & Ready to Ship Dry Type Transformer Selection
500 to 2,500 kVA Transformers In-Stock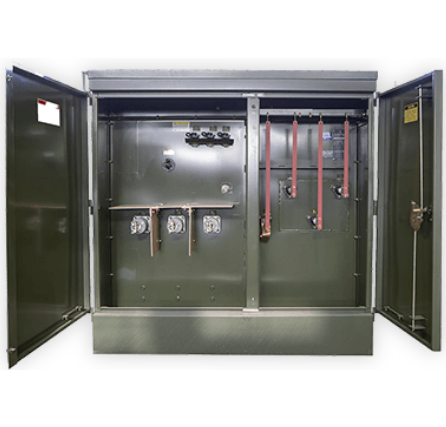 Padmount Transformers in Louisiana
In Louisiana, residential and commercial electricity consumers depend on outdoor power lines to carry electricity. These outdoor lines need transformers that can withstand adverse weather conditions and prevent unauthorized tampering. Padmount transformers are oil-filled units that work well in many outdoor applications.
ELSCO Transformers can manufacture a padmount transformer and ship it to your Louisianna location. Our padmount systems feature durable locking doors that protect internal components from the environment. We can customize your padmount transformer with features like bayonet current sensing fuses, temperature and liquid gauges, and pressure relief valves.
Emergency Replacement Transformers in Louisiana
A quick response to transformer failure is always important, and ELSCO Transformers offers exactly that. Choose our emergency replacement service to outfit your facility with a replacement unit that boosts productivity, reduces downtime and provides a long-term solution rather than a temporary fix.
Our Quick Response Team will manufacture a transformer that meets your building's specifications. We respond to all emergency replacement requests within 24 hours, and Quick Ship orders leave our facility within 24 to 48 hours.
Custom Fabrication for Transformers in Louisiana
Is your transformer nearing the end of its life span? Did you recently experience an overload or weather damage? When you need to install a retrofit transformer, ELSCO Transformers can help. We manufacture retrofit transformers that will bring your electrical capacity up to speed and get your team back to work.
In addition to retrofit transformers, we design custom bus work to establish sufficient connections between the existing infrastructure and your new transformer. Choose ELSCO Transformers for a rapid, cost-effective way to update your transformer.
Contact Us for Transformers in Louisiana
A new transformer that meets your facility's specifications will boost productivity and reduce downtime. The ELSCO Transformers team will develop a unit that's right for your needs and send it to you as soon as possible. Please call 800-232-9002 or request a quote to purchase a transformer for your Louisiana facility.