Proudly Serving Kentucky!
Ensuring you can work no matter what is a crucial aspect of conducting business. Getting reliable medium-voltage transformers for your office, school or plant in Kentucky can alleviate the stress and uncertainty that accompany an emergency outage. With units from ELSCO Transformers, you can feel confident your power will continue no matter what. We produce high-quality medium-voltage transformers that offer uninterrupted power and last for decades.
Our catalog of industrial options includes dry type and padmount transformers. What works best for you will depend on your needs and industry. We work with hospitals, universities, electrical supply houses, other manufacturing businesses and more. Transformers usually leave our facility within 24 to 48 hours to get to your business in Kentucky. Additionally, our customers say our transformers are easy to install, providing you with an easy setup.
Fill out this contact form, and discover what Elsco Transformers has to offer!
Dry Type Transformers in Kentucky
Dry type transformers rely on circulating air to keep internal elements cool and prevent overheating. Eliminating liquid from the setup has many benefits, including environmental advantages. Our dry type transformers mean low pollution for your Kentucky business, as liquid can't leak out and contaminate the surrounding area. Other reasons people choose our dry type transformers include:
Our best-in-class warranty: While other manufacturers offer a one-year warranty, we provide a five-year warranty on new dry types.
Excellent building materials: We choose superior materials to make the most durable transformers.
Longevity of units: Relying on great materials means our systems are built strong and last for decades.
Low fire risk: The varnish we apply to coils keeps them isolated from moisture and decreases fire risk.
Our In-Stock & Ready to Ship Dry Type Transformer Selection
500 to 2,500 kVA Transformers In-Stock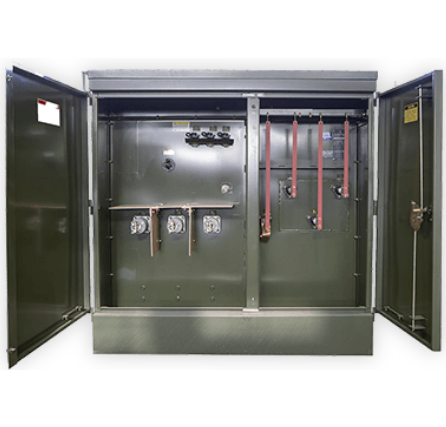 Padmount Transformers in Kentucky
Padmount transformers sit on concrete pads and connect underground power lines safely and efficiently. They function well in high-traffic areas, as you can house them outside in a steel cabinet to provide greater security. Our padmount transformers can be manufactured to your specifications, too. We have three-phase units in stock, but we can build single-phase systems to meet your needs. Our systems include a range of optional accessories, such as:
Pressure vacuum gauges.
Pressure relief valves.
Drain valve and samplers.
Fuses.
We have emergency replacements available for padmount transformers when you need a new solution fast. We save you time and money, responding to most requests within 24 hours and sending from our available stock.
Custom Bus Work and Retrofit for Transformers in Kentucky
When an old transformer stops working, we can handle it for you. Our transformer services in Kentucky include retrofitting and custom bus work, which combine to replace an old transformer with a new one that fits the existing space perfectly. Retrofitting refers to swapping the old transformer for the new. Custom bus work encompasses adjustments that go into preparing the old site for the new transformer.
Request a Quote for a New Transformer in Kentucky
With an experienced team whose key players all have at least 22 years in the industry, we are your experts who get things done. Let our engineers help you find the right dry type or padmount transformers for your business in Kentucky. Request a quote today.