Proudly Serving Iowa!
A consistent power supply ensures your facility maintains a solid workflow, supplying your patients, students or clients with the products and services they've come to depend on. At ELSCO Transformers, we provide industrial and commercial entities across Iowa with medium-voltage transformers to help them access the power they require.
We understand how essential your power is to your daily functions, so we work diligently to ensure that we get you the devices you need in no time. We pride ourselves on our fast, 24-hour response times and offer quick emergency transformer replacement when unexpected failures occur.
Fill out this contact form, and discover what Elsco Transformers has to offer!
Cities We Service in Iowa
Although ELSCO Transformers services all of Iowa, we have experience working with companies in the following cities:
Ames

Ankeny

Bettendorf

Burlington

Cedar Falls

Cedar Rapids

Clinton

Council Bluffs

Davenport

Des Moines

Dubuque

Fort Dodge

Iowa City

Johnston

Marion

Marshalltown

Mason City

Muscatine

Ottumwa

Sioux City

Urbandale

Waterloo

Waukee

West Des Moines
Dry Type Transformers in Iowa
A dry type transformer is a medium-voltage transformer using airflow instead of liquid coolant to avoid overheating. These systems decrease environmental risks regarding contamination and pollution and are outstanding inclusions at sites sensitive to liquids or chemicals. Your company has the freedom to place them in any indoor or outdoor location for a reliable power supply lasting decades.
Our dry type units provide many additional benefits, including:
Decades of efficient voltage conversion
Safe coatings and no leaks for areas with fire hazards
World-class construction materials
Our In-Stock & Ready to Ship Dry Type Transformer Selection
500 to 2,500 kVA Transformers In-Stock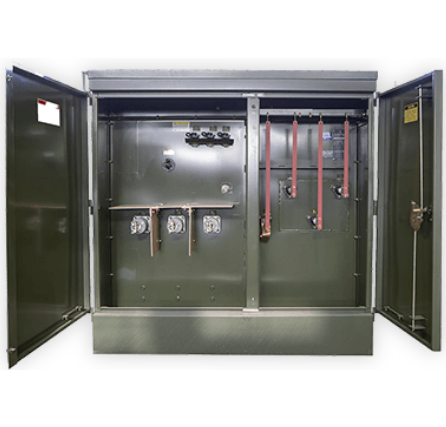 Padmount Transformers in Iowa
Medium-voltage padmount transformers are ideal where connections to underground powerlines are necessary. They are common in high-foot-traffic areas in residential and commercial locations. You can place these devices outside your facility on concrete pads without a fenced enclosure because each unit has lockable steel housing.
Padmount devices are cost-effective additions to your business that will help you boost your power outputs at lower prices. We maintain an extensive catalog full of transformers of ratings that vary from 500 kVA to 2,500 kVA. The ELCSO Transformer team will help you find the perfect system while offering built-to-order retrofit services to fabricate a system ideal for your needs.
Guarantee the Ideal Fit With Our Customization Services
As your transformer starts to reach the end of its life or has been damaged by flooding or lightning, you may consider potential upgrades and replacements. ELSCO Transformers supplies unique retrofitted transformers customized to fit your existing power system's dimensions.
Custom bus work will ensure your new transformer is suitable for your available space. Our staff will fabricate and install custom bus bars. We will also utilize old hardware and existing connections to save you time and money. Our team has decades of experience performing modifications like these, equipping us to produce quality custom bus work for each device.
Emergency Replacements and Our Quick-Ship Advantage
Our Rapid Response Team at ELSCO Transformers will help restore your power and get your operations up and running before you know it. Our team will ensure that your unit leaves our facility within 24 to 48 hours when you choose Quick Ship for a machine from our catalog. The emergency replacements you'll receive from us are more than temporary stand-ins — these systems will provide you with uninterrupted energy for decades.
Request a Quote for a New Transformer in Iowa
A new medium-voltage transformer will enhance your operations and help you provide outstanding services to your customers for years to come. Contact our staff to receive your dry type or padmount unit quote.