Proudly Serving Idaho!
Idaho's commercial and residential buildings and the people inside them count on a reliable supply of electricity. At ELSCO Transformers, we manufacture equipment that ensures electricity is available to consume. Our dry type and padmount transformers fulfill unique electricity needs and last for decades. We can manufacture or retrofit a system for your building and ship it to your facility quickly.
Fill out this contact form, and discover what Elsco Transformers has to offer!
Dry Type Transformers in Idaho
Our medium-voltage electricity conversion systems use dry cooling methods to avoid the need for chemicals and liquids that could harm the environment. These transformers generate convection currents that cool the coils. For additional safety, we design the coils with a polyester coating that prevents fires.
Our dry type transformers are easy to install in any indoor or outdoor setting, and they can last more than 30 years. We provide a five-year warranty covering workmanship and material issues with every new dry type transformer.
Our In-Stock & Ready to Ship Dry Type Transformer Selection
500 to 2,500 kVA Transformers In-Stock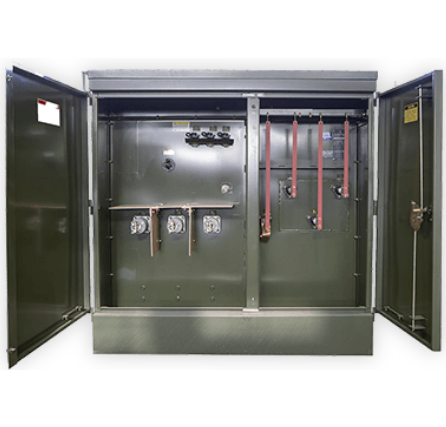 Padmount Transformers in Idaho
Many locations in Idaho utilize underground power lines as a safety precaution and to preserve the state's natural beauty. An underground electrical system requires an outdoor transformer, but installing transformers outside creates the possibility of tampering and damage. Rather than building an enclosure, install a padmount transformer from ELSCO Transformers.
We design padmount medium-voltage units with durable locking doors that protect the system. We can incorporate additional customization options to tailor your padmount transformer to your needs. Our padmount transformers are effective in outdoor settings or outside of commercial buildings across Idaho.
Emergency Replacement Transformers in Idaho
A timely response to a transformer issue is essential to keeping your business on schedule. You can count on ELSCO Transformers when you need transformer replacement. Send us your specifications, and we'll respond within 24 hours. Orders that come through our Quick Ship service leave our facility within 24 to 48 hours.
Installation is quick and easy. We'll send installation support guidelines with your system, and you can request remote engineering support. Most clients complete installation within four hours of the transformer arriving at their facility.
Transformer Fabrication
We perform custom fabrication work for dry type and padmount transformers in Idaho.
Our experts will help you update your electrical capabilities by customizing a retrofit unit for your facility. We can also design custom bus work that ensures comparability between your existing infrastructure and your retrofit unit.
Whether your transformer is reaching the end of its life span or it recently experienced damage, we'll work quickly to send you a custom retrofit unit that provides the power you need for peak productivity.
Contact Us for Transformers in Idaho
ELSCO Transformers offers precise construction and rapid shipping capabilities for customers in Idaho. We can send you a new or replacement transformer that satisfies your electricity needs for years to come. For more on our dry type and padmount transformers, call us at 800-232-9002 or request a quote today.