Proudly Serving Hawaii!
ELSCO Transformers ships dry type and padmount transformers to Hawaii. We'll build a transformer according to your building's specifications and send it out the door quickly to minimize your downtime. We also design retrofit transformers and offer custom bus work. Get in touch to discuss your power needs and request a quote for a medium-voltage transformer.
Fill out this contact form, and discover what Elsco Transformers has to offer!
Dry Type Transformers in Hawaii
Hawaii is a thriving island chain with a mixture of natural wonders, historic cultures and contemporary economic opportunities. To succeed here, businesses must produce at a high level while respecting the surrounding environment. Installing a dry type transformer will enable your facility to meet its electricity needs while preventing pollution.
We manufacture dry type transformers that feature fluid-free cooling mechanisms. These transformers cool themselves by generating convection currents that cause low-temperature air to flow across the coils. This cooling process bypasses the need for chemicals that could potentially harm the environment. Our coils also feature polyester varnish coatings that prevent fires.
New dry type transformers come with a five-year warranty which covers workmanship issues and material defects.
Our In-Stock & Ready to Ship Dry Type Transformer Selection
500 to 2,500 kVA Transformers In-Stock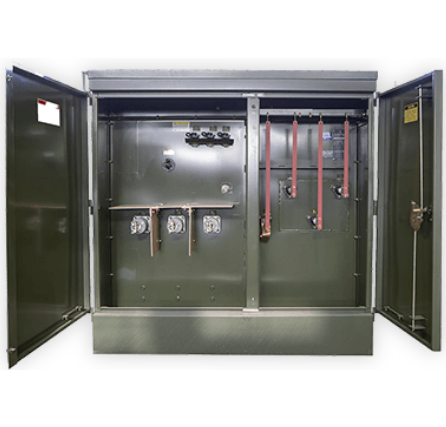 Padmount Transformers in Hawaii
The desire to preserve Hawaii's natural landscape has increased the importance of discreet underground electrical infrastructures in the state. Underground electrical systems connect safely to padmount transformers, which ELSCO Transformers can manufacture and ship to your facility.
Padmount transformers are effective and easy to install in outdoor locations where they can connect with underground infrastructures. Unlike other transforms, padmount units include lockable doors that prevent tampering. The tamper-proof design eliminates the need for an enclosure.
Padmount transformers use liquid coolants. Mineral oil is a common coolant, though our units also work with biodegradable ester fluid.
Emergency Replacement Transformers in Hawaii
ELSCO Transformers offers emergency replacement transformers to businesses in Hawaii. We'll help you get back to work by building a transformer according to your specifications and sending it for shipment within 24 to 48 hours when you use our Quick Ship service. We work diligently to ensure your new transformation is more than a temporary replacement. Choose ELSCO Transformers for a replacement unit you can count on for years to come.
Transformer Fabrication in Hawaii
Upgrading your transformer may be necessary to replace an old unit or to meet new power demand. ELSCO Transformers can manufacture new transformers and components that mesh with your current infrastructure and supply enough power for your daily applications. We fabricate both dry type and padmount transformers for use in Hawaii.
Our fabrication services revolve around retrofitting and bus work.
Retrofitting: We build medium-voltage retrofit transformers that match your facility's dimensions and are easy to install into your power system.
Bus work: We customize the bus work of retrofit transformers to ensure compatibility between the existing voltage gear and the new unit.
Contact Us for Transformers in Hawaii
At ELSCO Transformers, we support businesses in Hawaii by providing reliable transformers that satisfy specific power supply needs and spacial constraints. For more on our transformer options, call 800-232-9002 or request a quote online today.