Proudly Serving Georgia!
A high-quality transformer and uninterrupted flow of power ensure your facility is productive and dependable. The ELSCO Transformers team serves companies and organizations around the United States, including universities, hospitals and industrial manufacturing companies. We emphasize design, quality and efficiency to provide you with the best products and services and minimal downtime.
Fill out this contact form, and discover what Elsco Transformers has to offer!
Cities We Service in Georgia
Although ELSCO Transformers services all of Georgia, we have experience working with companies in the following cities:
Albany

Alpharetta

Atlanta

Athens-Clarke County

Augusta-Richmond County

Brookhaven

Columbus

Gainesville

Johns Creek

Mableton

Macon-Bibb County

Marietta

Milton

Newnan

Peachtree City

Peachtree Corners

Roswell

Sandy Springs

Savannah

Smyrna

South Fulton

Stonecrest

Valdosta

Warner Robins
Dry Type Transformers in Georgia
Instead of using oil, dry type transformers circulate air to prevent the system from overheating. We construct these medium-voltage transformers in the United States from quality materials, improving each system's operating temperature range and useful life. These units are suitable for indoor and outdoor use, where they provide a consistent power supply for your facility. At ELSCO Transformers, we provide five-year warranties on our new dry type systems, the best in the industry. Our dry type systems have many benefits, including:
Decreased risk of fires
Straightforward plug-and-play installation
Expected life span longer than 30 years
Liquid-free design for pollution-free operation
Our In-Stock & Ready to Ship Dry Type Transformer Selection
500 to 2,500 kVA Transformers In-Stock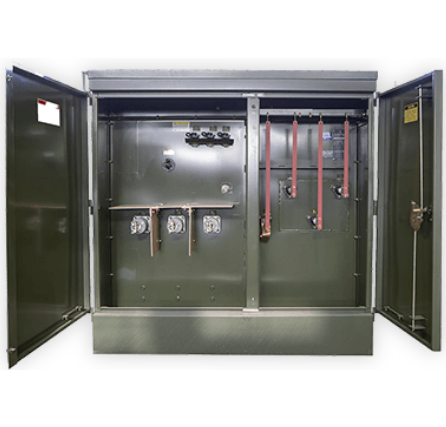 Padmount Transformers in Georgia
Padmount transformers sit on concrete pads outside facilities in high-traffic residential and commercial areas. These liquid-cooled systems connect to underground power lines. With tamper-proof characteristics such as steel cabinet enclosures and lockable front doors, padmount units feature safe and secure housing for the internal electrical system.
We stock padmount transformers with varied ratings from 500 kVA to 2,500 kVA and primary voltages from 4,160V up to 13,800V. Our team will work with you to select the rating that fits your needs. We can also outfit the system with various accessories, including:
Pressure vacuum gauges
Bayonet current sensing fuses
Distribution class lightning arresters
Our Retrofits and Custom Bus Work Solutions
Costly maintenance as your transformer wears out and damage from natural disasters like seismic activity may mark the end of your transformer's life. Scaling power needs and overload may also require a replacement.
At ELSCO Transformers, we provide retrofitting services and custom bus work for your new transformer. We can help you fit your system into the old unit's space by fabricating custom bus bars and utilizing your current connections. Our team will also reduce costs by reusing old parts.
Emergency Replacements and Quick-Ship Options in Georgia
Malfunctions can pop up without warning. A sudden breakdown causes significant interruptions to your daily operations. At ELSCO Transformers, we provide emergency replacement services to minimize these interferences and end your downtime. With our speedy response times and Quick-Ship options, our response team will ensure your new unit is on its way to you within two days to help you return to work after a transformer outage.
Request a Quote for a New Transformer in Georgia
Receiving a new medium-voltage transformer will enhance your facility's operations and ensure you have the system that meets your needs. We employ a team of knowledgeable technicians with decades of experience in our field, so you can rely on our systems and services. If you're ready to order a new dry type or padmount transformer, ask our team for a quote today.