Proudly Serving Florida!
At ELSCO Transformers, we design and manufacture systems that meet our clients' precise requirements. Our medium-voltage transformers offer superior performance to ensure a reliable power source for schools and companies in Florida. We go above and beyond with our outstanding warranties, retrofitting, custom bus services and quick response times.
Fill out this contact form, and discover what Elsco Transformers has to offer!
Dry Type Transformers in Florida
We produce dry type transformers using only top-of-the-line materials to increase durability and longevity. Our dry type transformers operate without using oil to cool down the coils, insulation and windings. Instead, they circulate air throughout the system to prevent overheating. We coat the coils with a polyester varnish, protecting them from moisture and decreasing the chances of fire. Our team builds these transformers in the United States, and their quality construction offers:
An extended life span of 30 years or more with little to no upkeep.
Versatility for indoor and outdoor use in dry areas or locations with high moisture.
Pollution-free solutions with zero risk of contamination or leaks into the surrounding area.
Our In-Stock & Ready to Ship Dry Type Transformer Selection
500 to 2,500 kVA Transformers In-Stock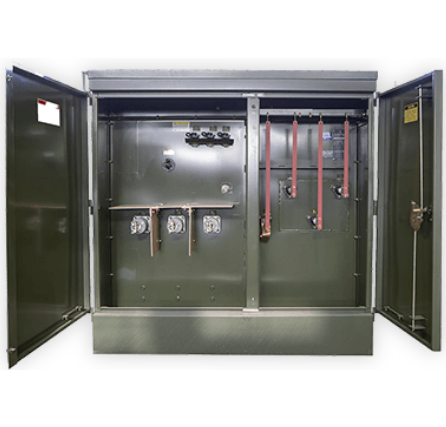 Padmount Transformers in Florida
Ideal for public areas with high foot traffic, padmount transformers are often installed on concrete pads in residential or commercial locations. These medium-voltage transformers use a steel cabinet with lockable doors to connect underground power lines safely without a fenced-in enclosure. They are liquid-cooled units filled with mineral oil or natural ester oil. We stock three-phase systems and can build one-phase systems, with ratings ranging from 500 kVA to 2,500 kVA. Our team can add various accessories to your custom transformer, including:
Liquid and temperature level gauges
Pressure relief valves
Two-position on/off load-break switches
Replace Your Old Transformer With Our Personalized Services
Frequent maintenance at the end of your transformer's life and overload due to increased power capacity requirements signal your need for replacement. At ELSCO Transformers, we can help you update your transformer with our retrofitting services. When you receive your new transformer, you can integrate it into your current electrical system.
We also offer custom bus work, eliminating the need to rework connections or construct new housing. Your new transformer will arrive equipped with the correct bus bar arrangement, allowing it to slide into the space left behind to guarantee the perfect fit. Our team also uses some of your system's old hardware to reduce the cost of upgrading your infrastructure.
Florida Emergency Replacement Solutions
Unexpected failures or malfunctions happen. You'll need a replacement transformer to get your business operations back on track. At ELSCO, our Emergency Replacement Service can get your new unit on its way to you within 24 to 48 hours, thanks to our Quick-Ship options.
We supply the entire country with reliable transformer replacements that are easy to install and last for years. Our team will help you keep your downtime as short as possible, saving you money and boosting performance.
Request a Quote for a New Transformer in Florida
Meeting your evolving power supply demands is essential for providing your customers with reliable products and services. When you work with ELSCO Transformers, you receive dependable transformers and guidance from knowledgeable professionals with decades of experience! Request your quote for a dry type or padmount system today.