Proudly Serving Delaware!
Updating your electrical infrastructure with a new medium-voltage transformer is easy with ELSCO Transformers. We manufacture transformers according to your building's specifications and ship them fast. Purchase a new or replacement transformer in Delaware today.
Fill out this contact form, and discover what Elsco Transformers has to offer!
Dry Type Transformers in Delaware
We manufacture and ship dry type transformers for commercial facilities in Delaware.
A dry type transformer can be the ideal fit for your building if your equipment or products are sensitive to chemicals or liquids. Where other transformers use liquid-based cooling agents, our dry type transformers stay cool using convection currents. Additionally, the coils feature a polyester coating that lowers the risk of fires.
The liquid-free cooling mechanisms and fire-resistant coils work together to prevent pollution and environmental hazards. These environmentally friendly design choices make our dry type transformers useful in many indoor and outdoor applications in Delaware, including:
Hospitals
Universities
Manufacturing centers
Correctional facilities
Electrical utility plants
New dry mount transformers feature a five-year warranty for material issues and workmanship defects.
Our In-Stock & Ready to Ship Dry Type Transformer Selection
500 to 2,500 kVA Transformers In-Stock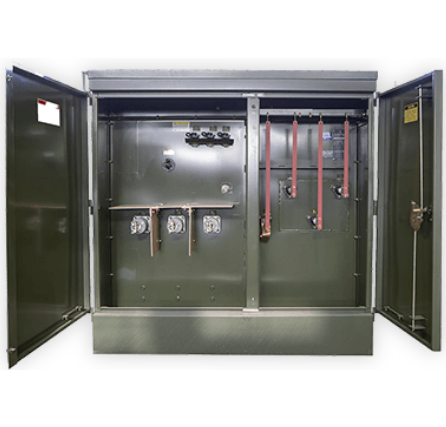 Padmount Transformers in Delaware
Delaware is bustling with shopping centers, restaurants, apartment buildings, schools and hospitals that rely on underground electrical infrastructures. Many of these locations lack free space to build an enclosure for their transformers. A padmount transformer is an effective distribution system that features a tamper-proof design.
At ELSCO Transformers, we manufacture padmount transformers that are easy to install outdoors and designed to withstand the elements. Our medium-voltage padmount transformers range from 300 kVA to 5,000 kVA and feature liquid cooling systems. Most clients use mineral oil or ester fluid.
Emergency Replacement Transformers in Delaware
A transformer malfunction can set your operations back by hours or more. A quick response is always necessary when your transformer fails, and ELSCO Transformers.
The ELSCO Transformer Quick Response Team can quickly send an emergency replacement transformer to your facility. When you use our Quick Ship service, we send transformers to the shipping company within 24 to 48 hours. Our manufacturers work quickly and follow your specifications to build a transformer that satisfies your facility's power needs. We also offer installation support to walk you through the process.
Bus Work and Retrofitting for Dry Type Transformers
Your Delaware business has unique power generation needs that your transformer should meet. Our expert technicians can customize your medium-voltage transformer to your specifications or bring it into the future with new components.
We construct retrofit transformers to meet new standards and precise dimensions. Our retrofit transformers help businesses respond to their evolving power needs as their existing units approach the end of their life spans. You may also need a retrofit transformer after overloading, a natural disaster or other damage.
We also perform custom bus work for replacement transformers in Delaware. Our customization capabilities will ensure your transformer solves your facility's unique challenges, whether you're replacing or updating your existing unit. We'll match your high- or low-voltage bus bar with the facility's existing gear. We can also establish the optimal bus arrangement for your medium-voltage dry type transformer.
Contact Us for Transformers in Delaware
ELSCO Transformers will ensure your facility has the power it needs for the long run by providing an efficient transformer tailored to your facility. Call us at 800-232-9002 or request a quote for more information.