Proudly Serving Connecticut!
Fill out this contact form, and discover what Elsco Transformers has to offer!
Cities We Service in Connecticut
Although ELSCO Transformers services all of Connecticut, we have experience working with companies in the following cities:
Bridgeport

Bristol

Danbury

East Hartford

Enfield

Fairfield

Greenwich

Hamden

Hartford

Manchester

Meriden

Middletown

Milford

New Britain

New Haven

Norwalk

Shelton

Southington

Stamford

Stratford

Wallingford

Waterbury

West Hartford

West Haven
We Sell Stock and Custom Dry Type Transformers for Connecticut Companies
Order dry type transformers from ELSCO Transformers to convert high-voltage currents with an air-cooled system. The coils inside these dry type units have polyester varnish coatings to reduce the likelihood of a fire. Oil-free operation eliminates leaks and prevents contamination, so you can use dry-type devices in environments with sensitive liquids and chemicals without pollution.
Other benefits of our dry type transformers include:
Use in any environment: Our indoor/outdoor units perform well in dry and damp conditions.
Simple installation: Some custom dry type devices can be fabricated with plug-and-play connections.
Built for longevity: The experts at ELSCO Transformers manufacture systems with materials like aluminum and copper for 30-year life spans.
Considerate warranties: We offer a five-year warranty that protects against labor and material issues.
Our In-Stock & Ready to Ship Dry Type Transformer Selection
500 to 2,500 kVA Transformers In-Stock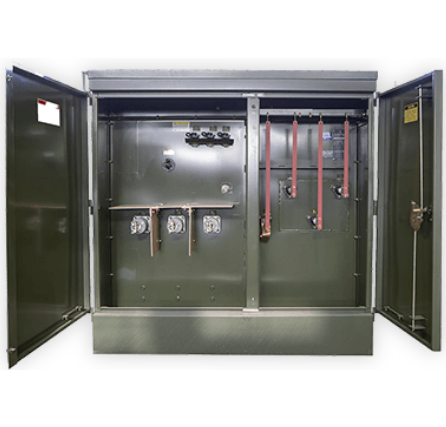 We Offer Padmount Transformers for Your Team in Connecticut
Padmount transformers require mineral oil or natural ester fluid for temperature regulation. You can order in-stock and built-to-order configurations for high-foot-traffic areas where connection to underground power lines is essential.
Padmount units sit on concrete pads and have lockable doors to ensure safety without a large fenced enclosure, making them ideal for busy residential and commercial buildings.
The Best Choice for Transformer Retrofits and Custom Bus Work
As a full-service transformer manufacturer, we offer retrofitting services to ensure your new unit fits your facility's system. Our experienced team will work with you to identify your electricity needs and design a transformer that aligns with your scaling requirements and existing power system.
When you need to replace an outdated transformer or upgrade your facility's power capacity, custom bus work services from ELSCO Transformers ensure a perfect fit. Have us arrange bus bars and select the right cabling for your setup.
Solve Problems With Our Emergency Replacement Services
When you need a transformer replacement on an expedited timeline, trust ELSCO Transformers for emergency replacement services. Reach out to our Quick Response Team for a response within 24 hours.
Restore your power system as fast as possible. Emergency replacement requests for in-stock devices from our catalog leave our facility within 24 to 48 hours for rapid delivery. Rather than acting as a temporary fix, these solutions provide reliable power conversion for decades.
Get in Touch With Us for a Transformer Pricing Quote
Upgrade your transformer and percent downtime stemming from malfunctions with a new medium-voltage dry type or padmount system from ELSCO Transformers. You can reach out to our experts for a quote today.