Proudly Serving Colorado!
Serving your customers is vital for your bottom line, and a reliable medium-voltage transformer helps you work without interruptions. At ELSCO Transformers, we are dedicated to providing your team with a well-designed power source that will last for decades.
We are a transformer manufacturer working with businesses in the state of Colorado. Rely on our professionals to send offerings to you from our facility in 24-48 hours. Whether you want a stock medium-voltage transformer or something custom-built, we can help. We are also your source for retrofitting and custom bus work for your operations.
Fill out this contact form, and discover what Elsco Transformers has to offer!
Dry Type Transformers in Colorado
Colorado-based companies can turn to our team for dry type transformers that use air to stay cool. Our dry type transformer units are safe to use inside and outside and do not pollute your environment. Use our technology in spaces with liquids or chemicals.
Additional reasons to choose our dry type transformers for your team in Colorado include:
World-class materials: We focus on manufacturing transformers with well-engineered parts.
Coated transformer coils: Significantly reduce the chances of a fire starting in your plant or facility.
Generous warranties: ELSCO Transformers covers new dry type transformers for five years.
Our In-Stock & Ready to Ship Dry Type Transformer Selection
500 to 2,500 kVA Transformers In-Stock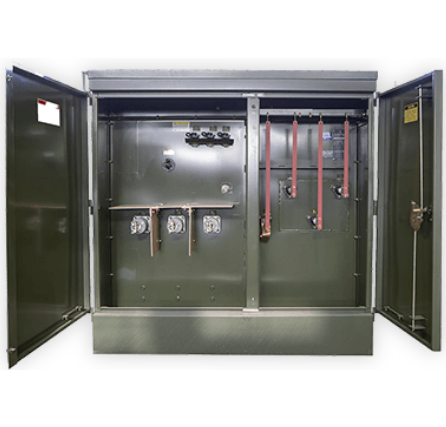 Get Padmount Transformers in Colorado
We sell padmount transformers you can use with underground power lines. Our offerings sit on concrete and require no fence around the housings due to their lockable housings. These transformers are tamper-proof solutions ideal for residential and commercial environments with heavy foot traffic.
Padmount transformers are available with ratings between 500 kVA and 2,500 kVA. Purchase in-stock or custom transformers with aluminum or copper windings. We produce every unit by hand and will use one of two liquids for operation — mineral oil or natural ester fluid.
We Complete Retrofits and Custom Bus Work on Transformers
Get back to your operations with our plug-and-play retrofits. We work with companies in Colorado to replace their old technology using new units compatible with their existing power systems. Our customers choose our retrofit services when their transformers reach the end of their life span, their power needs grow or their current units are overloaded.
Our customers also look to us for custom bus work to eliminate power obstacles. Instead of reworking connections, we fabricate bus bars and position them in the correct places. Our team offers fast turnarounds, and we engineer your technology to accommodate the space where your previous equipment sat.
Choose Us for Emergency Replacement Services and Quick-Ship Options
A power outage interrupts your business's workflow. With ELSCO Transformers, you can receive emergency replacement services for your equipment. Contact our professionals to speak with one of our representatives within 24 hours.
Our Quick Response Team oversees our emergency replacement services. We'll prioritize your request, and most dry type and padmount transformers ordered with Quick Ship exit our facility in under 48 hours.
Contact ELSCO Transformers for a Pricing Quote
ELSCO Transformers looks forward to helping you with your power needs. For pricing details regarding our units or services, contact us for a quote.