Proudly Serving Alabama!
A dependable power supply is essential for companies to provide outstanding services. At ELSCO Transformers, we aim to bring you the technology your company needs to succeed with a focus on quality and efficiency.
Our team has decades of experience providing the expert services and dependable products your company can rely on for decades.
Fill out this contact form, and discover what Elsco Transformers has to offer!
Cities We Service in Alabama
Although ELSCO Transformers services all of Alabama, we have experience working with companies in the following cities:
Alabaster

Athens

Auburn

Bessemer

Birmingham

Daphne

Decatur

Dothan

Enterprise

Florence

Gadsden

Homewood

Hoover

Huntsville

Madison

Mobile

Montgomery

Northport

Opelika

Phenix City

Prattville

Trussville

Tuscaloosa

Vestavia Hills
Dry Type Transformers in Alabama
Our dry type transformers are outstanding additions to plants or facilities sensitive to chemicals or liquids, offering a clean and pollution-free operation. These devices cool themselves using air instead of oil and come with specially coated coils to prevent fires. Our customers rely on their safety and versatility to use them indoors and outdoors. Additional benefits of dry type transformers include:
Outstanding materials: Our team uses superior materials to ensure an affordable solution with efficient and quiet functioning.
Beneficial warranties: Instead of the standard one-year warranty, ELSCO Transformers covers all our new dry type units for five years.
Superior longevity: With high-quality materials and resistance to overheating and short circuits, these devices have expected life spans of more than 30 years.
Our In-Stock & Ready to Ship Dry Type Transformer Selection
500 to 2,500 kVA Transformers In-Stock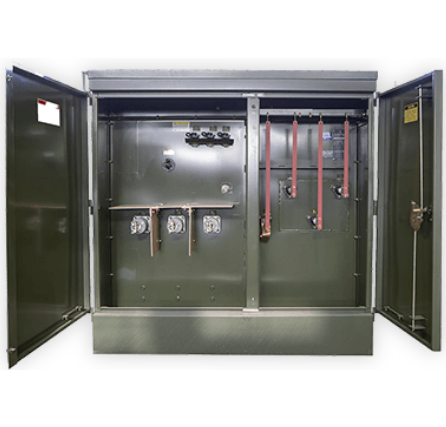 Padmount Transformers in Alabama
Commercial and residential entities trust our padmount units to provide a reliable power source. These devices connect to underground power lines as they sit on concrete slabs within steel cabinets. They offer lockable housing that is out of harm's way in areas with heavy foot traffic where you have no room for a fenced-in enclosure.
Padmount transformers cool themselves using oil and feature aluminum or copper wiring. ELSCO Transformers provides a comprehensive catalog of these systems and can modify or fabricate them to fit your needs. Choose to add temperature and liquid gauges or bayonet current sensing fusing to have an added layer of dependability in your unit.
Learn More About Our Padmount Transformers
Our Custom Fabrication Services
Transformers require replacement when experiencing frequent maintenance or overloading problems and rarely have one-size-fits-all solutions. To upgrade your system with the best transformer for your applications, we can provide you with retrofit transformers that adhere to your specifications and fit right into your existing power system.
Our customers also depend on our custom bus work to modify their replacements for a suitable fit. We have decades of experience creating custom bus bars and installing them in the right places on your new transformer. We'll use your old hardware and meet the requirements of current connections to save you money and time.
We Are Experts in Emergency Transformer Replacements
When failures and malfunctions occur within your unit, you can rely on our team of professionals to get the parts you need fast. These events rarely happen on schedule, offering untimely delays in your operations.
We offer Quick-Ship options to ensure that your emergency replacement transformer leaves our facility within 24 to 48 hours of receiving your order. We also maintain fast service response times to help your facility in Alabama get back up and running in no time.
Request a Quote for a New Transformer in Alabama
If you're looking for a reliable transformer upgrade to enhance your facility or plant, ELSCO Transformers is ready to help you. Request your quote for our new dry type and padmount units today.