Proudly Serving Pennsylvania!
Businesses focused on providing the best service want to limit the downtime that can occur with an unexpected event. Having the right power source can reduce the impact when an emergency failure happens. ELSCO Transformers manufactures reliable medium-voltage transformers ideal for schools, hospitals, electrical suppliers, manufacturers and many other industries. Companies in Pennsylvania trust our industrial transformers and other services.
Our high-quality units provide efficient power that can flow uninterrupted for decades. We have dry type and padmount transformers that are easy to install. We can often get our in-stock transformers out of the facility within 24-48 hours of your order, making us the best choice when you need a new one fast. Our extensive catalog also includes options we build to your specifications. See what sets ELSCO Transformers apart.
Fill out this contact form, and discover what Elsco Transformers has to offer!
Dry Type Transformers in Pennsylvania
Made to run without any liquid coolant, dry type transformers rely on circulating air to cool the coils, insulation and windings, protecting them from overheating. Our dry types operate quietly, making them an excellent choice for an indoor system when you want to reduce noise. They contain no flammable coolants, which means less chance of a fire and low pollution to the surrounding environment. Other benefits of buying from us include:
Extended warranties: We offer a five-year warranty on new dry type transformers.
Superior parts: Our team chooses the highest quality of materials.
Longevity: ELSCO Transformers' dry type units run for decades.
Our In-Stock & Ready to Ship Dry Type Transformer Selection
500 to 2,500 kVA Transformers In-Stock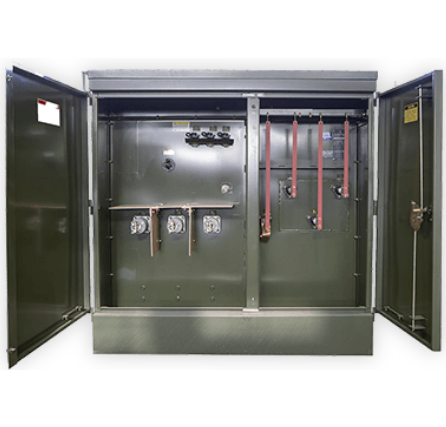 Padmount Transformers in Pennsylvania
Often used in high-traffic and outdoor areas, our padmount transformers are suitable for any environment, moist or dry. We have in-stock three-phase options and built-to-order single-phase solutions. All of our transformers provide exceptional dependability and cost-effective power output.
Padmount transformers sit on a concrete pad. They often have protection in the form of a steel cabinet, which keeps the transformer secure. We offer a choice of accessories that can enhance the unit's efficiency, including:
A drain valve and sampler.
A pressure vacuum gauge.
A pressure relief valve.
Custom Bus Work and Retrofit for Transformers in Pennsylvania
When you must replace an old transformer, you need the new one to fit into the existing space. We can retrofit your new unit so that it slides in smoothly. Our plug-and-play options make replacement a quick and easy process. We employ custom bus work that produces high-quality results. Our experienced team pushes for the fast turnaround you need.
You may require custom bus work if the new transformer's connections have to be reworked or you upgrade your facility's power capacity, which may require changing the infrastructure. A custom system can meet a higher power capacity and preserve the original transformer's dimensions.
Request a Quote for a New Transformer in Pennsylvania
Customers throughout Pennsylvania trust ELSCO Transformers to provide the best options for new dry type and padmount transformers. They trust our experienced team, which includes employees in key roles who have more than two decades of experience. Get started with us today. Ask for a quote on our services and industrial transformers in Pennsylvania.