Dry type transformers use circulating air to protect the internal components from overheating, unlike oil-filled units that use oil as a cooling medium. Dry type units work exceptionally well for indoor operation because they contain nothing flammable, making them a perfect choice for commercial and industrial applications requiring high fire protection. Generally, if maintenance personnel keep dry type transformers well-ventilated, clean and dry, most units can expect an average performance life of over 20 years.
Average Life Spans of ELSCO Dry Type Transformers
At ELSCO Transformers, our dry type units require less maintenance and last much longer than other options because we use superior materials combined with the industry's top manufacturing expertise. Their resistance to excessive heating and short circuits reduces the chances of premature failure, resulting in an expected life span of over 30 years.
Our solutions deliver high-efficiency performance while ensuring quiet, cost-effective energy output. Our dry type units rise above the rest thanks to round-coil, disc-wound design and components like 100% copper windings, SG200 fiberglass insulation and Dupont Nomex insulation with copper conductors.
Warranties for Dry Type Transformers
ELSCO Transformers has supplied the industry's best transformers to organizations across the United States for decades. We maintain an extensive stock of dry type transformers with 500 to 2500 kVA ratings and 2400, 4160, 12470, 13200 and 13800 primary voltages. Since we began building dry type units in 1988, we have experienced zero product failures due to materials, design, quality or manufacturing.
We offer some of the market's most comprehensive product warranties, depending on whether the unit is new or remanufactured.
Our new indoor dry type transformers carry a five-year warranty for indoor use in a clean environment guaranteeing against material problems or manufacturing defects under regular use. Validating this warranty requires proper installation, without obstruction from walls or other equipment, to ensure sufficient airflow during operation. If installed with fan controls and thermocouples, the thermocouple leads must be at least 6 inches from the high-voltage coils and bus bar.
We offer three-year warranties for our remanufactured indoor dry type transformers. Warranty requirements are the same as new dry type units.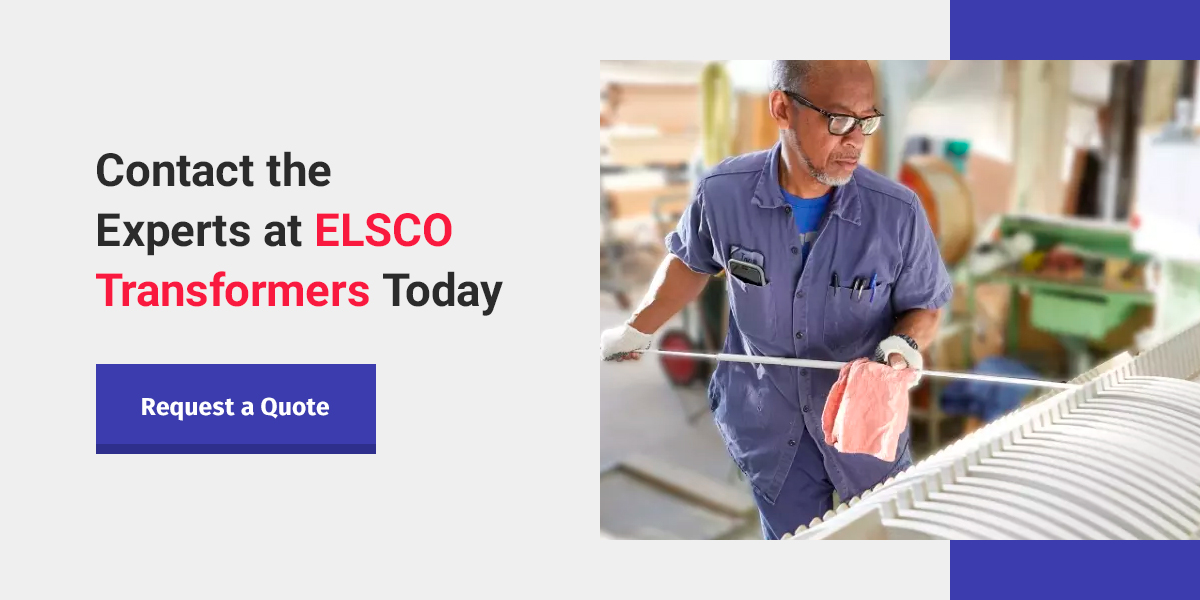 Contact the Experts at ELSCO Transformers Today
If you want to learn more about how our products can benefit your application, the experts at ELSCO Transformers can help. Besides manufacturing new and rebuilt dry type and padmount transformers, we offer services like retrofitting, custom bus work and emergency replacements.
Discover why many organizations nationwide consistently choose our easy-to-install solutions over similar options from competitors. Call 800-232-9002 or complete a quote request form online today for pricing.