Dry type transformers usually contain windings — or coils — that act as conductors. Transformer builds typically have primary windings and secondary windings. The primary windings create input power flow, while the secondary windings convert the power and transmit it to the load through input leads.
Transformers with disc windings have conductors wound on the flat sides of the disc, while transformers with layered windings use conductors that cross each other from bottom to top. Windings consisting of either copper or aluminum can perform similar functions. Which option is best will depend on the unique requirements of the application.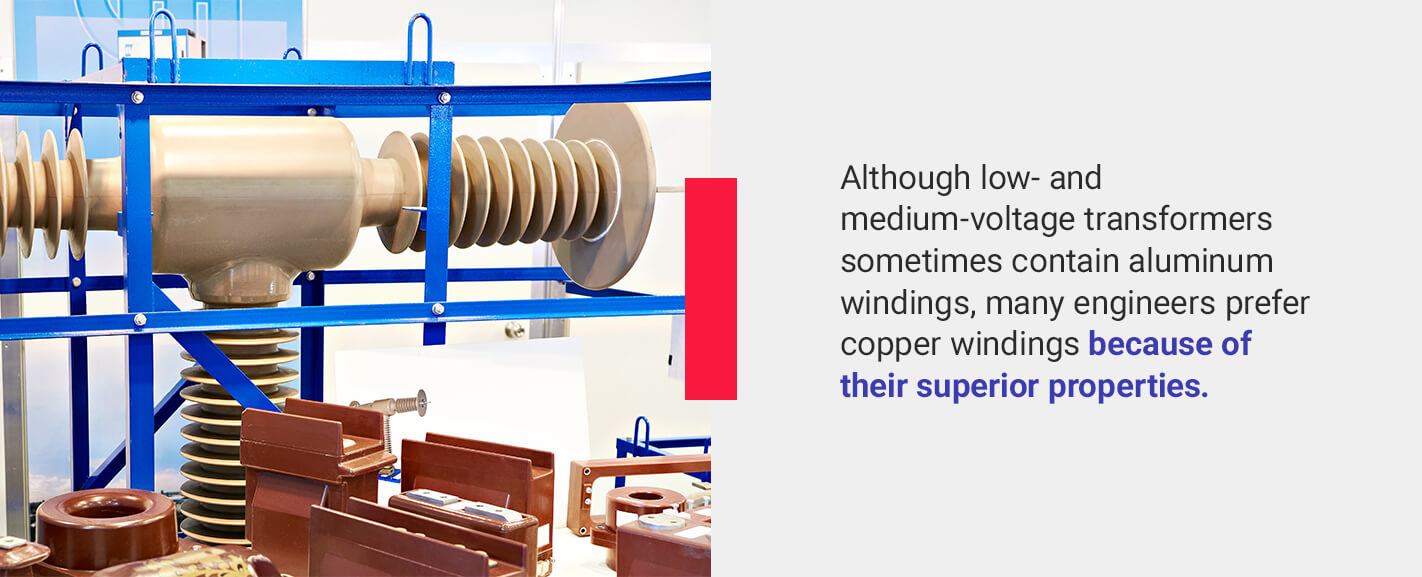 The Role of Conductors in Dry Type Transformers
Although low- and medium-voltage transformers sometimes contain aluminum windings, many engineers prefer copper windings because of their superior properties. First, copper windings are significantly more conductive than their aluminum counterparts. Second, copper is much more reliable because of its superior strength, so it offers exceptional resistance to deformation and protection against fault current stresses.
Because of its lower price, some manufacturers choose aluminum for windings in less demanding, low-voltage applications. While some manufacturing companies use both options for dry type units, copper windings are the industry standard due to their optimal performance.
Conductor Specifications for ELSCO Dry Type Transformers
ELSCO dry type transformers feature some of the industry's most efficient designs, with 100% copper windings, laminated steel cores and premium-grade insulation. We hand-wind these units and assemble them under strict quality control parameters at our state-of-the-art Cincinnati facility. We test all transformers multiple times during manufacturing to ensure each client receives a high-quality product that will provide many years of reliable service.
Our primary windings feature disc-wound, round coils with Nomex-insulated copper magnet wire or wire covered with heavy armored polythermaleze (HAPT). Disc-wound designs are standard in core-form transformers with ratings over 25 kilovolts. Because of its exceptional performance, we also use disc winding in our 5- and 15-kilovolt units.
The round-coil windings offer increased strength for transformers with medium and high voltages.
Our secondary windings contain Nomex insulation with copper conductors wound in strips to minimize vertical forces. ELSCO dry type transformers carry a basic insulation level (BIL) rating equal to liquid-filled designs.
Learn More With ELSCO Transformers Today
If you want to learn more about how ELSCO medium-voltage, dry type transformers can benefit your unique application, our knowledgeable and experienced team can guide you. Besides offering new transformer builds, we provide additional services to handle your transformer needs, including custom bus work, retrofitting and emergency replacements.
Complete an online quote form today to obtain pricing for our products. You can also call 800-232-9002 with questions or to request additional product information.